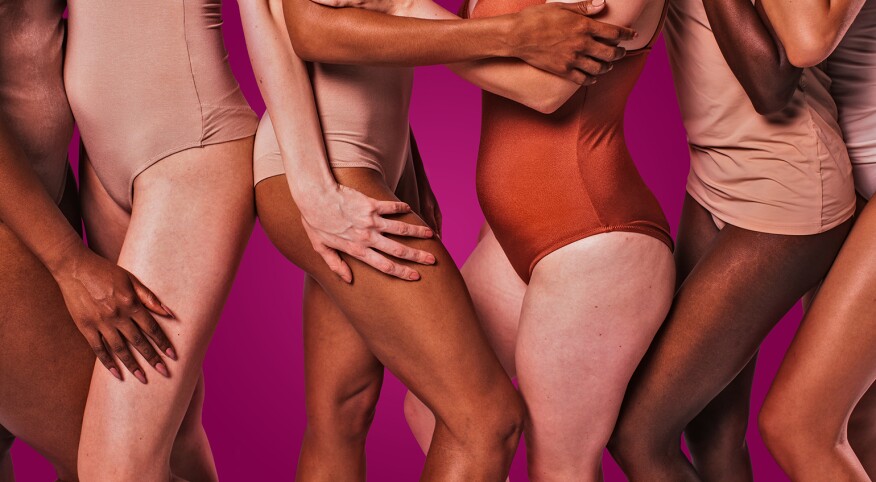 I'll admit that when the email pinged through for a product called Rosebud Woman, a new line of intimate skin care, I was intrigued. For years, we've been told that our vaginas are self-cleaning ovens; righteous, perfect-as-they-are machines that take care of themselves, not to mention the entire human species. How have I made it this far without using a whipped post-shower feminine balm made with meadowfoam seed oil, ginger and sunflower seed extract? I thought, snarkily.

It turns out my cattiness was misguided. When I spoke with Rosebud founder Christine Mason, she assured me, "Our message is not, 'Here's another thing to fix on yourself.' Your vagina doesn't need to be cleansed or purified. But your vagina is part of your body, and the time is right for self-care to be about all of you."

When developing her product, Mason conducted roundtable research with women from their 20s to their 70s, where she learned that "so few of us have any self-care rituals related to our sexual cycles, reproductive cycles or life cycles." When it comes to products to apply to the vagina, "there's lube and there's medicine. That's it."

Mason says that the first time she sampled her product line — which she calls "pussyceuticals" and includes a moisturizing balm, a stimulating serum, a soothing cream and a refreshing spray — at a conference, "not a single man could understand there was a reason to care for that part of the body that wasn't to prepare for penetration or sex. You don't need to use products like these just to get ready for a guy; you can use them simply to revere the feminine in you." As a bonus: "It's fun," she points out. "It feels good to put them on."

With that in mind, here are a few products worth trying — some are as close as your nearest big-box store — plus a few notes on using them.

Also, a quick anatomy pointer: Technically, these products are meant for your vulva, which is essentially everything visible on the outside of your body when gazing between your legs. Your vagina is the actual canal leading from the vulva to the cervix.

Never put beauty products inside your vagina, says Greenville, Miss.-based ob-gyn Lakeisha Richardson, M.D. "The labia majora and labia minora, also known as the lips, have a normal skin composition; the vagina does not have skin but actually has a mucosa that is thin and sensitive," she explains. Products intended to be used externally may cause no trouble at all, but placed inside can cause burning, swelling and irritation, and disturb the vaginal pH balance, setting you up for an infection.

Rosebud Honor: Everyday Balm
This looks like a little glass pot of lip gloss, which I guess it technically is. It has a creamy, emollient texture; a pretty blush-, pink hue; and ingredients that help hydrate and lubricate. Mason recommends applying after bathing and/or before bed, working it into all external creases and folds. $90, rosewoman.com

You might also consider trying Vagisil Feminine Moisturizer with Vitamin E and Aloe.

FUR Silk Scrub
Emma Watson made headlines and raised eyebrows in 2017 when she said she regularly oils her pubic hair to make it soft. The line she uses, FUR, makes several other products for your neglected nether regions, including a clary sage-scented Silk Scrub. Applied in a circular motion to damp skin while showering, a combination of exfoliating jojoba beads, alpha hydroxy acids, and papaya and pineapple enzymes works to remove dead skin cells and unclog follicles to prevent ingrown hairs. (If you have time to kill, you can also use it as a vulva mask, letting it sit for up to 10 minutes.) $48, furyou.com

You might also try Bushbalm.

Queen V Spray Bay Bay
Considering you can now find this line of V beauty products at a big-box store and online, it's safe to say the concept of lady parts self-care has officially gone mainstream. This organic aloe-based intimate moisturizer spray is designed to "hydrate and rejuvenate your Queen V with easy 360-degree application." Just don't confuse it with your spray sunscreen. $11, queenvlife.com

You might also try Luvena Vaginal Moisturizer.

Vmagic Feminine Lips Stick
With the tagline, "Because your other lips get chapped too," this stick aims to help relieve dryness and chafing. It contains three types of oil (extra virgin olive; avocado; sea buckthorn) and honey, which is what it smells and tastes like, per the website. $20, vmagicnow.com

You might also try Replens Long Lasting Vaginal Moisturizer.

Bawdy Beauty Butt Masks
While you're down there, don't forget that your tush needs some loving, too. There's a mask for everything these days, so why not pamper your booty with one of Bawdy's four offerings, cheekily (see what I did there?) named Bite It, Shake It, Slap It, Squeeze It — for, respectively, hydrating and toning; firming and illuminating; retexturizing and detoxifying; and brightening and rejuvenating. Each mask comes in two sheets, to be applied to Lefty and Righty, and bearing the mask's name, making for a great Insta post if you're feeling ballsy. $9, bawdybeauty.com/

You might also try Firming Body Butter by LifeCell, although it's much pricier.



Please consult a doctor if you have any questions before trying a new product on your body.