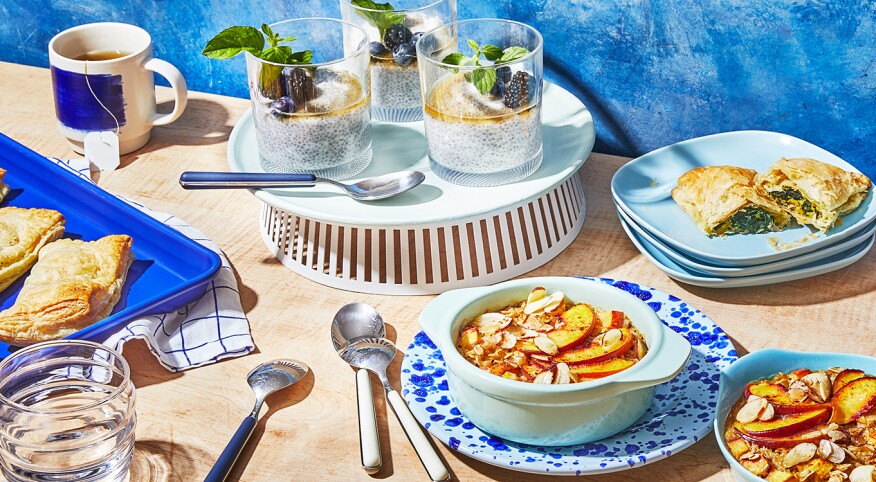 Breakfast is the most important meal — but it's also meant to be served during the most stressful 24 hours of the day. We're racing to go to work, get the kids to school, feed the cats, walk the dog. There is so much to accomplish first thing in the morning, so who has time to make a great breakfast? So, we found five of the best breakfasts that are meant to be made the night before. You're welcome.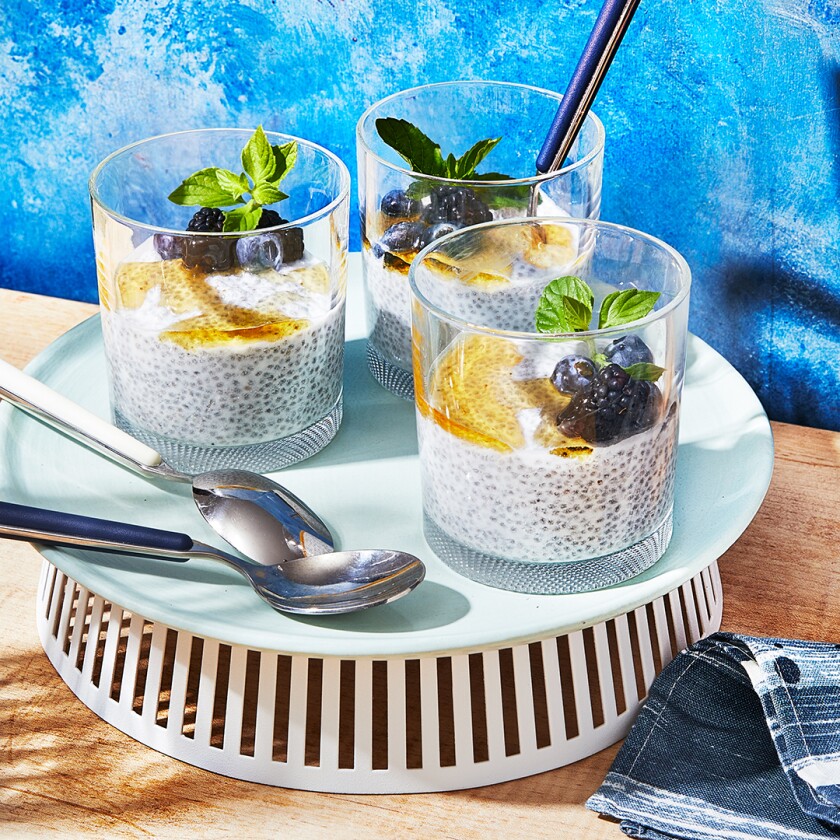 Coconut Chia Pudding

Serves 4

This creamy and slightly sweet coconut chia pudding gets you ready to jump into your day full of energy and wholesome goodness, explain Courtney and Stacey Moeslein, the creators of the recipe and cofounders of The Southern Spoonful.

Ingredients

1 (13.6 ounce) can coconut milk

3½ tablespoons chia seeds

½ teaspoon vanilla

1 tablespoon honey

Directions

Pour coconut milk in a medium mixing bowl. Whisk the coconut milk, and then add chia seeds, vanilla and honey. Pour the chia seeds into 4-ounce containers, and refrigerate at least 1 hour or overnight.


Healthy pumpkin bread

Serves 8

Packed with fall spices, this is a flavorful bread for breakfast or dessert.

Ingredients

2½ cups white flour

1 cup almond flour

4 eggs

2 cups canned pumpkin

2 cups white sugar

½ cup avocado oil

2 teaspoons baking soda

2 teaspoons cinnamon

1½ teaspoons salt

1 teaspoons nutmeg

1 teaspoon pumpkin spice

6 ounces applesauce

6 ounces water

Directions

Spray 2 nonstick loaf pans. Place the dry ingredients in a large bowl and mix well. In another mixing bowl, pour the pumpkin, applesauce, water, oil and eggs, and beat well with a mixer. Pour the dry ingredients into the wet ingredients and mix well until combined. Pour the batter into the well-greased pans, dividing the batter equally between the two pans. Bake for 1 hour, and then pierce the middle of the bread with a toothpick, ensuring it comes out clean to make sure it's done.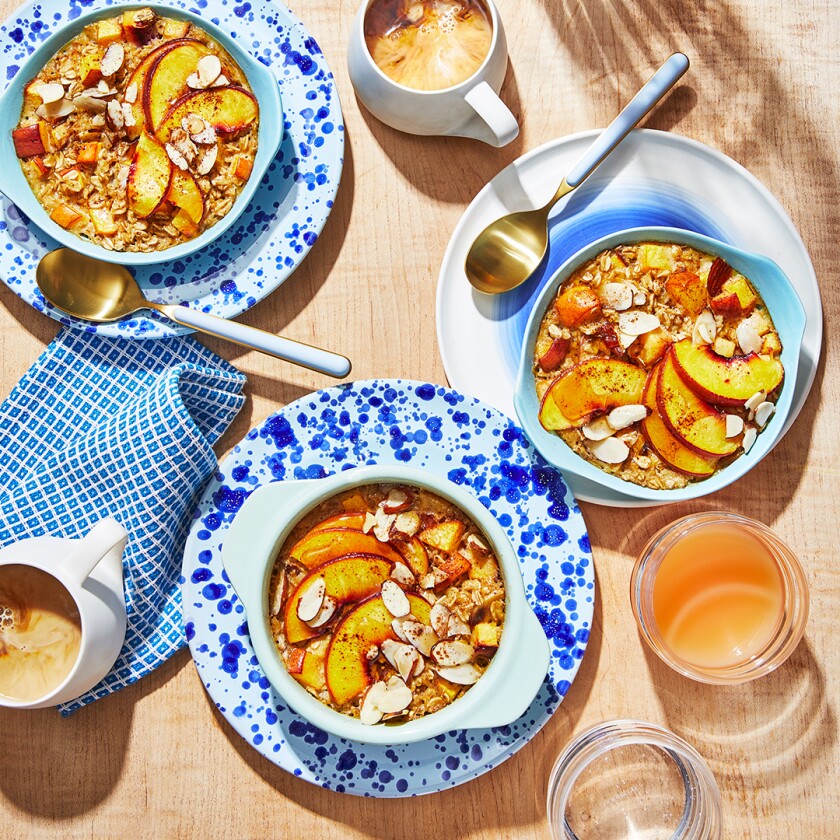 Peach-baked oatmeal

Serves 6

This recipe is great to make ahead because it can be portioned and refrigerated or frozen, then microwaved or baked when you're ready to eat it, says Jasmine Golden, who writes the food blog Golden Truffle.

Ingredients

1½ cups rolled oats

2 cups oat milk

1 egg

2 peaches (1½ cubed, ½ sliced)

⅓ cup brown sugar

1 teaspoon cinnamon

1 teaspoon baking powder

⅓ cup almonds

Directions

Preheat oven to 350°F. In a bowl, mix the oats, cinnamon, brown sugar and baking powder. Mix in the milk and the egg. Add 1½ cubed peaches. Mix well and pour the mixture into a baking dish. Top with peach slices and almonds and bake for 30 minutes. Let rest for 5 minutes, then serve with honey or agave and cinnamon on top.


Triple Berry Overnight Oats

Serves 4

These are filling and easy to prepare, says Bill Bradley, a registered dietitian and the CEO of the blog Mediterranean Living. "The high-fiber content of oats also makes you feel full longer and helps stabilize sugar levels," he says.

Ingredients

1 cup blueberries

1 cup raspberries

1 cup blackberries

¾ cup unsweetened almond milk

½ cup rolled oats

1 teaspoon cinnamon

2 teaspoons honey

½ teaspoon vanilla extract

¼ cup sliced almonds

Directions

Combine all ingredients except the berries. Place them in mason jars and refrigerate overnight. Serve cold in the morning, and top with the berries, sliced.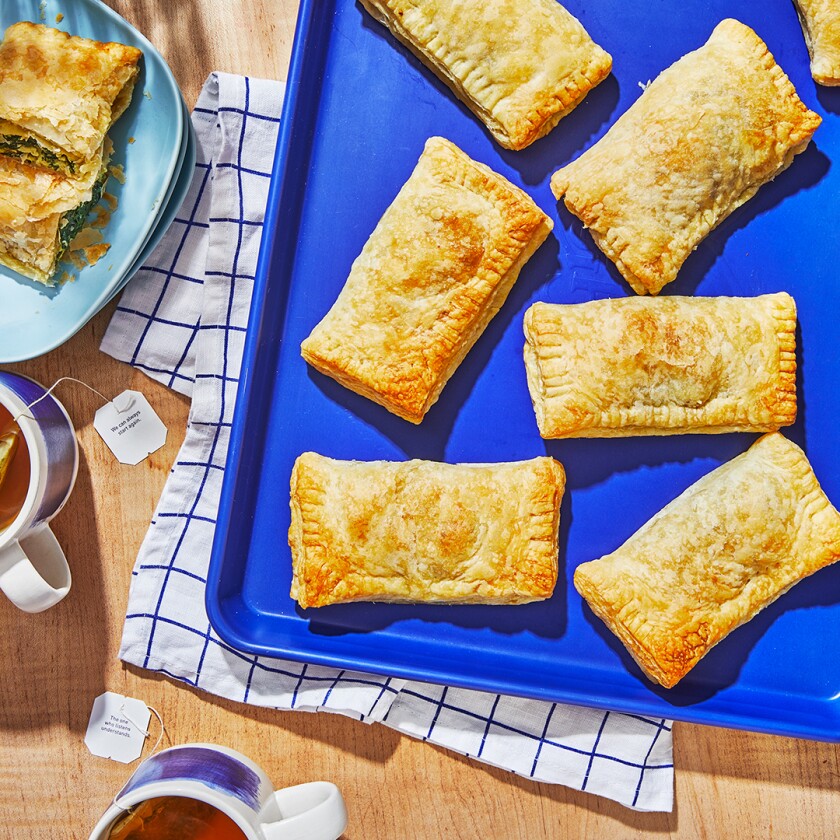 Vegan Spinach & JUST Egg Breakfast Hand Pies

Serves 8

Hand pies are great for meal prep because they are easy to prepare and absolutely delicious in the morning, says Brooke Brimm, a plant-dominant chef and author of four issues of the Vegan Soul Foodie Recipe Guide. "The flakiness of the crust doesn't get soggy when stored in the refrigerator, and they immediately regain their crispness when reheated," she says.

Ingredients

1 package Pepperidge Farm Puff Pastry

1 (10 ounce) bag fresh spinach, chopped

1 shallot, minced

1 bottle of JUST Egg

2 tablespoons olive oil for sautéing

Salt and pepper to taste

Directions

Remove the puff pastry from the freezer. On medium-high heat, sauté chopped spinach and minced shallots together. After the spinach is reduced in size, pour JUST Egg on top and season with salt and pepper. Gently fold the egg mixture around the pan until it resembles a spinach egg scramble. Let mixture sit for 5 minutes. Open the puff pastry box and unfold the dough. Partially thawed is OK. Cut pastry squares and place the egg mixture in the center. Press the edges with a fork to seal. Place into an air fryer or convection oven at 400°F for 5 to 6 minutes until lightly brown. Allow to cool completely, and place into a sealed plastic bag in the refrigerator. Grab one in the morning and reheat in the air fryer or toaster. This will last in the refrigerator for 4 to 5 days; freeze for longer life.