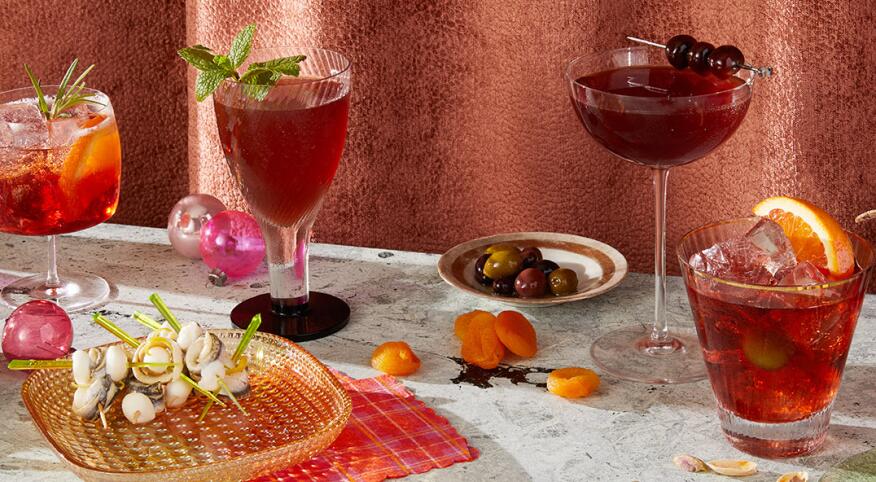 The emotions evoked by the cheery splashes of red during the holidays range from pleasurable cozy warmth to heightened passion and rising drama. With its eye-catching long wavelength, wherever it appears candy-cane red manages to grab the spotlight and stoke holiday vibes. Clearly, the redder, the merrier.

For the merriest holidays ever, go the distance and generously serve up ruby-hued cocktails courtesy of two brilliant award-winning mixologists: celebrated bartender and consultant Lynnette Marrero of New York City; and spirit enthusiast Carlie Steiner, who recently relocated to San Sebastián, Spain from Washington, D.C.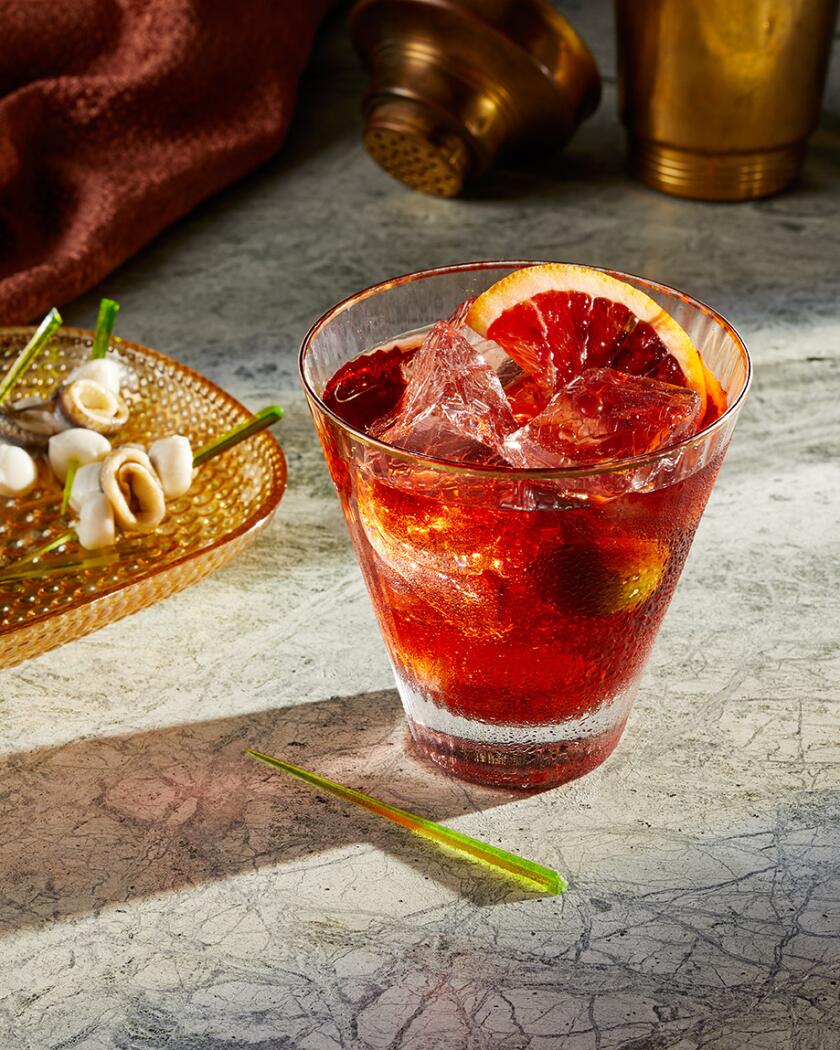 Marianito

Hospitality professional and cocktail instructor extraordinaire at SecoCocktails.com, Steiner studied at the Culinary Institute of America, was named to the lists of Forbes 30 Under 30 and Zagat 30 Under 30, among other accolades, and once owned two top-tier restaurants in the nation's capital. She says this cocktail emulates the not-so-serious psyche of the Basque Country and is perfect with food because of its low-alcohol content and herbaceous flavors. She stresses that the garnish is super important, as it adds the touch of brine that completes the drink.


3 dashes Angostura bitters

½ ounce gin

½ ounce Campari

1½ ounces red vermouth
Directions: Build all ingredients over ice in a chilled goblet or wine glass. Stir a few times to chill and incorporate ingredients. Garnish with a slice of orange and some green olives. Enjoy with small salty bites and good company. ¡Buen provecho! 

Steiner's tip: This cocktail can easily be batched ahead of time, making it a perfect cocktail for the holiday if you're celebrating with friends and family. If you want to build para compartir (to share), I recommend you make it no more than 24 hours ahead of time and keep refrigerated for optimum freshness.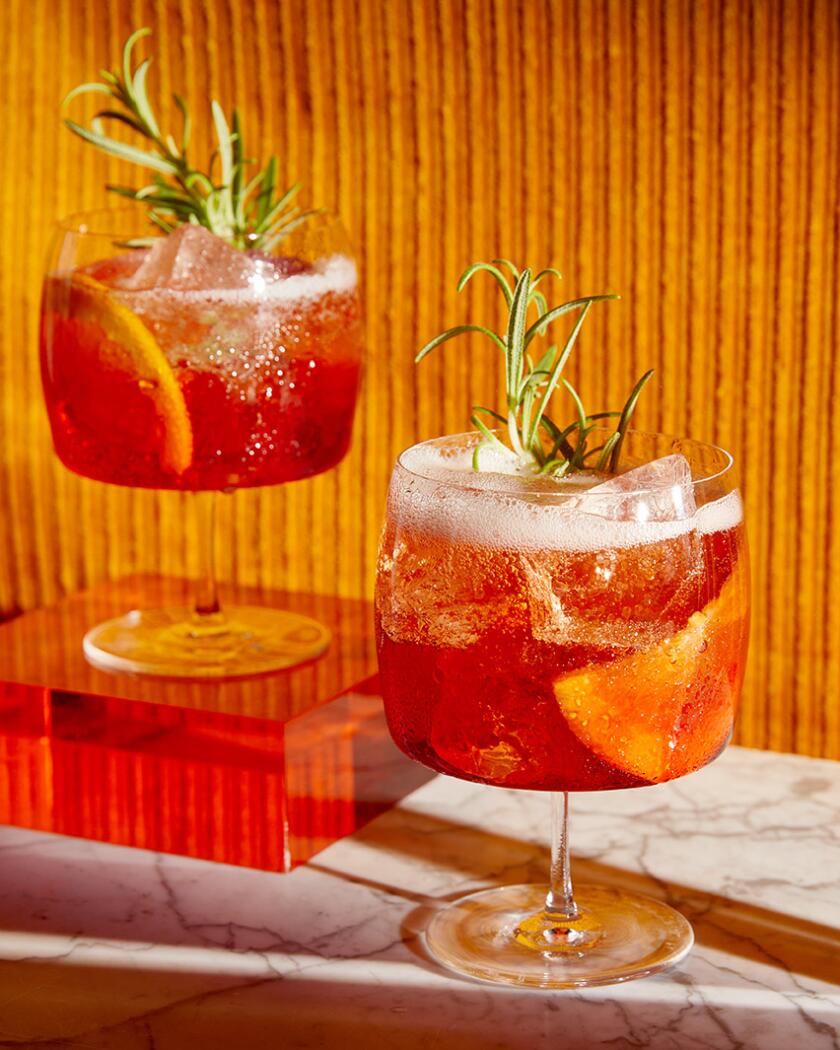 Holiday Spritz

Earning the inaugural Philanthropy Award for her work at Speed Rack as well as prestigious Time Out Eat Out awards, Marrero has been a flurry of activity since the good-ole-days when she served cocktails at NYC's legendary Flatiron Lounge. As founder of Drinksat6, the James Beard Awards honoree now consults and designs bar programs, as well as teaches mixology through Masterclass.com. Marrero reveals how to put spritz into your holiday with this spirited cocktail. "No need to put away your summer spitz, this version adds pomegranate juice for a seasonal version of this mixed drink," she says.


2 ounces Aperol

4 ounces prosecco, champagne or cava

1 ounce pomegranate juice

1 ounce club soda

1 orange for zest and ½ wheel garnish

1 sprig of fresh herb
Directions: Combine the Aperol, pomegranate juice in a glass with ice. Add sparkling wine and club soda, and gently stir to mix. Express orange zest over the glass. Garnish with orange wedge and sprig of green herbs.

Marrero's tip: Stir the cocktail to fully mix so you don't have a layered effect.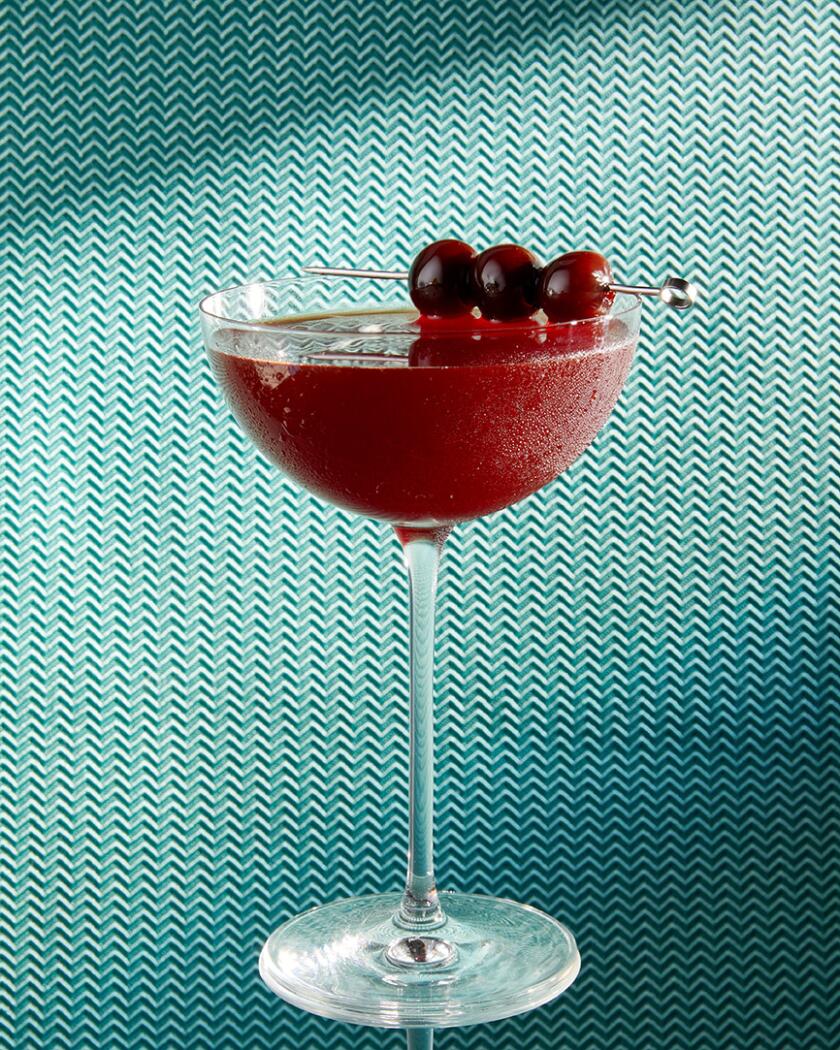 Buena Onda

Meaning "cool vibes," this cocktail creates a fresh and zippy not-too-boozy holiday punch, Steiner says. Aperol offers a hybrid of bitter and sweet with a light touch of rhubarb among other flavors, and Fino sherry imparts dryness with a tad toasty bread notes and weight. Cherry heering offers holiday spirit via undertones of marzipan, while lemon juice contributes brightness, she explains.


Directions: Build all ingredients in a cocktail shaker with ice. Shake well, strain the cocktail from the ice and into a chilled coupe or martini-style glass. Stir a few times to chill and incorporate ingredients. Garnish with cherry.

Steiner's tip: The shake is as important as build and ingredients in this cocktail. You're looking for the final product to be frothy, light on the palate, and fresh.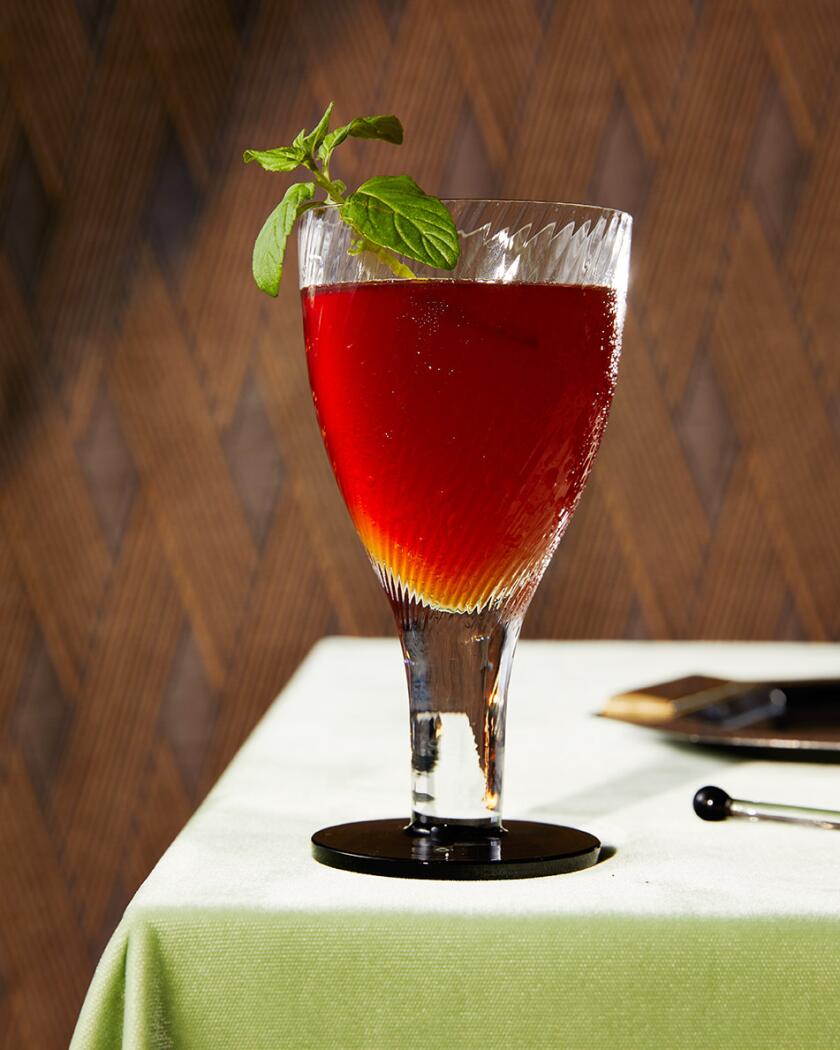 The Clara Bow

Named for the 1920s Hollywood actress reputed to be the first "it girl," The Clara Bow combines bourbon and homemade grenadine resulting in a refreshing and full-bodied mixed drink, explains Marrero, who was named winner of the Altos Bartenders' Bartender Award 2021. Grenadine injects crimson into the cocktail, and — like an unexpected surprise under the tree — Marrero offers a bonus recipe on how to make grenadine from her Masterclass for this sweet-tart liquor.


1½ ounces bourbon

¾ ounce lemon juice

½ ounce elderflower liqueur

½ ounce grenadine (recipe below)

6 mint leaves
Directions: Shake first four ingredients with 6 mint leaves. Double strain. Garnish with a mint leaf.

Marrero's tip: Make sure to select large mint leaves and let your ice do the muddling.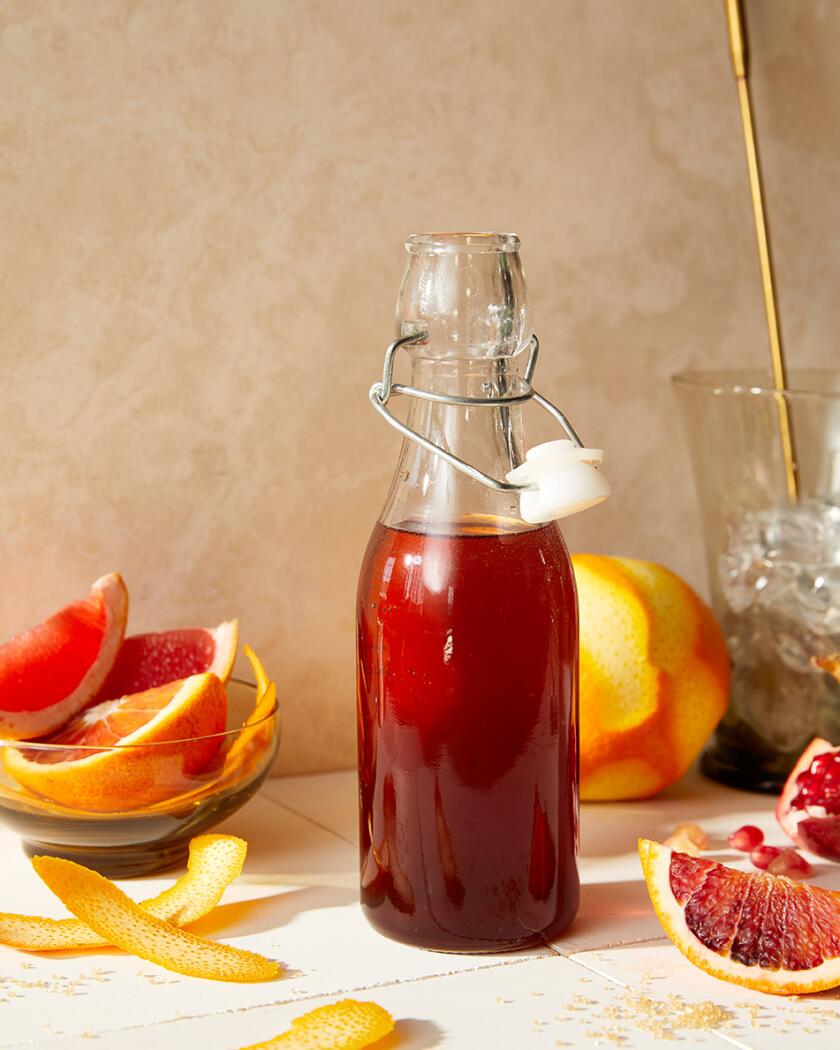 Homemade Grenadine

16 ounces pomegranate juice

1 cup demerara sugar

3 to 4 orange peels

Directions: Combine pomegranate juice and demerara sugar in a small saucepan and place over medium-high heat. Stir until the sugar is completely dissolved, about 5 minutes, and set the pan aside to cool. Express oil from the citrus zests into the pan and drop the peels into the liquid. Once cool, remove the peels from the liquid and store the grenadine in an airtight container in the refrigerator for up to 1 month.

What's your favorite holiday cocktail? Let us know in the comments below.