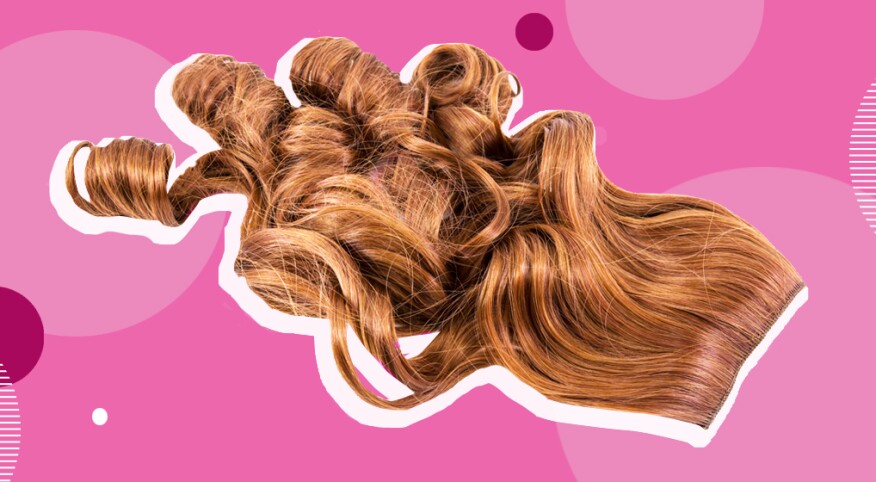 "Ewwww, Mom's hair …" my son screeched as he got into the car. And no, he isn't talking about my real hair (although it would be an appropriate description most days). He is talking about my clip-in hair extensions. The ones that I accidentally left on the passenger side of our car because I was doing a quick work-to-gym transformation and the extensions just had to go!

Here is the thing: My hair is just not my hair anymore, you know what I mean? It's thinner than ever, full of breakage and grays, falls flat every day and simply won't grow longer than shoulder-length. I have tried every shampoo on the market, biotin, folate and collagen, and nothing has helped bring my hair back to life. They say this happens in midlife (among many other nuisances), and they aren't wrong. Clip-in hair extensions have been a game changer for me. If you also look in the mirror and wonder what the heck happened to your hair, then perhaps extensions are for you.

I chatted with Brynn Reed, the lead extension specialist and a senior stylist at Mirror Mirror, a clean beauty salon in Austin, Texas, to bring you the 411 on hair extensions. Here are the highs and lows of donning fake hair in midlife.

Instant confidence

If you like instant gratification, hair extensions just may be for you. Reed says they "can give you the hair of your dreams instantly — adding volume, length and shine." One of her favorite things about being a stylist and "doing extensions is watching my clients' confidence skyrocket!" I can attest to my clip-ins helping me to feel confident and youthful (and less like I am sporting a mullet)!

Endless options

The good news is that there are endless options, so chances are you can find one that works for your needs, lifestyle, wallet and comfort level. Clip-ins are affordable and great for a special, one-time event. They're also good for "tryouts." You can try on different lengths, colors and volumes to find your ideal match. They even have bang-only clip-ins and fake ponytail extensions. Invisible beads, tape-ins and hand-tied wefts are all other options for more permanent locks, which can feel more natural. I have to say from my own experience, a little extra hair goes a long way. Whereas I purchased an entire set, which comes with a lot of (fake, but real) hair, I typically wear only two pieces — one on each side to frame my face.

Not so secret

I am often very uncomfortable and nervous about my "fake hair" showing through my real hair. The clip itself can be noticeable if you don't cover it well enough with your real hair. And when I am outside on a windy day? Forget about it; it is almost guaranteed that my little secret will be revealed! Oh, and then there is dating with fake hair. I once showed up on a first date with a full set of clip-ins and a whole lot of confidence, and all went well. Then, somewhere around the fifth date he asked me to go swimming, and I knew my fake hair couldn't come with us. I threw my hair up in a ponytail and he didn't seem to notice, but the whole thing made me second-guess the fake-hair routine altogether!

Can be costly

I daydream about taking the leap and going for real-hair extensions. You know, the kind the stylist does at the salon that last for a year? So, what's stopping me? Just $1,000 or so, that's all. Costs include purchasing the hair itself, paying the stylist for installation, and then having the extensions lifted every six to eight weeks. It quickly adds up, and I just don't have that kind of money. Even if I did, I am not sure I could spend it on hair. OK, yeah … I could.

Jumping in

If you decide to take the leap, don't be hasty or impulsive. Do your research first. Search Instagram, for example, and keep a collection of the styles you like. Then search for a stylist. Reed mentions that "an experienced extension specialist is needed to assess the structural integrity of your natural hair, placement and position. Look for a stylist with specific training and credentials in extensions." Also, "ask to see before and after photos of their work." Make sure you and your stylist discuss color, texture, volume, length and long-term maintenance requirements before you commit to the change.

I remember when I first started wearing extensions. I was embarrassed and ashamed, and did everything I could to hide them from everyone. But now, years later, I am at a place of complete acceptance and no longer ashamed. I WEAR HAIR EXTENSIONS AND I DON'T CARE WHO KNOWS IT! So can you. And if your child or date should find your hair on the seat of your car, just smile — and tell them they can have the hair of their dreams too!