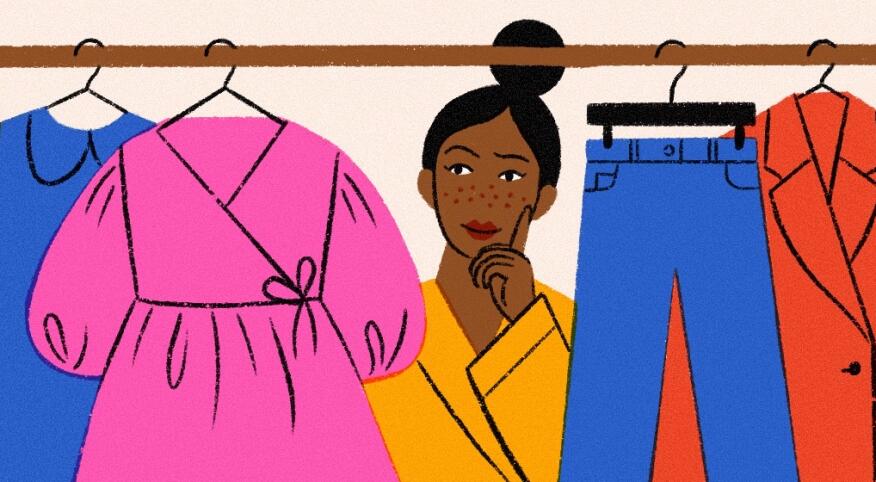 I have to admit, when I walk into a clothing store in the middle of a blistering heat wave and see a rack of new sweaters, I actually don't mind. As much as I love summertime, my fashion heart swoons over boot-wearing, denim-donning sweater weather.

Last year, it seemed silly to invest in new clothes when the calendar (social and workwise) consisted of sitting in my house and primarily seeing just the three people in my pod. But this year, I am hoping that I will have a reason to get dressed beyond just changing out of my pajamas into sweatpants and a clean T-shirt.

If you are pondering a wardrobe update this fall, remember that a good rule for staying organized is: When you get something new, get rid of something old. If you are not sure what to consider ditching, here are three suggestions.


If you are like me, you have a love/hate relationship with skinny jeans. While fashion bloggers are touting their demise, it may be best not to toss your skinnies just yet. Stylist Barbara Aleks explains, "I think skinny jeans have become classics/staples, so I wouldn't get rid of them. Instead, move them to the back of the closet for now in favor of some of the other styles that are currently abundant — such as straight, wide legs, flares and some of the looser styles."


Fur sure — no more fur (that includes faux)
Krista Gonzalez, a stylist with Stitch Fix, suggests donating last season's faux-fur coats in your closet clean-out. "You'll still have your reliable moto jacket to keep you covered," explains Gonzalez. And leather fans can rejoice, as leather — especially vegan leather — is still going strong in bottoms, tops and jackets.


We all have clothes in our closets with tags still on or pieces that would fit if we lost 5 pounds. But you shouldn't look in your closet and feel chastised. Lezli Salz-Bradley, stylist and owner of the clothing store Willow Street, says, "I am a firm believer in cleaning out your closet every season. I am consistently ditching things that don't fit or feel good. They just clutter the closet and take space away from the good stuff." Adds Aleks, "Any items that are irreparably damaged, don't fit, haven't been worn in the last two years (unless they're event-specific), aren't your style and you don't love, get rid of it."

Now that we have made some room in our closet, we can talk about what to purchase this autumn. Here are five items to consider.


Cooler weather means that it's time to grab a sweater. Cardigans with a shawl collar are both trendy and practical, perfect for fall layering. If you are concerned layering will make you look bulky, Aleks suggests showing the layers. She explains, "Have the pieces peek out from underneath. Don't feel that everything needs to end or land at the same spot. It's OK to have longer and shorter pieces or sleeves." Salz-Bradley also likes the slouchy, off-the-shoulder sweater. She says "it lets you show a little skin, but also keeps you warm and cozy."


Ride high with tall boots
"For optimal wear, stick to natural neutrals like coffees and creams, in leather or suede," says Gonzalez. "Style your tall boots with a festive-floral dress or with comfy leggings and a Fair Isle sweater for the quintessential apple picking outfit." Yee-haw for fans of cowboy boots! Salz-Bradley says, "I am seeing a Western influence for fall in boots, booties and belts, all of which look great with flowy skirts and dresses."


After a year of alternating between sweats and pajama bottoms, you may be ready for real pants. Consider trying on a pair of tailored or wide-leg styles. "Some women are afraid to try wider-leg pants because they think it might add width or make them look shorter," Aleks says. "But if worn correctly (right fabric and length) and paired with the right pieces, they can really elevate a look and elongate as well."

If you are looking for new jeans, a dark-blue wash works day or night. Or think outside of the box with colored denim. "Spice up your collection with colorful hues like cinnamon or nutmeg," advises Gonzalez. And if you are not ready to give up on the comfort of an elastic waistband, that's OK, too. Salz-Bradley says, "The jogger that we all wore during the pandemic is being updated in velvet and satin, and it pairs great with that slouchy, off-the-shoulder sweater and Western-style boots."


"The relaxed blazer is a wardrobe workhorse," says Gonzalez. "It pairs seamlessly with anything from dresses to denim." She likes knit blazers in a tunic length that will update your look but give you the comfortable feel of a sweatshirt. Another outwear option is the shacket (a shirt/jacket combination). "This is the perfect light layer if your body can't decide if it's hot or cold. Not to mention, it looks casually cute with jeans and a T-shirt," she says.


"Blouses are perfect for Zoom calls for work, dressing up for nights out, or dressing down with some jeans/joggers for daytime errands," Aleks says. Blouses can be worn tucked into pants or out (or half-tucked just in front), depending on what flatters your figure. Gonzalez suggests purchasing blouses with mixed materials. She explains, "These tops drape beautifully in the front due to the woven fabric, making them an easy choice for a pencil skirt pairing. You'll appreciate the added comfort of the knit backing when tackling your busiest days."