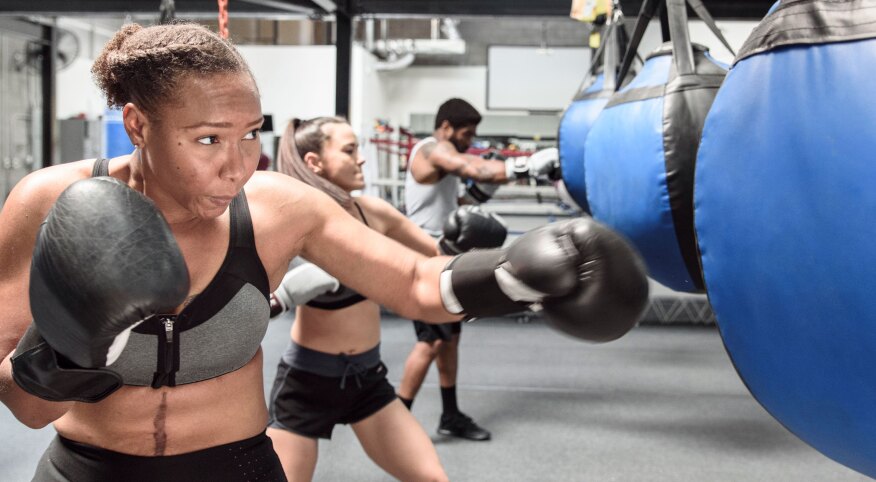 He winds pink wraps around my tiny wrists. Next, he slides blue and white gloves over my hands. Sam is a slim guy, late 60s, the barest wisp of a pencil-thin mustache. My friend Sierra walks in, and Sam wraps her wrists in red. He has promised to let us beat the hell out of him. Or at least try.

Sierra is here because her mother died. "I don't know where to put the grief," she'd confided over late-night coffee. So I found a place — a local gym that offers boxing lessons. I don't know why I'm here. Yet.

Sam instructs me to throw a few punches. I hit the pad hard and pain radiates up my left arm. It feels awkward. My form needs work. Sierra and I take turns, thankfully giving me time to breathe.

That evening, I shove myself into the back of my closet among remnants of my former life: a motorcycle jacket, a party dress that no longer zips up, velvet boots with five-inch heels. I pull one big red glove out and then the other, sliding them over my wrists. The last time I used these was at Rick's Abs and Jabs class 15 years ago. "Left, right, upper cut, looking good girl, looking fine," he'd say. I laugh. I was fine back then. Now, though, I'm not fine. I don't want to be fine. I want to be fierce. I slide on the gloves and shadowbox in the bedroom, keeping my elbow up, coming around quick, fist turned, not straight. I'm getting better.

With muscles burning, I prepare for bed like I'm packing for the Iditarod. In middle age, sleep is a marathon that takes place in different climate zones. I've got wool socks, a heating pad and five pillows to cradle my body.

At 2 a.m., my eyes shoot open and I'm on fire. I ride out the hot flash, pacing, sweat dripping. When I wake at 5:45, the dog has my nightshirt strewn across his head and is buried under a pile of blankets. He looks comfortable. I envy him. I run my hands along my thighs and up my torso. As my fingertips reach the soft curve of my belly, I grimace, and then will myself out of bed.
I've lived like this for years. Maybe boxing will help tame my body and my mind. Perhaps what I'm really fighting is getting older. Middle age is sneaky and, unlike Sam, it doesn't come at me from the front.

In the second class, Sam wraps my wrists and slides on my red gloves. This time we're punching and kicking. I keep messing up my left hook. It's 8:30 Monday morning. My brain isn't firing, and Sam calls me out: "Leave what's in your head outside. Focus or you'll get hurt." I want Sam to think I can handle what he throws at me. I don't want him to know the truth: I'm 46 and although I do yoga and lift weights, I'm out of shape; I walk around feeling foggy half the month; and I expend so much energy managing my anxiety. I ask him to rewrap my wrists. This time my hook is on point. He shows us a series of kicks. The jump front kick becomes my specialty. I propel myself forward, fly through the air and gracefully thwack the pad he's holding. I do it again and again until I've backed him into the corner. It feels good. Sierra owns the roundhouse kick. I watch her go hard, tapping into her pain.

When it's my turn again, Sam picks up the speed, throwing me furious combinations. Right, left, hook, upper, jump front kick, back kick, again, faster. His voice is drowned out by the booming in my ears. The sound is coming from deep in my gut like a tornado ripping through a forest. I feel it rising. I'm frightened, but I want to see where it goes. I'm hitting harder. The sound of my glove cracking against the pad is mesmerizing. My adrenaline is pumping and I don't want to stop; I want to purge whatever this is. And then I recognize it. Rage. Grief. I am grieving my former self, and I'm angry about it. I'm angry for being tired. Angry at the way my body betrays me, angry for my inability to remember simple words. I'm angry at my lack of patience, that I'm no longer lithe and that boxing is harder than it used to be. The feelings are bubbling to the surface and I wonder if there is enough space in this room for them, but then Sam stops me. "Rest," he says. The tornado dies down, leaving no trace. I lower my gloves, in awe. I don't recognize the person going so hard just then, but maybe she has been there all along.

"Watch some boxing movies. Creed. Warrior," Sam says. The last one I remember is Rocky IV. "How about movies about 40-something women learning to box?" Sierra jokes. And then it clicks. Why aren't there such movies? I look at Sierra and think of all that she is juggling. How we — and other middle-aged women I know — bear our everyday burdens with grace. What? You thought it was just Muhammad Ali who floats like a butterfly and stings like a bee? We balance our families, our careers and everyone else's stuff, all while suffering night sweats, migraines, anxiety and myriad physical and emotional changes.

We float. We sting.

These years have taught me to advocate for my needs and walk away from situations that no longer work. I speak my opinion when it will make a difference and sometimes when it won't, and I don't really care what anyone else thinks.

Sierra and I head to the parking lot discussing our kids' soccer schedules. I sit in my car for a moment, key in the ignition. I don't know what the next boxing lesson will bring up, but I'm ready.