Get Inspired! Must-See Exhibits To Celebrate Women's History Month
Support women this March by visiting these female-led exhibits.
It's Women's History Month and time to celebrate the achievements and contributions of women throughout history and today. One great way to do this is by visiting art galleries and museums featuring the work of women artists and photographers.

Unfortunately, women artists are still vastly underrepresented in galleries and museums compared to their male counterparts. A mere 13.7 percent of living female artists have gallery representation in the United States and Europe, according a study by ArtNet News, while another study stated that the "permanent collections of 18 prominent U.S. art museums found that the represented artists are 87 percent male and 85 percent white." This gender imbalance has persisted for decades; however, by visiting venues featuring women artists, you can help to support these talented individuals and raise awareness of their work. Visiting these spaces is also a great educational opportunity. Take a moment to learn about the history of women in art, as well as the contemporary issues facing women artists today.

Don't want to go alone? Make it a family outing or girls' trip. Show support, be inspired and help create a more equitable art world for future generations of women artists.

ATLANTA
Evelyn Hofer: Eyes on the City (through August 13, 2023)
High Museum https://high.org/exhibition/evelyn-hofer-eyes-on-the-city/

Photographer Evelyn Hofer's first major exhibit in the United Sates in over 50 years features 100 vintage prints from her published photobooks of European and American cities throughout the 1960s. They include landscapes, architecture and portraiture.
Museum Information: Telephone: 404-733-4400; Days of Operation: Tuesday-Sunday; Admission: $16.50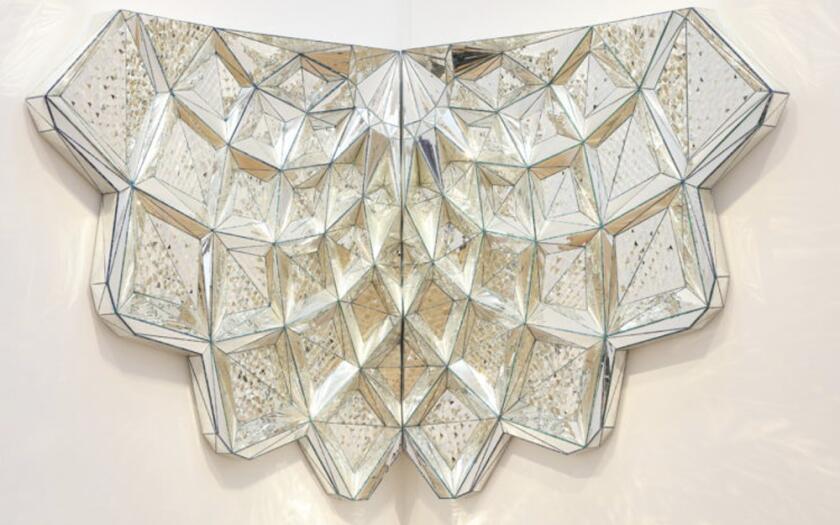 Monir Shahroudy Farmanfarmaian (through April 9, 2023)
High Museum https://high.org/exhibition/monir-farmanfarmaian-a-mirror-garden/

This posthumous exhibit of Iranian artist Monir Shahroudy Farmanfarmaian's work was inspired by her mirrored sculpture Untitled (Muqarnas) and the drawing Untitled (Circles and Squares). In addition to those pieces, works from 1974-2019 in the form of sculptures, drawings, textiles and collages will also be on view.
Museum Information: Telephone: 404-733-4400; Days of Operation: Tuesday-Sunday; Admission: $16.50

BOSTON
María Berrío: The Children's Crusade (through August 6, 2023)
Institute of Contemporary Art / Boston https://www.icaboston.org

New Yorker María Berrío (born in Columbia) presents The Children's Crusade, large-scale mystical works featuring women, children and animals made with sequins, watercolors and torn pieces of Japanese paper. The pieces intertwine "the history of the 13th-century Children's Crusade — and the mystical legends, fables, songs and artwork surrounding it — with the current mass migrations of peoples across the Mediterranean and the U.S. border."
Museum Information: Telephone: 617-478-3100; Days of Operation: Tuesday -Sunday; Admission: $20, Seniors (60-plus), $17


DENVER
Her Brush: Japanese Women Artists from the Fong-Johnstone Collection (through July 16, 2023)
Denver Art Museum https://www.denverartmuseum.org/en/exhibitions/her-brush

This comprehensive exhibit features works by female Japanese artists from the 1600s to 1900s, many on display for the first time. From painting to calligraphy and ceramics, the pieces respond to and pose questions on the subjects of autonomy, legacy, gender and agency and/or ownership of one's own story. Artists include Kiyohara Yukinobu, Ōtagaki Rengetsu, Okuhara Seiko, Ōishi Junkyō, Yamamoto Shōtō and Katō Seikō.
Museum Information: Telephone: 720-865-5000; Days of Operation: Monday-Sunday; Admission: $12-$19


LOS ANGELES
Women Defining Women In Contemporary Art of the Middle East and Beyond (April 23, 2023 through September 24, 2023)
Los Angeles Museum of Art (LACMA), https://www.lacma.org/art/exhibition/women-defining-women-contemporary-art-middle-east-and-beyond

Powerful narratives about self and identity in the form art by women artists who were born, raised or lived in Islamic communities is the subject of this exhibit. Featuring 75 pieces, "their art depicts a breadth of inventively and often ideologically conceived women's imagery, bearing witness to rapidly shifting political developments and often accelerated social transformations taking place in lands extending from Africa to Western and Central Asia, as well as in diasporic communities," according to the museum.
Museum Information: Telephone: 323-857-6000; Days of Operation: Thursday-Tuesday; Admission: $16-25


MINNEAPOLIS
Pacita Abad (April 15, 2023 – September 3, 2023)
Walker Art Center https://walkerart.org/calendar/2023/pacita-abad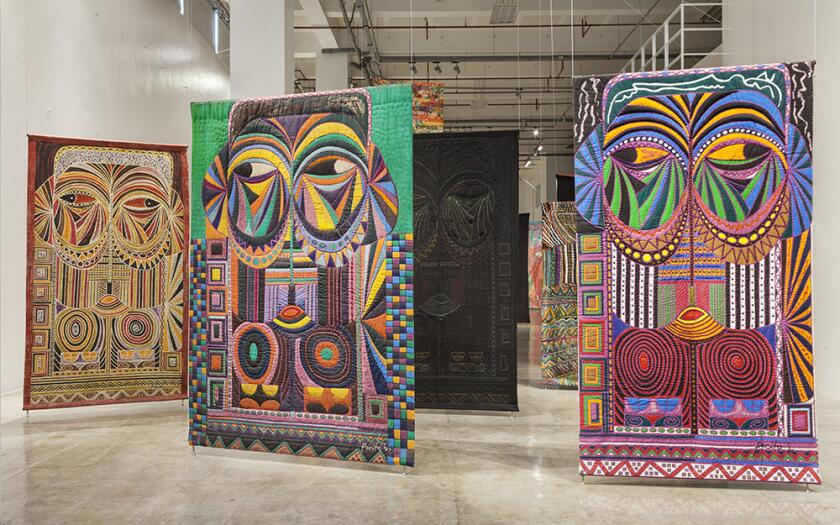 The first-ever retrospective of Filipino artist Pacita Abad's work will cover her entire 32-year career. The artist, who passed in 2004, was known for experimenting with color, movement and texture in numerous areas, including paper, ceramics, textiles and costume design. However, it is her large trapuntos, stuffed and stitched canvasses adorned with shells, beads, buttons and other items, that she is most known for. Check those out along with her tribal masks that feature surreal and political themes.
Museum Information: Telephone: 612-375-7600; Days of Operation: Wednesday-Sunday; Admission: $13-15


NEW YORK
Kennedy Yanko: Humming on Life (through April 22, 2023)
Jeffrey Dietch New York, https://www.deitch.com/new-york/exhibitions/kennedy-yank-humming-on-life-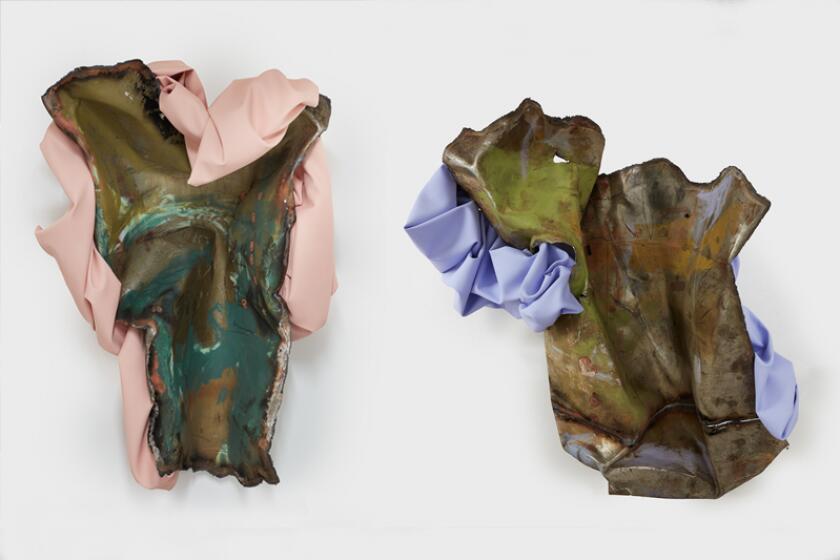 Contemporary artist Kennedy Yanko's large-scale work is showing up a little different these days. Instead of allowing the patina from the salvaged material she acquires to inform her color application, she is bringing colors of her choice to the metalworks, thereby birthing gorgeous new pieces and expanding her definition of painting.
Museum Information: Telephone: 212-343-7300; Days of Operation: Tuesday-Saturday; Admission: Free


NEW YORK
Wangechi Mutu: Intertwined (through June 4, 2023)
New Museum, https://www.newmuseum.org/exhibitions/view/wangechi-mutu-intertwined-1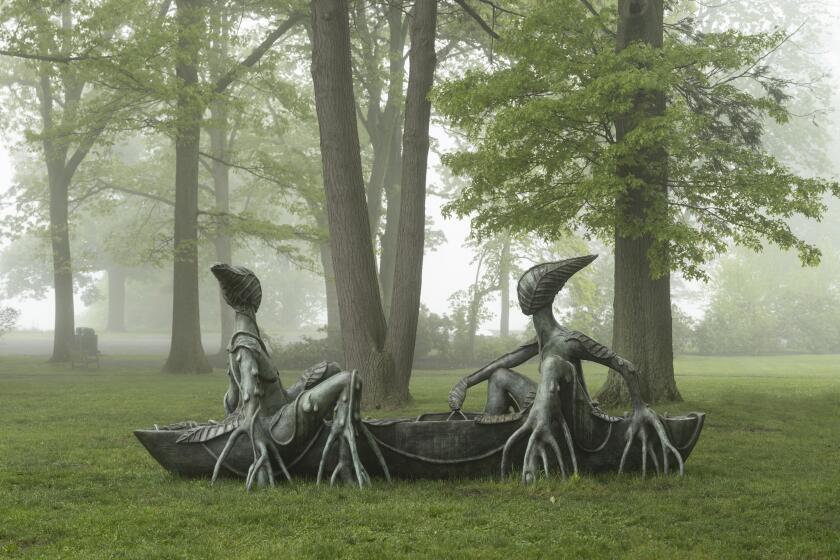 More than one hundred pieces of work from Kenyan multimedia artist Wangechi Mutu's 25-year career is now on view on three floors and part of the lobby in the New Museum. The show's title was derived from a 2003 work of the same name. Mutu's art examines "the exploitation, resilience and grandeur of Black women, as social, spiritual and mythic beings." With the gift of being able to showcase diversity narratives with perceived ease in real and mystical forms through sculpture, collage, video and other mediums, it is no wonder the New York Times stated Mutu's exhibit should make Top 10 lists this year.
Museum Information: Telephone: 212-219-1222; Days of Operation: Tuesday-Sunday; Admission: $15-18


TRAVESE CITY, MI
Vitality and continuity: Art in the experience of Anishinaabe, Inuit, and Pueblo Women (through January 2024)
Dennos Museum, https://www.dennosmuseum.org/art/now-on-view/temporary-exhibits/vitality-and-continuity.html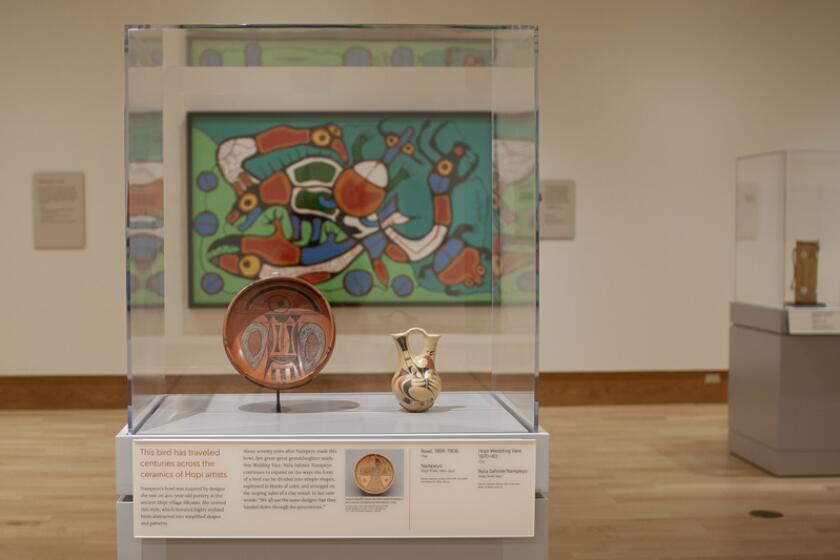 Celebrate three Native American peoples and the role women play within their families, communities and craft communities in this traveling exhibit. The contemporary and historical works of art are said to explore "mothering, making, art world success, spirituality, and continuity in visual culture across generations" in mediums such as basket making, birchbark biting and more. The artists include Kenojuak Ashevak (Inuit), Kelly Church (Gun Lake Band of Pottawatomi/Grand Traverse Ottawa/Chippewa descent) and Maria Martinez (San Ildefonso).
Museum Information: Telephone: 231-995-1055; Days of Operation: Tuesday-Sunday; Admission: $6


WASHINGTON, D.C.
Her Rights! Money, Power, Autonomy (through March 12, 2023)
Embassy of Sweden https://www.houseofsweden.com/exhibitions/her-rights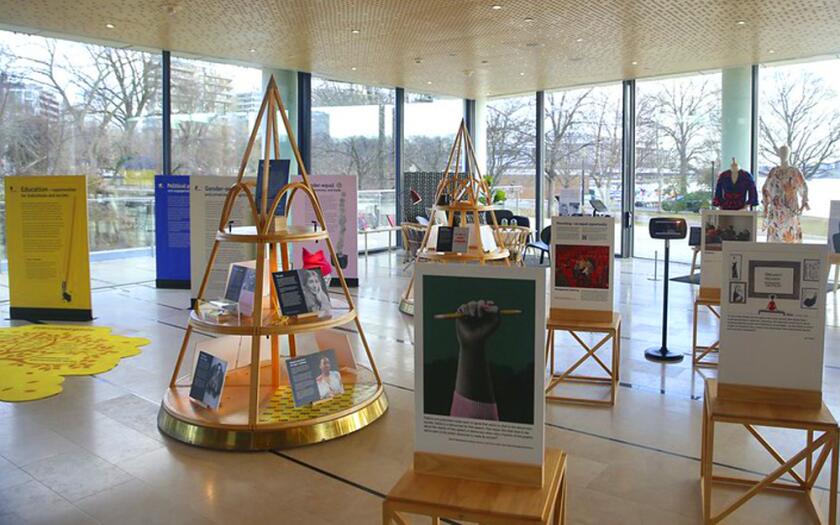 Last chance to see this powerful exhibit, which explores the ways in which "women's economic equality and autonomy are connected to, dependent on and a prerequisite for all other aspects of gender equality." The exhibit showcases a multitude of gender equality infographic installations, including a few on Sweden's policies and legal reforms that have helped strengthen the gender imbalance while also advancing women's rights. Visitors (I really encourage men to view this) will not only be introduced to foreign and domestic women leaders, entrepreneurs and pioneers, but also learn how a bra helped humans travel to space, meet someone who is bridging autonomous vehicles with sustainable transportation and find out how a small key can protect their digital identities. Embassy Information: Telephone: 202-467-2600; Days of Operation: Saturday and Sunday; Admission: Free

Is there a women-centered exhibit that you think is worth checking out? Let us know in comments below.