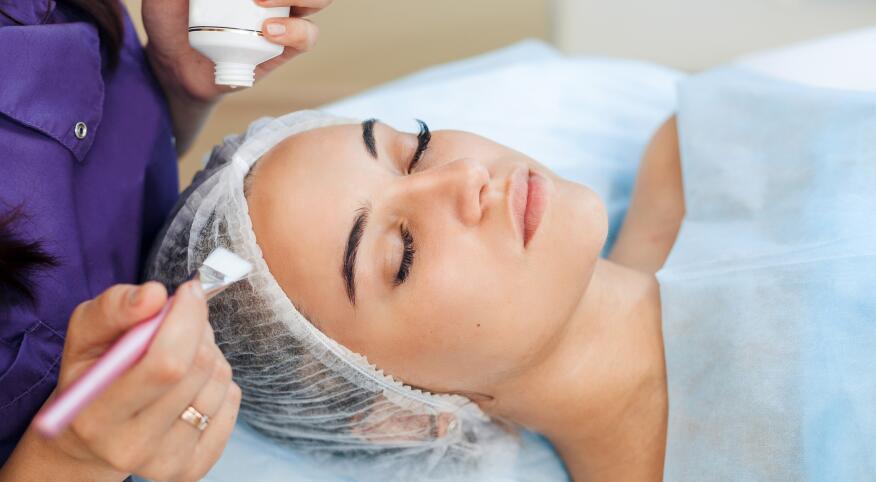 If the words "chemical peel" conjure up an image of Samantha Jones looking like a plate of beef carpaccio at Carrie's book premiere party, here's comforting news: Today's peels are far less irritating than they were in SATC's heyday; in fact, you can have one done at noon and be back to work or coffee with a girlfriend at 1 p.m. with no one the wiser.

Dermatologist Emily Rubenstein, director of Swedish Covenant Medical Group's Swedish Skin Institute in Chicago, explains that a peel is designed to exfoliate the skin in a way that "gets rid of dead skin cells, accelerates skin cell turnover and improves fine lines and uneven pigment." Kim Cattrall's character likely underwent an intense peel that penetrated the deeper levels of skin, resulting in a raw visage and weeks of downtime. "But today, we mostly use superficial peels, which are left on for just a few minutes before being neutralized and wiped off," Rubenstein says. After three to five days of light flaking and dryness, you're rewarded with a baby-smooth mug that looks brighter and rejuvenated. You're not gonna suddenly start getting carded at the liquor store, but someone might think you spent the weekend relaxing at a spa.

With most superficial peels, you'll need about four treatments, usually at $100 to $300 a pop and spaced out by two weeks. The results aren't as immediate and obvious as with Botox or fillers, but it's much more affordable and, when combined with judicious use of sunblock (yes, even on cloudy days), might help you avoid bigger guns like lasers down the road.

A few options your dermatologist might offer:

If you're a newbie... Glycolic acid peel. Derived from sugar, this is the standard beginner peel. It helps with fine lines and wrinkles and uneven skin tones.

Your next step... Pyruvic acid peel. Strong enough to stimulate collagen-making cells called fibroblast, it might sting a tiny bit but is totally manageable. These help with anti-aging and uneven skin tones (including melasma, which often strikes during pregnancy and never goes away).

If you're prone to breakouts... Salicylic acid peel. This plant-derived peel calms breakouts and can improve acne-induced hyperpigmentation.