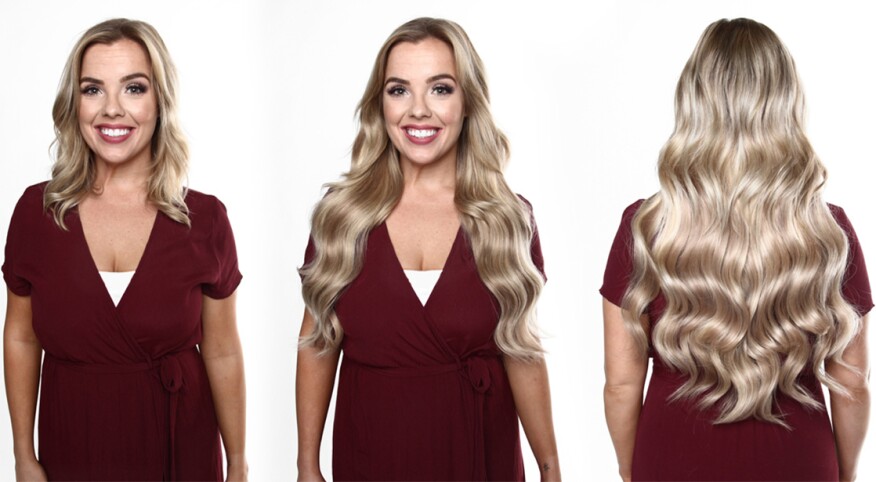 As someone with scrawny hair that fluffs up only with massive amounts of product, smoke and mirrors, I've always dreamed of having long, luscious locks. So I was psyched to learn about halo-style extensions. Made from a nearly invisible fishing wire-like material or a clear stretchy elastic, you wear them like a headband; the top is camouflaged by your hair, but from the bottom hang thousands of beautiful hairs waiting to thicken up your mane.

Eager to try the trend, I brought a Hidden Crown Hair halo to Chicago stylist Irene Jones of Jones Studio. ($275- $340, ranging in length from 12 inches to 20 inches.) Technically, fitting these suckers should be a DIY experience, but I needed a little help. First, even though I ordered the shortest available, they were still too long for what I felt comfortable with — more Bachelor contestant than coffee shop journalist. I also was in need of a springtime color touch-up, so I figured Jones could fine-tune my faux blond to match my soon-to-be hidden hair headdress.

To don halo-style extensions, you first place it on your head, about one to three inches behind the hairline and over all of your natural hair. "It should feel snug but shouldn't cut into your skin," Jones says. "You want to be able to wear it for several hours." Next, use the pointy end of a tail comb to pull your own hair out and over the band. Once you've made your way around, style as usual and voilà: You're a Kardashian.

A few tips:

- You want 100 percent Remy human hair; it's high quality and can be heat styled (360 degrees max). Synthetic extensions are less pricey but don't look as natural, Jones notes.

- Some halos can be purchased online or in-store; others, like HALOCOUTURE®, need to be purchased from an authorized salon.

- If you purchase online and are deciding which color to order, and like me, you color your hair, you'll want to match the extensions to the ends of your current hair, not to the roots.