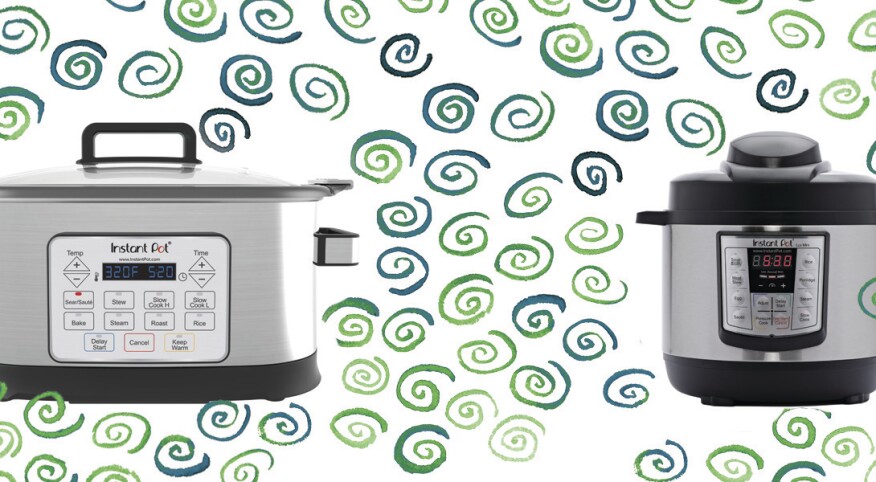 Vamoose, Vitamix. This year's hot kitchen appliance is a countertop combo of electric pressure cooker, slow cooker, rice cooker and yogurt maker. For anyone who dreads the "what's for dinner?" question (that'd be all of us), the Instant Pot is like a sous-chef on steroids.

Why You Need a Programmable Pressure Cooker
Pressure cooking has been around for eons, but old-school models rested on a stove burner and required home cooks to control the heat themselves — not the kind of responsibility you want with an appliance that has the potential to explode! The newest models, though, by brands like Instant Pot and Breville, feature all sorts of safety and self-regulating features, plug into an outlet, and operate with just a few taps of a button. That means you can literally set it and forget it — just like a slow cooker — but dinner is cooked in minutes, not hours.

Rice is ready in four minutes, spare ribs are done in 20, and you can get perfectly tender dried beans (no overnight soaking required!) in less than an hour. In my own house, at the tail end of a frantic weeklong menu of hot dogs, quesadillas and more quesadillas, I realized that making lentil soup in the electric pressure cooker would take less time than slapping together a grilled cheese.

How to Pick One
Pretty much everyone refers to the all-in-one electric pressure cookers as Instant Pots, though that's actually a brand name and there are several others on the market. If appliance comparison shopping is low on your to-do list, stick with an official Instant Pot — consumer researchers agree it's the top pick.

It's available in three-quart, six-quart or eight-quart sizes, but the six-quart (the most popular model) makes enough for my family of four, plus leftovers. If you want fancy features, like the ability to adjust the pressure in high-altitude kitchens or to keep food warm for up to 100 hours (yes, seriously), you can opt for the Instant Pot Ultra. If not, the Instant Pot IP-DUO60 does the trick.

Another option for those who want more manual control is the Fagor Duo 8-Quart, which also has received good reviews.

Make It Work For You
Using an electric pressure cooker isn't intuitive at first, because dishes cook in less than half the time that they might on the stove. To figure out if that raw chicken needs four minutes or 14, scope the brand's official time tables.

You might also be surprised by the variety of dishes you can whip up in the Instant Pot, from hardboiled eggs to lamb shank to cheesecake. For recipes and inspiration aplenty, join one of the many Facebook groups devoted to Instant Pots or peek at the possibilities in this recipe roundup pulled from Melissa Clark's best-selling cookbook Dinner in an Instant.