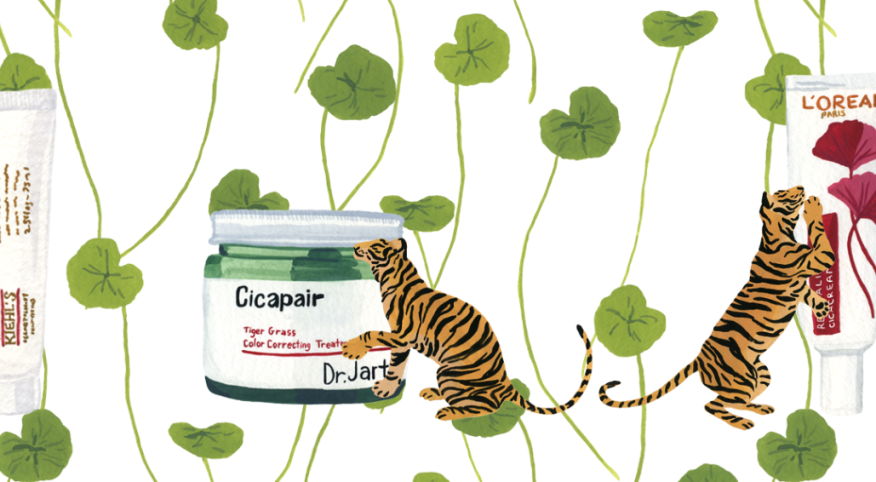 What is it? All this time, who knew that a secret to soothing inflamed skin lay in the self-healing process of tigers in China. This Asian herbal plant extract, technically known as Centella asiatica, has been used in Eastern medicine for years and is now an active ingredient in popular skin products. Tiger grass got its nifty nickname because legend has it that tigers ease battle wounds by rolling around in these wetland leaves.

How does it work? The tropical leaf's water — rich in chlorophyll, the green stuff found in botanical cells — holds the key, per research studies. The nutrient is rich in saponins — nature's anti-inflammatories — and has been shown to aid healing. The result is a calming effect on a red, stressed-out and irritated face, down to that annoying post-sniffles chafed nose. Long-term rosacea, eczema and acne sufferers might also find relief in a tiger grass-enhanced product. (As always, ask your dermatologist before trying a new product.)

What if my skin isn't irritated? You still may want to give it a try. When it comes to, ahem, mature skin, tiger grass' hydrating and antibacterial properties can promote the regeneration of peripheral blood vessels and stimulate the skin's own collagen production. New skin-cell growth will help enhance its overall tone and elasticity.

Do I have to travel across to the world to find it? Nope! Last September, Dr. Jart's new Cicapair Tiger Grass Re.Pair Serum ($46) made its grand debut and immediately earned raves from beauty editors. The product teams the mighty ingredient with copper, zinc and selenium to aid problematic skin. Meanwhile, Dr. Jart Tiger Grass Cicapair Color Correcting Treatment ($52) is a whipped facial moisturizer that uses a green tint to take the red out; Kiehl's Centella Recovery Skin-Salve ($43) is ideal for dabbing on trouble spots; and L'Oreal Paris Revitalift Cicacream ($18) targets dry skin.

When will I see a result? For many, a tiger grass-enhanced moisturizer instantly melts into their skin, and inflamed skin can look and feel better within minutes. Sounds grrrrrrreat, no?




Disclaimer: Most OTC drugs are not reviewed and approved by FDA, however they may be marketed if they comply with applicable regulations and policies. FDA has not evaluated whether this product complies.