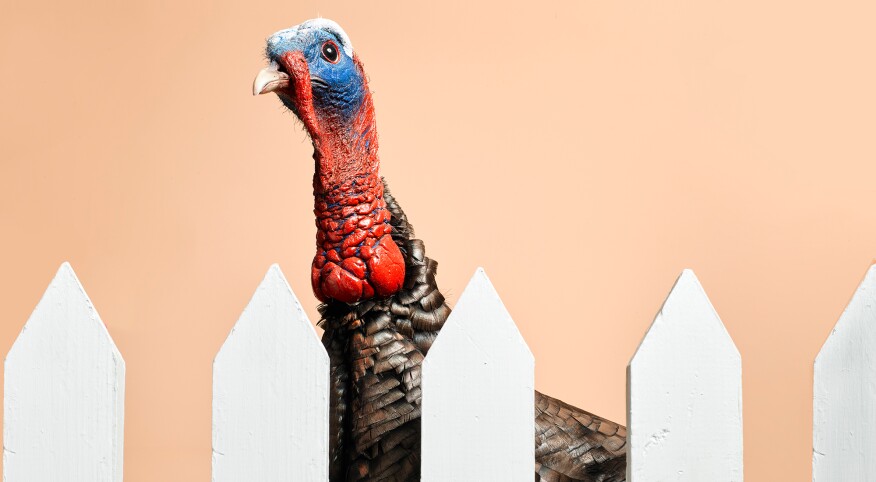 Back when I was not getting much attention on a dating app, a friend said, "You need to show more skin." So, I put on a low-cut dress and redid my photo. I don't remember if I got more responses, but I do know that years of revealing my chest and neck — in tank tops and bathing suits, and while exercising, lifeguarding and sunbathing — led to an unwanted result: The skin is mottled and discolored, like a pointillist painting, and prone to squamous cell skin cancers.

My neck is another story, not one of the "chicken necks, turkey gobbler necks or elephant necks" that the late, great Nora Ephron laments in her essay "I Feel Bad About My Neck," but rather in her grouping of "scrawny necks, banded necks, and mottled necks." Due to body type and exercise habits, my neck actually seems to be growing longer and – one of Ephron's descriptors – stringier.

Whatever way you look at it, I don't see the benefit in looking like Olive Oyl. In her 2006 essay collection of which the "neck" essay is the titular one, Ephron writes that according to her dermatologist "the neck starts to go at forty-three, and that's that." She continues: "Short of surgery, there's not a damn thing you can do about your neck."

Take heart, though. Although miracle fixes don't exist, there are things you can do. But first, let's look at why the neck and decolletage are so vulnerable and can become so vexing. "It's an area that people forgot about, but now they're paying attention," says New York City dermatologist Michele Green, M.D. "They put sunscreen on their face and forgot about the neck and chest," says Green, who is a clinical instructor at Mount Sinai Medicine. She says that sun damage is responsible for many of the changes in this area. "Sun damage creates skin laxity," she says. In other words, "It makes the skin thinner and looser."

And that crepey look? Sara Lamb, M.D., a Washington. D.C., dermatologist and assistant professor of medicine at Johns Hopkins Medicine, says it come from the loss of collagen and fat under the skin. And sun damage can accelerate a process that happens with normal aging. She says that sun damage can cause the neck and chest to be beset by Poikiloderma of Civatte (commonly known as sun aging), reddish-brown discolorations on the neck; solar lentigo (small, darkened patches); and actinic keratosis, a scaly or crusty bump, also called solar keratosis, that can be precancerous and then turn into skin cancer if not treated.

Now for what to do.

"One of the things you want to do is start using the right product," Green says. She advises using sunscreen and at least two of these: vitamin C serums, retinol (a type of vitamin-A based drugs called retinoids), alpha hydroxy acids, hyaluronic acid, and peptides.

The American Academy of Dermatology says the best products for firming sagging skin contain a good moisturizer. "A good moisturizer can plump up your skin, making fine lines and wrinkles less noticeable," the group states.

Changes are also possible "if a product contains a retinoid, such as retinol, which can help your body make more collagen."

Jess Hernandez, products director at City Beauty, a cosmetics brand in Chatsworth, California, advises, "When applying products to the face, neck and chest area you should always use upward circular motions."

For sunscreen, Johns Hopkins Medicine has this to say: "For day-to-day use, pick a sunscreen with sun protection factor (SPF) of at least 30. If you spend time outdoors, choose a product with SPF 60 or greater. In reality, most people do not use as much sunscreen as they should, and this higher SPF helps compensate." Should sunscreen come before or after other products? Opinions vary, so pick what fits best in your routine –– as long as it is broad-spectrum, meaning it blocks UVA and UVB rays. You need to apply sunscreen every two hours, but people forget, so clothing offers the best protection.

The Skin Cancer Foundation recommends a fabric with a UPF factor of at least 30. Ultraviolet Protection Factor (UPF) is a measure of how much UV radiation a fabric allows to reach your skin. Some are not as comfortable as cotton, but with most of the major brands carrying these shirts now, you ought to be able to find something you'll wear when out and about.

My first shirt of this type, made by one of the early companies, Coolibar, didn't have a collar and therefore didn't do much for my neck. It's a challenge to find a collared or zip-up shirt that does not make you sweat like crazy when exercising outdoors in the hot summer months, but it's doable. Solbari, Coolibar, L.L.Bean, Lands' End and other brands offer a variety of choices.

Or you could exercise your neck from the comfort of your home. Hernandez points out, "Like most other parts of the body, you can work the muscles in your chin and neck to tighten, lift and firm skin — getting you back to an overall relaxed, younger look," she said in an email. She suggests exercises such as "kiss the ceiling," like so: "All you have to do is sit in a chair with your back straight. Then, lean your neck back so that you're making eye contact with the ceiling. While looking up, pucker your lips as if you're blowing a kiss upward. Hold this position for five seconds, and then let go of the pucker. Repeat this exercise 10 times to tighten the skin and keep your neck looking nice and firm."

Or neck twists: "Begin this exercise by standing (or sitting) straight and looking forward. Then, turn your neck all the way to the right and lean your head back to a comfortable (but lengthening) position. Hold this stance for about five seconds, and then turn your neck all the way to the left and repeat the stretch. For a stronger, more taut neck, repeat the exercise five times on each side."

In other words, a seated yoga twist! "Even if you're not going outside, it's important to protect yourself from the harmful light from devices as well as any light coming through windows," Hernandez notes. Ultraviolet A rays "can cause signs of aging like loss of elasticity and wrinkles" and "penetrate windows and cloud cover," according to the nonprofit Skin Cancer Foundation.

Even the blue light from digital devices can be a culprit if you're not wearing sunscreen. Wearing sunscreen inside might seem excessive, but if it can help save our necks — it's worth doing.

Anyone have a turkey neck? Do you try to do anything about it? Let us know in the comments below.