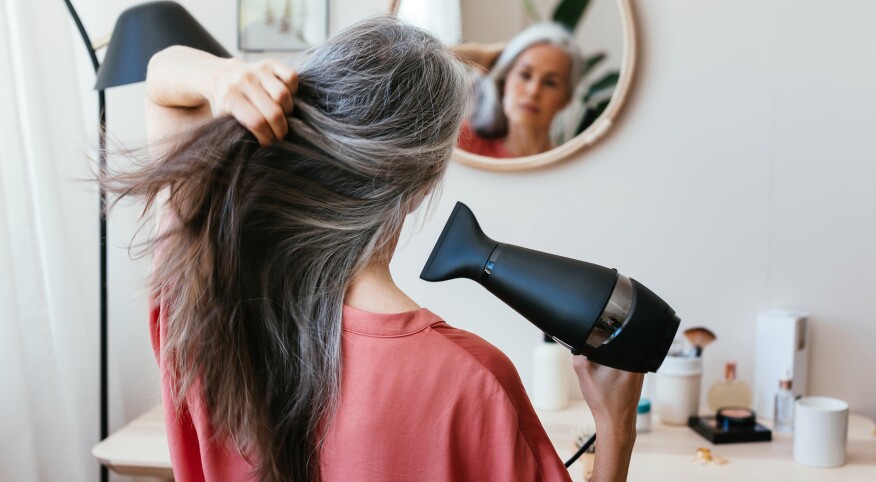 Quit moaning, wishing for thick shiny hair like your girlfriend, and instead make hair wellness a priority. This trend simply puts a fresh focus on hair care like we've had for so long on skin care. Using pointers from three hair/beauty stylists, you can adopt a plan to make it a year of healthy hair using these do-this-not-this tips, must-have products and — psst! — a bonus "split ends treatment" you can make at home.

Pillowcases

Skip cotton pillowcases and buy silk or sateen, advises Los Angeles-based celebrity stylist Mark Townsend. Even expensive cotton with super high thread counts absorbs moisture from your head and skin. Movement during the night creates friction, and friction leads to tangles — which then cause hair breakage.

Shampoo

Nicole Gaston, owner of The Ivy Mae salon in Ventura, California, has found that many clients tend to "over shampoo." This pattern of shampooing frequently not only makes your color fade, but also leads to dry, brittle hair that lacks shine. Instead, shampoo no more than three times a week. In between, Gaston recommends trying Davines Invisible Dry Shampoo to cleanse and promote volume without leaving any residue.

Gaston, a 30-year veteran in the beauty industry, also educates her clients on the benefits of using a clarifying shampoo two times a month to remove build-up from hard water, minerals and product. Her fav is OLAPLEX No. 4C Maintenance Clarifying Shampoo followed by No. 8 Bond Intense Moisture Mask. The crazy hormonal changes in midlife can cause hair to fall out — and thin overall. If this is you, Gaston recommends getting your hands on Zenagen Revolve Shampoo Treatment three times a week for thickening and hair restoration.

Other options: OUAI Super Dry Shampoo; Kristin Ess Clarifying Shampoo; Kérastase Paris Densifique Bain Densité Shampoo (thickening/restoring shampoo).

Heat protector treatment

Hairstylist Aviva Perea of Los Angeles, founder of Day Rate Beauty, has worked at length with celebrity clients including Zoe Saldaña, Melissa McCarthy and Julia Louis-Dreyfus. Along the way she has spotted bad habits — for example, the temptation to forego a hair protector in your rush to dry your hair and fly out the door. She warns that failing to use a heat protector will catch up with you. Note: The product comes in various forms, but Perea is a fan of the spray because it's easier to distribute evenly.

Conditioner

It's a no-no to opt out of conditioner — even if you have fine hair, says Townsend, whose superstar clientele includes Elizabeth Banks, Gwyneth Paltrow and Maggie Gyllenhaal. "Conditioner is a very important step in your hair wellness regimen because it seals up the hair cuticle, makes the hair smooth and less frizzy, and helps the hair maintain moisture," he explains. Townsend says to select lightweight conditioners made for volume and fine hair to ensure hair won't be weighed down. His picks include Quai Conditioner for Fine Hair and Dove Volume and Fullness Conditioner.

Tangles

Perea admonishes you to slow down when brushing — a major culprit of hair breakage that she believes isn't addressed often enough. Detangle in sections, working gently and avoiding "pawing" at hair, says Perea, who has appeared in publications including Elle and GQ magazines. And post-shower, when hair is wet and especially fragile, she recommends ditching the comb for a product from Tangle Teezer.

Other options: It's a 10 Miracle Detangling Brush; BESTOOL Detangle Brush.

Hair dryers

Like most things in life, hair dryers aren't created equal. Gaston, who says she loves contributing to her community through her professional knowledge as a seasoned stylist and small business owner, suggests that for those blow-drying hair a couple times a week, a Dyson hair dryer is just the thing. "It will change your life," she adds. It is a pricier tool, she says, but visibly reduces frizz and boosts shine.

Other options: T3 AireLuxe Professional Hair Dryer; Remington Damage Protection Hair Dryer.

Hair elastics

"Be wary of poor-quality hair elastics, as your hair can get caught in between the weave of the

elastic," warns Perea. Instead, choose fabric-covered elastics, which are soft and gentle on hair, or don pins to pull up hair. Perea is such a believer that she created her own line of hair pins, which are covered with nylon and made from sustainable castor seeds — promising not to chip, flake or snag.

Supplements

Do take clean supplements with quality ingredients (not sugary gummies!), says Townsend. He concedes that it's easy to get lost in the maze of offerings available on the hair-wellness market. Many, he cautions, are chock-full of biotin, which the body can't absorb without other ingredients. Collective Laboratories Revitalizing Supplement is Townsend's go-to, because it offers the right amount of biotin plus folate for absorption, ashwagandha to manage stress, antioxidant-rich green tea, hyaluronic acid to retain moisture and assist in new hair growth, and ultra omega-3, among other ingredients.

Another option: Hair La Vie Clinical Formula Hair Vitamins.

NOTE: Consult your doctor before taking supplements.

Bedtime hair tip

Loosely scooping hair up off your head will help protect it, says Perea — especially if like her, she adds, you're suffering through a "hot phase." Hair rubbing against damp, hot skin all night could cause heat damage, she warns. This is how it's done: Gently detangle hair and work through one drop of hair oil — such as R+Co Bleu, Perea's current fav. Pull hair up high, lightly braid and loosely coil into a bun, securing with a satiny scrunchie.

Bonus: A soothing split ends treatment

In the comfort of your home, treat split ends with a DIY spa treatment from the award-winning eco-property Fairmont Mayakoba in Riviera Maya, Mexico. Its commitment to all things pure and natural is on full display with this easy restorative treatment meant to nourish your tresses —thanks to a healthy dose of fatty acids and vitamins E and K.

Ingredients

1 ripe banana

1 ripe avocado

2 tablespoons honey

1 tablespoon milk

1 tablespoon olive oil

Directions


Combine all ingredients and stir well.

Apply generously to ends of hair. Secure into bun or cover with shower cap.
Leave on for 30 minutes. Rinse.
What's your best hair tip? Let us know in the comments below.