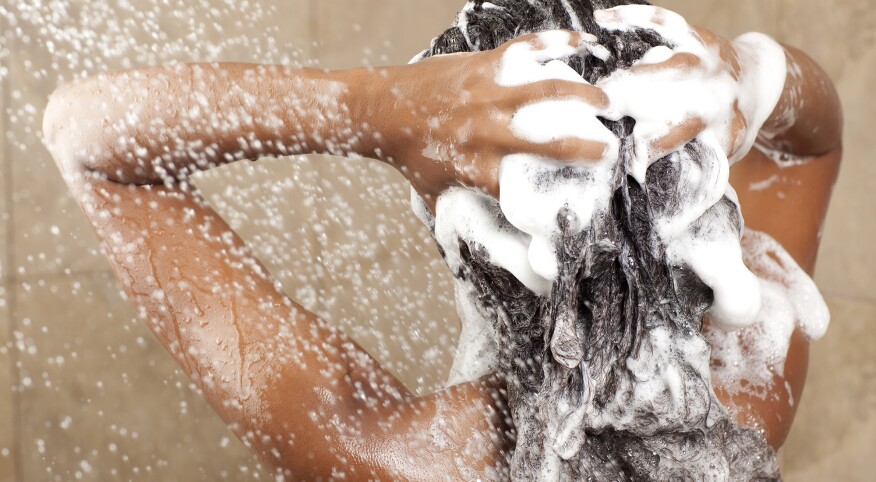 Our shampooing rules up until now have been oh-so-confusing. Americans wash their hair an average of 4.6 times per week — twice as often as residents of Spain and Italy, according to consumer goods corporation Procter & Gamble. While there has been a push toward not washing at all or just washing with baking soda or apple cider vinegar (the no-poo experiment), some people still shampoo daily.

I'm so confused. So, I turned to the experts — dermatologists and stylists — to find out what our hair really wants from us to look and feel its best.

Two to three times max

For most people, two to three times is the most they should be washing per week, says Susan Bard, M.D., a dermatologist in New York City. This depends on how greasy or dirty your hair gets, she says. "More often is likely to strip the hair of moisture, less often is likely to lead to oil buildup, which can lead to seborrheic dermatitis." After menopause, your androgens will decrease, so you'll produce less oil — and you'll be able to go down to that twice-weekly number. Even if you're exercising daily and sweating excessively, you should still be able to stick to that number. Simply rinse your hair post-workout, and your hair will become accustomed to the new routine.

But some people need an extra day

If you produce a lot of oil or have an itchy, dry and flaky scalp, then you will need to shampoo more often, says Tabitha Fredrichs, a certified trichologist and fine hair specialist. "This is not about hygiene, this is usually set by genetics or is caused by hormones," she says. "You can balance the scalp by using shampoo that has ingredients for your scalp type."

Go down a day in the winter

The dry winter air is tough on your hair — and the shampoo isn't helping. If you're washing your hair too often during the harsh winter months, you're stripping your hair of the moisture and natural oils it desperately needs. So err on the less-frequent side this winter.

Shampoo your hair properly

Even if you find your hair is oily, you still don't need to shampoo it more often, says Cheron Hamner, a hairstylist in Atlanta. Instead, you need to shampoo it properly. "What I have found in my experience is that many people aren't shampooing properly," she says. The first step is to rinse your hair with water, massaging your scalp and hair strands to loosen the oil, product and debris. Then, emulsify the shampoo in your hands and apply it to your hair, working from the crown to midshaft to ends. Aggressively scrub your scalp with your fingertips, and massage the shampoo into your hair from the midshaft to the ends using long strokes to avoid tangling. Do this for one to two minutes. Then, thoroughly rinse the shampoo out with water. The next step is critical, Hamner says. "You want to repeat the shampoo again," she says. "This is usually the missing piece that people miss that keeps excess oil and product buildup in the hair." Then rinse thoroughly, massaging your scalp while the water is running through your hair.

Don't keep dry shampoo on too long

Yes, dry shampoo is a savior if you're only washing twice a week. But if you leave it on longer than two days you'll clog your hair follicles, which may cause hair loss, Fredrichs says.

So, leave the dry shampoo to the end of your shampooing cycle.

Choose your shampoo wisely

It's important to choose hair products that don't contain phthalates, parabens or sulfates (these are often found in shampoo), says Robert Leonard, director of the Hair Health Institute in Rhode Island. Additional natural-based ingredients, and the addition of copper peptides are things to look for in high-quality hair care products, he says.

Wash that shampoo out really well

Most of the time if people have an unbalanced scalp, it is because of not rinsing off the shampoo, Fredrichs says. "I tell my clients to buy a filtered showerhead that you can remove from the wall, and spray up onto the scalp like we do in the salon shampoo bowl," she says. "Under the microscope, I can see buildup from shampoo and product that is not being removed every single time."

Your scalp may smell

If you go a few days without washing, you may notice an odor. It's not actually your hair that smells — it's your scalp, says Kryz Uy, a beauty expert and style blogger who says everyone should stick with a twice-a-week washing schedule. "When you do wash, wash really well and clean your scalp," Uy says. "This will help avoid congestion and bacterial growth, which is the main cause for a bad smell."

Brush nightly

Brushing your hair every night distributes all the healthy oils from your scalp to the ends of your hair follicles. According to Uy, this will make the benefits of skipping a few washes really shine.