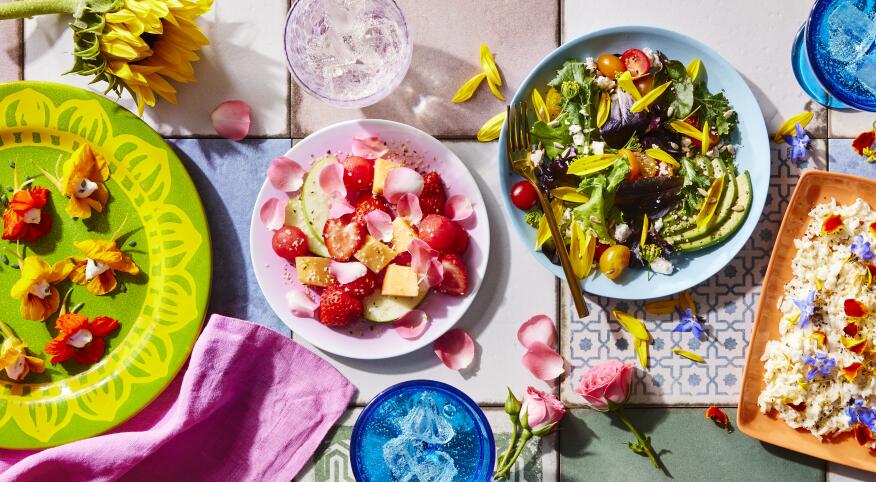 There is nothing like fresh flowers to let us know spring has arrived; now, you can bring a little spring to your plate with these edible flowers. I have always been wary of using flowers in my cooking; although they look beautiful as a garnish at a fancy restaurant, some flowers can be poisonous, so why take a risk? But thanks to a few websites, it's safe and easy to include flowers in your home cooking. Before you begin, check out this comprehensive What's Cooking America guide for a full lineup of edible plants. Armed with this information, don't be afraid to experiment; petals make a colorful topping for salads, and there are many ways to incorporate flowers into savory dishes. Here are four fun and flavorful flowers to get you started down this garden path.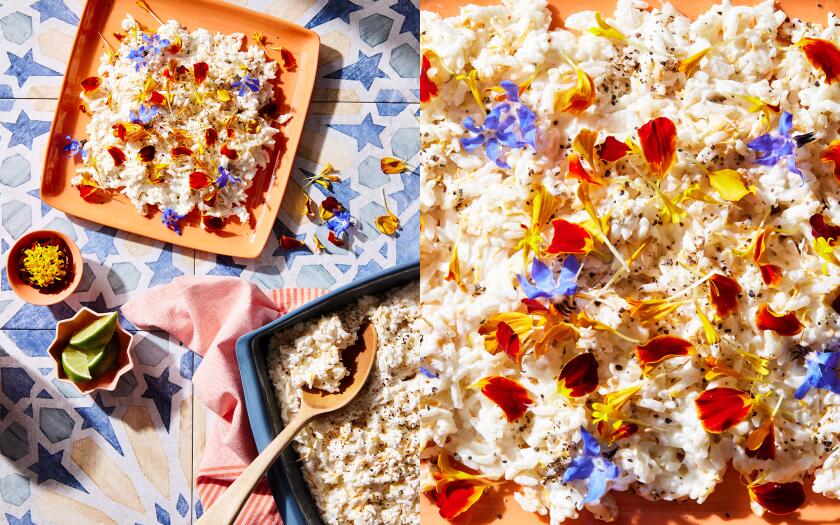 Marigold

You may have marigolds planted in your garden alongside other crops to keep pests at bay, but you can use them for so much more. This bright orange and yellow flower not only looks like saffron but tastes like it. Marigolds can be used either fresh or dried in a wide variety of dishes. Though they're most prominently displayed during Dia de los Muertos, you can use marigolds in your cooking anytime of year. This creamy marigold rice uses dried marigolds to give color and flavor, much like saffron but with a more affordable price tag.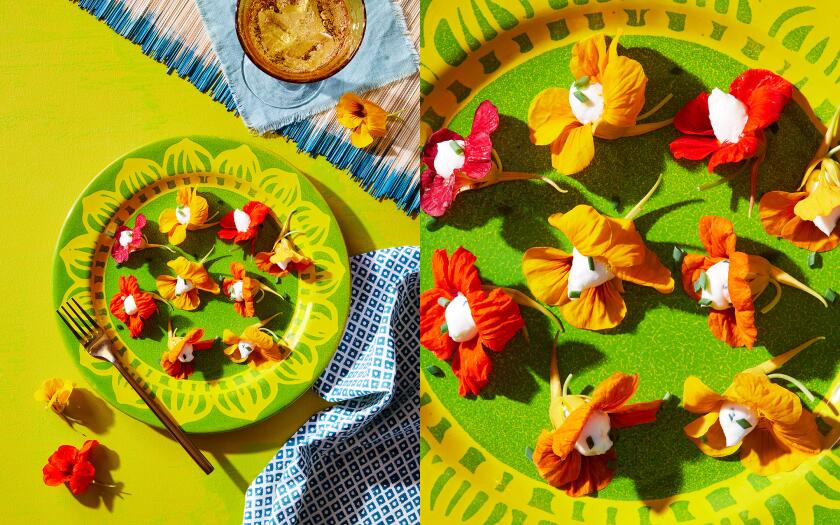 Nasturtium

You may see these colorful plants taking root on the side of trails. Easy to grow with little maintenance, nasturtiums are not weeds but one of the most versatile edible plants around. Not only the petals but the blossoms, leaves and seedpods are all appetizing. Nasturtium flowers have a peppery flavor and can be eaten on their own or added to your favorite salad. This unique recipe from Food.com recommends stuffing the flowers with a cream cheese mixture for a lovely display. The presentation is beautiful and certainly serves as a reminder that spring has sprung.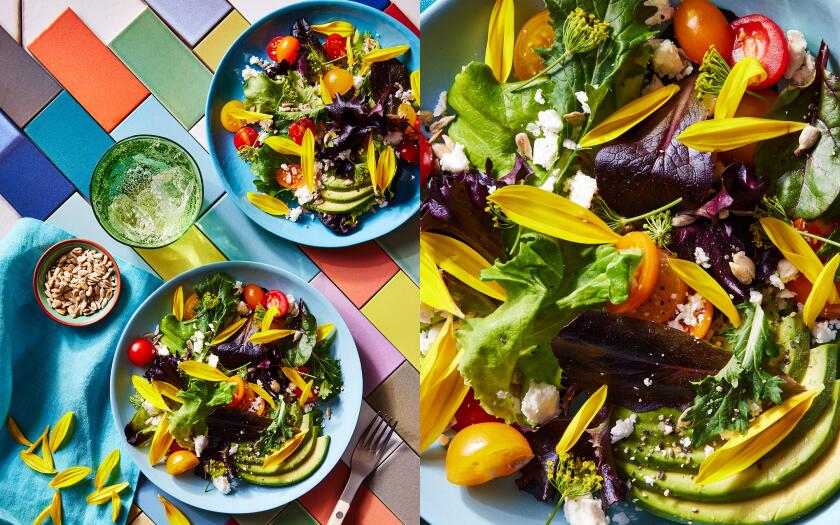 Sunflower

You have probably used sunflower seeds in your cooking, but my favorite play on sunflowers is a sunflower salad. Use a base of mixed baby greens, then top with cherry tomatoes, avocado, feta cheese, sunflower seeds and sunflower petals for a bright splash of sunshine. This salad works well with a light vinaigrette or lemon and olive oil. Sunflower buds can be eaten like artichokes and have a similar nutty flavor. Pick the buds before they flower, remove the leaves and steam for three to five minutes; once tender, sauté with garlic and butter and enjoy.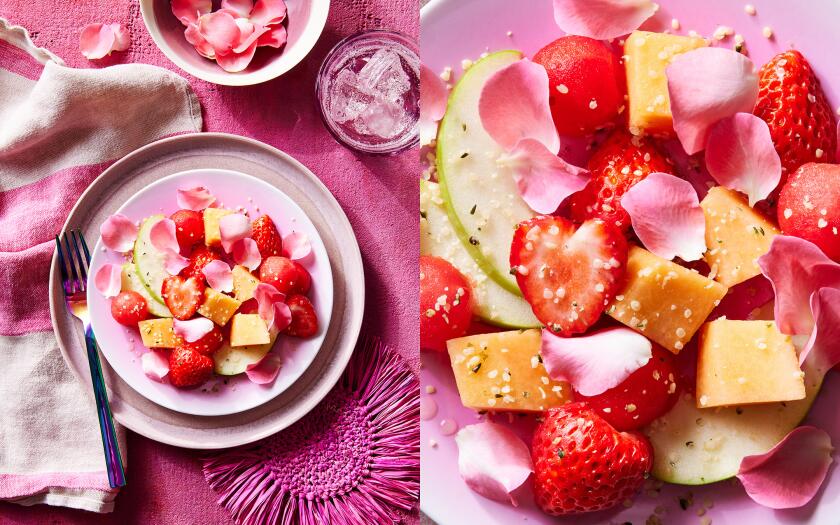 Roses

If you have tried rose petal jam, tea or ice cream, you know rose petals bring a beautiful floral flavor to any dish. All rose petals are edible, and they add a sweet hint without being overpowering, so you can incorporate them into your home cooking without fear. Look for fragrant roses to use in your recipes; the stronger they smell, the more flavor they add to your plate. I recommend sprinkling freshly picked rose petals on your fruit salad. Start with a bowl of strawberries, green apples and chopped melon. Squeeze a little orange juice over the top, and finally, sprinkle with hemp seeds and rose petals to tie it all together. For a savory option, try this tomato and rose petal harissa by Jamie Oliver to add a unique flavor to meats or sides.

How to safely use edible flowers in your cooking

Anytime you incorporate new ingredients in your cooking, it's essential to make sure to buy from a reputable source and never pick your own unless you are sure of what you are collecting. Especially important for edible flowers, they should be grown organically with no pesticides. As a result of their delicate nature, fresh flower petals are not easy to store, so pick them as close as possible to serving time. Luckily, it's easier than ever to grow your own with the edible flower seed blend from Urban Farmer or Rebel Gardens. So go on and bring some spring to your plate and sunshine to your table!

Have YOU ever tried edible flowers? Let us know in the comments below.