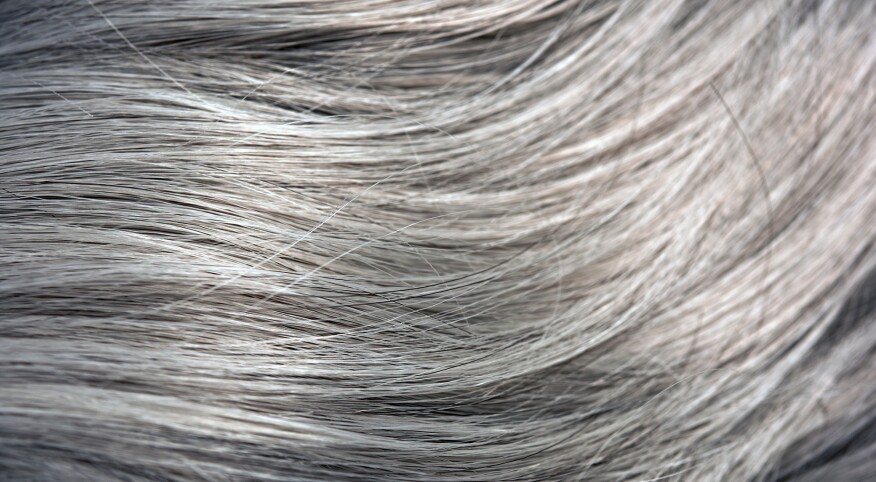 I've been coloring my hair for a couple of decades. I started out hiding a few gray hairs, and by the time I was 50, I was using store-bought color every six to eight weeks with trips to the salon for a more professional look every three or four months. And it was fun. At first. Since my 40s, my hair has been medium brown with blond highlights, dark chestnut brown, a deep red and, for a few horrible weeks, an artificial and alarming shade of orange when I went overboard with boxed violet color.

As I approached another birthday with yet another skunk stripe of roots claiming my attention, I decided I'd had enough. And I'm not alone.

According to a 2022 survey, more than half of women start coloring their hair to hide the gray by the time they're 45. But here's the thing — four in 10 will stop coloring their hair by the time they're 60.

My friend Kathy said bye-bye to coloring her hair about two years ago. "I heard about Silver Sisters, and it wasn't just about going gray — it was a positive way of looking at it," says Kathy, 65. "They posted pictures and they looked fabulous, and I started letting it grow. It helps to have a certain attitude — I'm a Silver Sister — and that website is a bunch of bad-ass women. I don't use the term 'gray' very often."

Three options

I was intrigued about becoming a Silver Sister, but I thought I only had two options — rock a super-short cut to get rid of the dyed hair, or deal with that graying skunk stripe for months. My hair stylist, Abbie Schmidt, suggested another avenue: coloring my currently red hair to bring it back to its natural color and add light blond highlights, with the goal of minimizing the contrast while my natural color came in.

"I love helping women go natural," says Abbie, 22. "It's all about confidence in yourself. If you feel better about yourself with your natural color, then that's what you should do!"

The process

The actual hair coloring process was more complicated than I expected. I thought Abbie would simply dye my hair back to its original shade, but you can't color dark red hair a lighter shade in one step. "There's a hair color level system," says Abbie. "Ten is the lightest and 1 is the darkest, and to get a gray, which is one of the lighter colors, you have to be at an 8 or 9, but you have to go through all of the colors to get the hair lighter."

What does that mean in plain English? That if you've dyed your hair a dark color for years, like me, it's going to take some time to take your hair through those different levels with a goal of coming out lighter. "It usually can't be done in one session," says Abbie. "And if someone doesn't know what she's doing, she could easily fry off your hair with bleach." (No thank you!)

The process included:


Step 1: Highlights. Abbie took little sections of my dark red hair and lightened them with the goal of turning them ashy blonde to better blend with the silver and gray coming in.

Step 2: Color the rest of my hair. Abbie colored the rest of my hair ash brown, which is much closer to my pre-gray color. "The idea is to get the red out so your whole head will blend better with the gray," she says.

Step 3: Tone my hair. This step takes out unwanted colors and brassiness and helps my new color blend with my new growth.

Processing took longer than I expected, and I sat in the chair for more than three hours. (If you haven't been coloring your hair for as long or as frequently as I was, expect it to take less time.) When she finally washed, rinsed and blew out my hair, it was much closer in color to the dark brown and silver inch along my part.
The result

All told, I spent $290 ($240 plus a $50 tip) to invest in my new salt-and-pepper do. It was a lot of money, but I never have to invest in hair color again. Better still, I love my new look and am embracing it. It will be a while before I'm a full-fledged Silver Sister, but I feel pretty badass already.

Have any of you decided to go gray? How's it going? Let us know in the comments below.