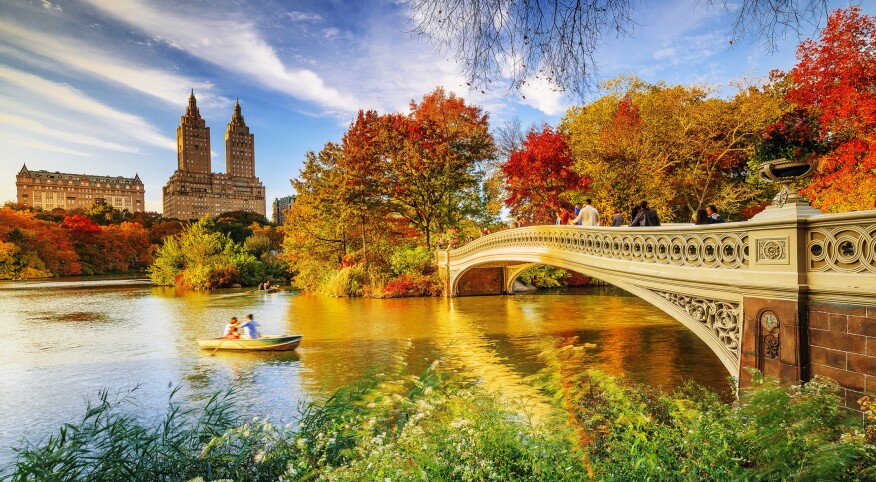 OK, ladies. Time for a brushup on your "perfect day out to Broadway" skills. How about a little insider view to keep you chill amid the overheated crowds?

First off, you didn't drive, right? Because only the novice drives. It's just not worth it.

Show tickets
Paying full price online is never necessary, unless you want full control over where you sit or you're purchasing the "Big 5" (arbitrarily Hamilton, Lion King, Harry Potter, Hadestown, Wicked, etc.) And even then — well … maybe wait for the tour to come to a town near you.

But even if you're seeing a "lower-tier show," the options can be overwhelming. A simple Google search for tickets will offer dozens of ways to part with your money. Some less reputable ticket sites have hidden fees and seem sketchy. These are the three tried-and-true ways I'd turn to for the best bang for your Broadway buck:

1. TKTS Times Square booth. Part of this is the rite of passage of standing in line and absorbing all the crazies circling Times Square. The tickets are varying levels of percentages off. It's most likely the best deal, AND a small percentage benefits a theater nonprofit (not just corporate behemoths like Ticketmaster). So you're doing good by buying here. (Join TDF and get even more discounts for members.) There's a real-time update here.

2. The TodayTix smartphone app TodayTix smartphone app is super helpful. You're probably not getting the BEST deal, but don't obsess over that elusive extra $4.35 off. It's probably a gimmick, anyway. TodayTix is utterly convenient: Buy the ticket on the app and show your smartphone screen to the usher at the door. Easy-peasy. You can also buy tickets in advance.

3. Go straight to the theater box office. When you do this, you avoid ticketing fees and can get options like standing room only or the best-priced seats in the house. Frequently you can flash charming puppy-dog eyes and the box-office employee might just hook you up with an unknown deal. (Don't quote me.)

Food
In Times Square, restaurants are crowded and cater to tourists (read: overpriced and mediocre). Consider eating in another neighborhood to avoid the crowds and prices. Eat in Columbus Circle (10 minutes on the subway to Times Square), Greenwich Village (20 minutes) or Chinatown (20 minutes).

Your best bet for a memorable, affordable, enjoyable pretheater dinner is to grab a salad at Sweetgreen on 42nd Street or a deli meal at Whole Foods (6th Avenue between 41st and 42nd streets) and eat at the cafe tables surrounding Bryant Park. Stop at a wine store — get a screw top! THAT's the way to eat alfresco and avoid crowds and high prices.

You may also want to check out the French men and women playing pétanque at the Northwestern corner (closest toward Times Square) and enjoy the most calming of high-stakes sports. They're happy to coach you, as well — for free. Just jump in for 20 minutes! Then you're a seven-minute walk from the southern end of Times Square for show time.

However, if you prefer to stay close by, here are a few suggestions on Times Square restaurants to try.

Sardi's — historic theater charm

Joe Allen — a theater crowd, including actors dining nearby

Minar — cheap Indian, where actors often eat after matinees

La Masseria — quality Italian that won't entirely break the bank

John's Pizzeria — pizza inside an old church; expect a wait

Cafe Un Deux Trois — French bistro

Totto Ramen — ramen, and expect to fight Instagramming crowds of millennial tourists

Or another option is to head to any of these trendy ramen places for quick, tasty, cheap eats.

Aprés-theater drink/dessert/meal
It's cheesy and cliché, but it's special: the bar at the New York Marriott Marquis looking over Times Square. The view is unparalleled. You'll never forget it.

Also try the 12th floor lobby of the Hilton Times Square on West 42nd Street. You're above Times Square rabble and get to gaze at skyscraper tops.

Jimmy's Corner is a fab throwback to the dive bars once populating Midtown. The beer is cheap, the decor is garish, you're sardined in, and you'll LOVE it. (It's named for Muhammad Ali's old trainer, Jimmy; hence the boxing "corner.")

Another unique find is Casellula — a tiny wine/cheese bar that doesn't take reservations, but you can join the Yelp "waitlist" and hedge some bets. It'll be worth it.

Quick sweet treats can be found at Schmackary's on West 45th Street, a splendid gourmet cookie shop founded by a former actor. (And though I'm a chocoholic, that "Funfetti" cookie is terrific.) There is also the classic Magnolia Bakery at Rockefeller Center and other locations. Be sure to plan ahead on both, as they draw big crowds.

And speaking of a multitude, it's also fun to walk to the center of Times Square (or more charmingly, the top of the red stairs above the TKTS booth), and just breathe in all of humanity. Rather than loathing the crowds, indulge. You'll be glad you did. And, it's free.