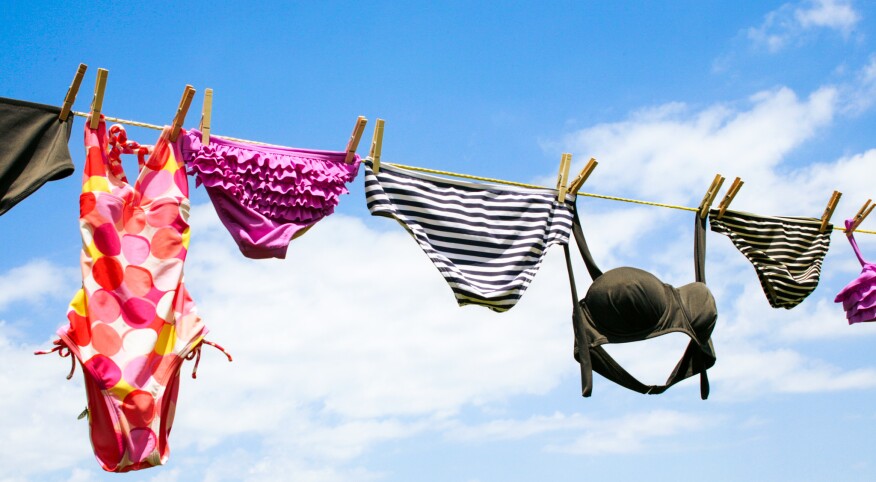 Dressing rooms with dozens of bathing suits! Online buying, trying — and returning! If you can relate to the fresh hell of needing a new bathing suit this summer, you know that choosing the right swimsuit for your body type is a tricky business. Are you pear- or apple-shaped? Small- or large-breasted? Curvy or petite? Do you swim, dive or snorkel, play Frisbee or help the kids or grandkids build a sandcastle? Maybe you rarely move from your Barcalounger except to turn the page of your novel.

Before you can even begin to address your swimsuit needs, you need to know the answers to many of these questions. A 2021 Civic Science survey found that 74 percent of women buy a new swimsuit every few years (not every year!), and 70 percent spend less than $50 on their bathing suit (we want to know where they're shopping!)

The one-piece still reigns supreme, according to the survey, in which more than 49 percent of women opted for it over a tankini, bikini or any other type of suit.

How should you choose a swimsuit from the scores available? Picking the perfect bathing suit is no easy feat, but it's time to relax and take a deep breath.

Know your body type

Are you an apple, pear or hourglass? The answer can help guide you when picking out the right pieces. "Apples tend to have broader shoulders and a fuller midsection, while pears are usually smaller on top and wider at the bottom. Hourglasses are more balanced with curves in all the right places (lucky you!)," says Harman Awal, fashion expert at yourgirlknows.com.

Consider the neckline

The neckline of your bathing suit can affect how it fits and flatters your body. Try a few options to see what you like best — plunging, bandeau, one-shoulder, strapless or halter.

Figure out coverage needs

From full coverage to skimpy bare-it-all styles, there's something for everyone. "If you want to show off some skin, reach for an eye-catching one-piece with cutouts or high-waisted bikini bottoms that cinch at the waist for a flattering silhouette," Awal says. If you want to play it safe, opt for tank tops, high-rise bottoms or boy shorts with more fabric coverage. Of course, the swim skirt bottom is still popular, too.

Choose a color

Color is another crucial factor in ensuring you look good pool- or beachside. If your goal is to camouflage trouble spots, go with black or navy since darker colors have a slimming effect on most silhouettes. Opt for hot pink, yellows, turquoise, green or bold florals if you love color.

Try different styles and patterns, which is the best way to help you find what looks and feels best on your body.

Comfort, comfort, comfort

"My simple but important tip to help you find a bathing suit that works for your body type is to make sure it's comfortable," says Catherine Brock, a style expert and editor for Budget Fashionista. "Nothing is worse than wearing something you don't feel good in, even if you're wearing a bathing suit meant for your body type."

Remember the little details

Look for bathing suits with extra features such as adjustable straps, built-in cups or tummy control to ensure a comfortable and flattering fit. The only thing that matters is how secure you feel in the suit. No one wants a bathing suit malfunction or one that rides up after every movement. Brock says if you have a larger bust, you might look for a swimsuit that has built-in support or a top with underwire and adjustable straps.

"If you are shopping for a one-piece, you want to make sure it properly fits your torso as well," Brock says. Without adjustable straps, it can be tough to make the suit fit right. "If you have a shorter torso, then the straps might keep sliding down, and if you have a longer torso, you risk having the straps dig in, which can cause discomfort."

Awal advises that if you have curves, embrace them in styles with strategic ruching along the sides or ruffle detailing across the chest. "If you're on the slimmer side, choose a suit with bold colors or prints to create a visual interest that elongates your look and gives an illusion of body contours."

Consider what activities you'll be doing while wearing your bathing suit. For example, a full-coverage suit might be best for water sports, while a sexier suit might be OK for lounging by the pool. Halter-style one-pieces and high-waisted bikini bottoms provide a feminine and flattering silhouette for all shapes and sizes.

Don't skimp on quality

A well-made swimsuit that is comfortable and fits well is worth the investment. It will last longer and make you feel confident whenever you wear it. Have fun trying on different suits until you find one that makes you feel amazing. "And don't forget to bring some confidence to the pool party — that's always going to be your best accessory," Awal says.

Where do you typically buy your bathing suits? Let us know in the comments below.