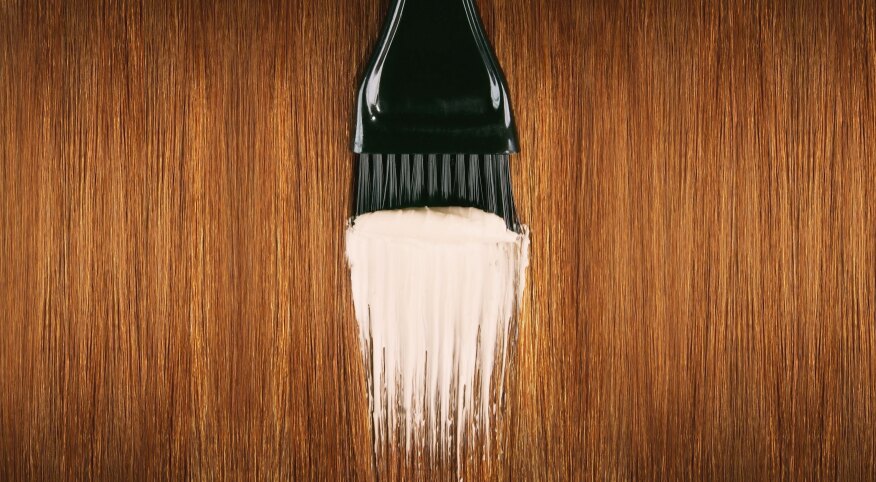 My friends and I were teens in the 1980s, when streaky-blonde Madonna and pink-haired Cyndi Lauper ruled MTV. Manic Panic was popular — a cheap and easy DIY dye that could make our hair green or blue just like that, pissing off our parents and making us cool in school. So it's odd that I never changed my hair color from my natural basic brown. I didn't even dye it black — I had the Goth sensibility on the inside, but couldn't be bothered with the wardrobe or accoutrements.

By college, my identity as a serious intellectual was cemented, and I didn't consider wasting my time on frivolous beauty statements. I could see right through slogans like "blondes have more fun" — an advertiser's adage to get me to buy their products, pit women against each other and make us obsessed with being attractive to men. Grunge in the '90s seemed made for me. I dressed in oversized thrift-store duds — vintage men's blazers, holey jeans and Converse high tops — and prided myself on my wash 'n go hairstyle, a simple chin-length bob.

By the time I was 30, I remember thinking, "I wonder what I'd look like as a blonde." It would still be many more years before the invention of the apps that could answer that very question without my hairdresser becoming involved. I quickly shoved my curiosity aside, however, aghast at learning the expense, which at the time seemed excessive. "Bleaching costs how much?!" It was significantly more than the bottle of discount shampoo and the quarterly trim that were my only hair expenditures. "And monthly touchups?!" I was still paying off student loans, as well as the credit card debt for the previous decade's Dr. Martens and Smiths CDs. Changing my hair color seemed like it would be a burden rather than a fun experiment.

In my 40s, my hair surprised me. While some of my friends had been going gray for years, I still didn't have a single strand of it. Prone to depression and flat feet, I clung to whatever genetic win I could. Appreciating my natural shade — unassumingly called "medium natural brown" in the color chart — became a new source of pride. I could afford to do more with my hair, but I liked that I didn't have to face the question yet of whether to embrace gray or cover it up. I changed up my hairstyles, going from Louise Brooks-style mini bangs to a short pixie à la Isabella Rossellini to an asymmetrical '80s throwback, but the color remained constant.

Perimenopause and the winding down of my 40s have had the opposite effect on my life than what I'd come to expect. Yes, I've had a few hot flashes, and sure, sometimes I feel less visible in society at large. But I also DGAF. The quality of my life has never been better. I've got mental and physical health from years of therapy and conscientious medical and self-care. I'm economically stable and have more clarity about my career. I eat clean food, get adequate sleep, and have healthy relationships. Ironically, I feel more like the person I was at age 20 than I did at any point between then and now. Unburdened by the troubles of those intervening years, I can zero in on what makes me happy and how I truly want to spend my time.

One day I was sitting in the salon chair for my regular six-week trim. I had some extra time to kill before meeting a friend for a movie. Veronica — my hairdresser for 15 years and therefore, I like to remind her, my most long-term relationship to date — didn't have any appointments after mine. "Let's try blonde today," I exclaimed impulsively. Knowing my historical caution, she was shocked. She made some flimsy attempts to talk me out of it, but it seemed like she was merely fulfilling a professional duty to give me fair warning. I boiled down her precautions. "So you're not saying it won't look good. Just that I have to be careful about damage, and I will have to touch it up a lot?" She showed me the color she would aim for. The caption read "Bright Golden Blonde," but I saw "Cool Hitchcock Vixen."

Veronica cupped little hats over my ears to protect them. The bleach burned my scalp, then itched. She gave me a pointy-handled comb to scratch myself without getting toxic goo on my hands. I watched in the mirror as my brown melted away, replaced by an alarming government-cheese yellow. Veronica assured me it would look lighter when dry. I took it in stride and flipped magazine pages to see what Jennifer Aniston was up to, as mandated when in a hair salon.

After my hair was rinsed, cut, blown out and styled, I had a dramatic new look. I love it. I get a ton of compliments. A stranger said he knew I was a movie star but he couldn't remember my name (although he might have just been hitting on me). A friend said it opens my face up and makes me look more approachable. (What, me, the secret Goth?) It's true, with my pale skin and now-pale hair, and at nearly six feet, sometimes I feel like a giant sunflower striding down the street. I even get positive comments when I'm behind on getting a touch up and the roots are dark. That's when I think I look like that famous punk rocker from the '90s whose name you can't quite recall.

It's trippy to have dry hair after decades of an instant oil slick upon missing a single day's shampoo. So far, I don't mind the higher maintenance. I've been initiated into the world of high-end specialty products, doing research into things like smoothers and protectants and bond repair.

As much as I like my new look and don't mind the compliments, the positive experience isn't about being blonde or looking different. It's about a new lightheartedness that allows me to have more fun and spontaneity in my life.

Just like Veronica warned, the damage is starting to build up. I may take a brown-break for a while to give my hair a chance to repair. Or will it be a gray-break? I'm not sure, but it will be fun to find out.