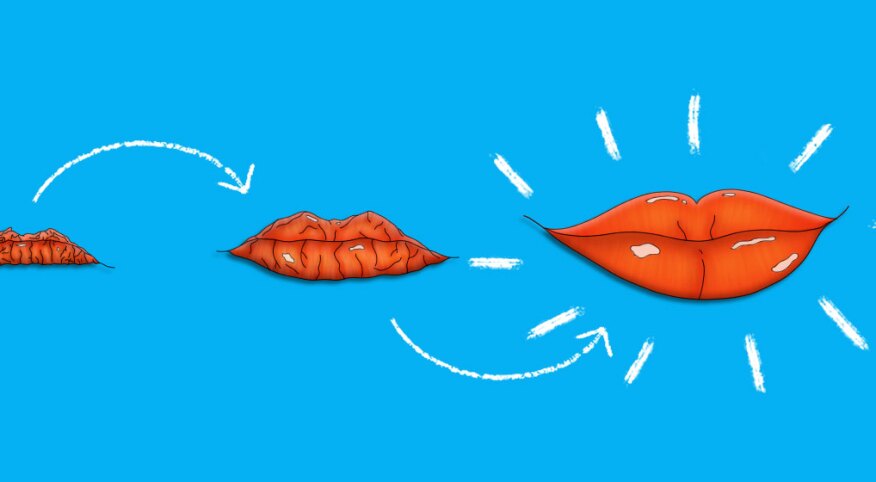 I never thought I'd ever get anything injected into my mouth. I've always been happy with my lips, and for many years I thought lip fillers meant oversized smackers that looked overpowering. I mean, I love them on other people, but with my small face features I knew it wouldn't be a good look on me.

Then I turned 40, and things started to shrink and shrivel in all the areas I didn't want shrinking. Or shriveling. My lips were one of those things, and it didn't matter how much lip gloss or ChapStick I slathered on. They always looked like a mere fraction of what they used to be. It bothered me the same way my gray hairs bother me. And when something makes me uncomfortable, I like to change it.

I got some lip-plumping gloss that didn't do a thing for them. I tried the trick where you line your lips slightly outside of their natural shape and then fill in with lipstick, and I looked like a clown.

One day a friend of mine told me she was getting lip fillers and wanted to come visit me right after. I was in awe, to say the least. Instead of having bigger lips they were just a little plumped up, and the tiny lines that bothered her were gone.

Up until that point, I didn't realize you could have lip fillers done in a way that was subtle — and probably only you would notice. Which, to me, is the perfect reason to get something tweaked on your face. Then you know it's truly for you and no one else. Let's just say you can customize your lips, and you just have to be very clear about what you are going for. I didn't want bigger, I wanted younger. And that's what I got.

I went in for my appointment the other day, and it took about an hour. I have to admit I was nervous — I've had some small fillers and Botox done on my face, but not a lot. I was told the lips would hurt quite a bit, and I almost canceled a few times. I'm so glad I didn't.

It was worth all the pinches … and then some. As soon as the nurse injected the fillers — please, please always have a nurse or doctor do this for you — she held up a mirror to see if I wanted more, and my face instantly changed.

I felt like I'd woken up; come alive, if you will. I didn't see bigger lips, though. Instead, I saw hydrated lips that somehow brought out all my other features. You know how you glance back on a picture of yourself and you think how rested and fresh you look? That's what I saw in the mirror, and damn that felt good because it has been a minute since I had that spark lit in me when I look at myself.

You can go slow with these. It's best to take your time and go back for a touch-up instead of going overboard and feeling like you've injected too much and you aren't happy. There is bruising at the injection site that lasts a few days, but there's no downtime really at all. It was painful and brought tears to my eyes. But after the needle is in there, working its magic, the pain subsides. Not to mention my nurse worked fast and the actual injecting took about 20 minutes (the time will vary depending on how much filler you want).

Having fuller lips took some of the harshness out of my 45-year-old face, and because I feel more like myself there has been an extra pep in my step.

Some people may think it's shallow to love how you feel when you like how you look, but I believe in doing things to make yourself feel better — regardless of what it looks like: therapy, exercise, girls' nights, going to bed at 7 p.m. When my outside matches my inside, that's when I feel like my best self. And if that means I get poked with needles in sensitive areas, that's what I'll do.