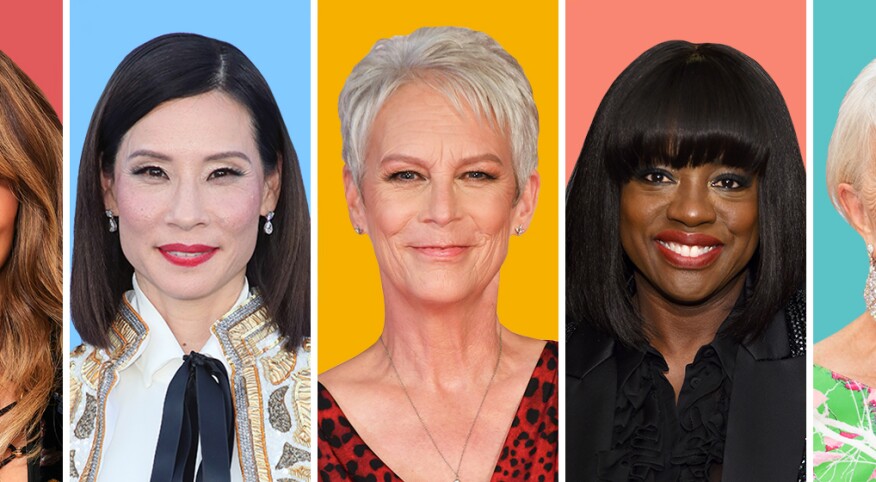 Thinning hair can rob your style of volume, bounce and overall life. The good news? The secret fix lies in a strategically thought-out haircut suited for your particular hair density. "When executed properly, the right haircut can act like smoke and mirrors," says Shelly Aguirre, professional hairstylist at Maxine Salon in Chicago. Bottom line: Giving the illusion of thicker, fuller hair is achievable with the right cut, even though most people are likely to experience thinning hair fibers over time. We've rounded up five of the best haircuts for thinning hair that fake fullness.

Side bangs

"A sweeping fringe can help distract the eye from a receding hairline or overall thinness in the front," notes Aguirre. "This needs to be carefully executed so that you don't take away too much from the side profile." Opt for wispy, casual bangs (versus heavy, blunt bangs) that are slightly feathered at the ends. Best part? Because side bangs are universally flattering, they'll work with almost every haircut and style. Just make sure to avoid going overboard when it comes to product use, as you may run the risk of flattening them out, which would defeat their purpose.

Pixie cut

A pixie cut is a classic for thinning hair — and for good reason. It boosts volume, showcases the silky texture of finer hair types, and flatters any face shape. Plus, the styling options are endless: Apply a few spritzes of a texturizing spray for a more disheveled look or ask your stylist to incorporate layers around your hairline for a feathery yet polished feel. If you're feeling adventurous, Aguirre recommends going for a bleach and tone with this shorter, sassy cut. "The bleach will help swell the hair strands and can make the shape appear fuller than it actually is," she says.

Blunt cut

"If the hair is overall very thin, a simple yet classic blunt cut may be the perfect solution and can shave 10 years off your look," says Aguirre. Touted as being one of the most strategic cuts for thinning hair, a blunt cut requires your stylist to create a clean, solid line toward the bottom of your hair. This bulks up the look of your ends, giving the illusion of thicker, denser strands.

Asymmetrical bob

Think of an asymmetrical bob as the edgier cousin to a traditional bob. For those with thinning hair, Aguirre says that the asymmetry in this cut fools the eye into focusing on anything other than the thinner hair fibers. With this cut, your stylist will intentionally cut the backs of your lengths shorter than the front for an overall style that's chic, striking and flattering for almost all hair types.

Graduated cut with layers

"A graduated cut can create fullness in areas that lack it," says Aguirre. "Following the head shape is a great way to complement the client's overall look and create the illusion of thicker hair." She recommends adding in some light layers, which will provide movement and ultimately help with giving the appearance of a fuller head of hair.