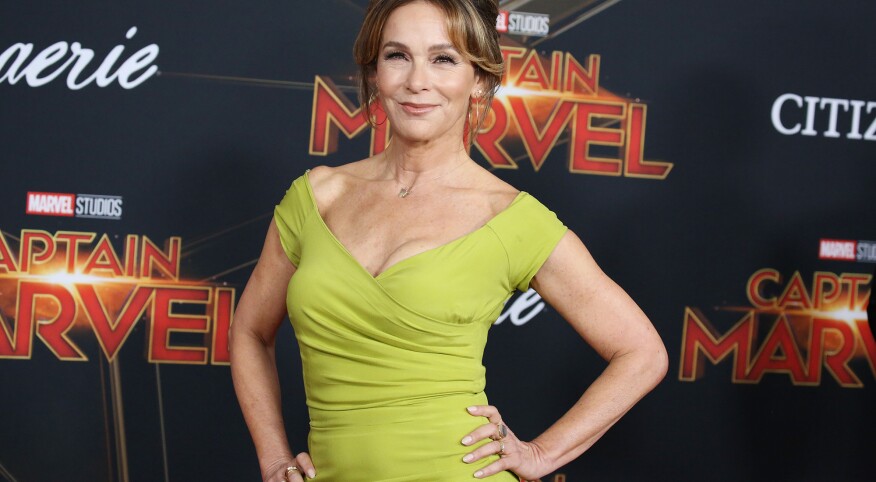 Jennifer Grey is having the time of her life. She shared details about her love for pole dancing, the sequel to Dirty Dancing and trying to repair her body on a cellular level.

Why Dirty Dancing still resonates with us:

"Nobody ever sets out to say or do things that become iconic. If we could we'd all be doing it all the time," Grey told The Girlfriend in an exclusive interview. As to the magic of the film, "There was an innocence, it wasn't contrived." She sounded a bit wistful explaining the Dirty Dancing phenomenon. "When we made the movie, it was a less complicated time. Everybody saw the movie at the same time. There wasn't the opportunity to watch everything at every time, so we all had to focus. We came together in theaters and we shared that experience, there was a zeitgeist of people coming together to watch. It became something we all shared. And even now when talking about that movie we're really talking about that moment and what it meant for all of us. We all want to believe a change is possible and that it can explode into a better iteration of our lives."

As to the healing quality of film, Grey said "Few people recognize how perfect and lovable they are. Whatever you have deemed about yourself that isn't just right, it's probably fine. Maybe it's the color of your skin or the kind of nose you have. Maybe it's your boobs or lack of boobs. People think If only I …. the world will be mine. Baby is like many of us, a person that the world is not built for. Beautiful girls get the gorgeous guys. And maybe people like Baby think 'I'd better use my brains because I'm not going to get the guy.' In the movie, she discovers she's so much more than she thinks she is. And it's the physicality that wakes her up to the fact that she's different than she thought. People related to that. It's pretty powerful when someone sees something in you no one else sees. And what someone else sees in me, makes me lovable."

As to the sequel to Dirty Dancing, all Grey will share is that "There will be dancing. There will be music. There will be heat."

A wellness journey:

After a winning Season 11 of Dancing With the Stars, Grey was almost giddy discussing her newish love for pole dancing, which allows her to express a different type of sensuality and connection with her own body. And after years of neck surgeries, she explained how important it is to her to continue to feel comfortable in her body. "I've always been interested in living my best life and pursuing the things I love and being physically strong and resilient enough to have the physical strength to do just that," she said. "I have this desire to maintain a certain vitality, but like most of us, it's declining slightly because of the aging process. I believe in our lifetime we're going to see a huge change because science is on our side." And this is one of the reasons Grey is so excited to be partnering with Celltrient Cellular Nutrition, a new launch by Nestle which addresses Age-Associated Cellular Decline (AACD). "I'm constantly trying to keep this machinery in tip-top shape," she said. "There's so much that I'm powerless over, but I have power over what I eat, how I structure my life, and who I spend time with."

About her girlfriends:

And Jennifer Grey spends time with her girlfriends. "I've always been a girl's girl. I call my girlfriends my framily. They're the people I trust most. I've had the same friends forever. Sometimes you know who you are based on the people who know you so well. My best friend is Tracy Pollan. My other best friend is Maggie Wheeler (Janice on Friends!).

"Having that continuity where people really know you and you have that shorthand, and you text them and say, 'I need you' and they're there. I believe in the nest theory. It should never be one person, but rather it should be a community. I see it with my daughter and the amount of love and care she and her friends pour into their relationships, all contained in this virtual nest." She paused for a beat before adding, "Sometimes people just need to be heard and have their pain heard. Sometimes you just have to say to your best friend, 'remember how happy you were yesterday? This too shall pass'."