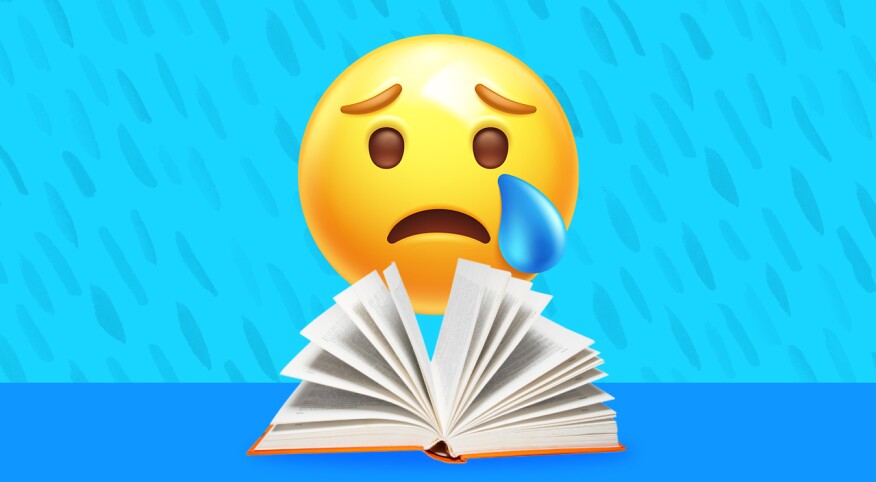 For those who love to read, please consider joining The Girlfriend Book Club, a closed Facebook group that enjoys loads of book giveaways and interviews with popular authors.


Ever notice that you feel better after crying? You're not imagining it. Crying releases oxytocin and endogenous opioids, aka endorphins. Crying also activates your parasympathetic nervous system, which helps your body digest and rest. But sometimes it's hard to get those tears flowing, so we're offering up a cheat sheet — 10 books that will help turn on the waterworks.

A Little Life by Hanya Yanagihara

This is by far one of the saddest books I've ever read. Before digging deeper, you need to be aware of the triggers, as there are many: Sexual abuse, child abuse and sexual abuse, homophobia, sexual violence, self-harm, suicide and physical and emotional abuse. You will become so connected with the characters that every time they're in a bad situation (essentially throughout the entire very long book), you'll want to jump in and save them. You can't, so you'll cry.

When Breath Becomes Air by Paul Kalanithi

It's a memoir, which makes this book even more devastating. Kalanithi, a neurosurgeon who is diagnosed with cancer, describes the physical and emotional trauma of his diagnosis, walking the reader through each step until he's unable to write. There's no happy ending here.

Demon Copperhead by Barbara Kingsolver

You'll cry for the injustices that continually happen to Demon, a boy born to a single mother who is addicted to drugs and overdoses. Demon must learn to survive in foster care and it's all just so beautifully unfair. This is a modern-day David Copperfield based on Charles Dickens' experience living in complete poverty.

Push by Sapphire

Trigger warning: Rape, verbal and physical abuse. If you can handle an illiterate teenager being raped by her father, having two babies and living on the street, you're stronger than I am. This book was the inspiration for the Oscar-winning film Precious.

Just Kids by Patti Smith

This is another memoir that will make you sob. The book, set in the summer of 1969, tells the story of Smith's relationship with photographer Robert Mapplethorpe, who died from the AIDS virus. It's a heartbreaking love story of two young New York artists trying to make it in the '60s. You'll feel all the feels.

On Earth We're Briefly Gorgeous by Ocean Vuong

This is a tale of survival, told in the form of letters from a son to his mother, who is illiterate. It's a love story between a son and his mother, but it's also a hard look into race, what it means to be a man and the son of a Vietnamese immigrant and an absent American dad.

Everything I Never Told You by Celeste Ng

Every book I've read by Ng is a tear-jerker, but this one really made me weep. It centers around the death of a couple's daughter. In this haunting story, you'll learn about the secrets a daughter kept from her parents and the tragic ending that ensued.

Sarah's Key by Tatiana de Rosnay

It's difficult to write a World War II novel that isn't super sad. This one, however, may be the saddest. When Sarah and her family are arrested because they're Jewish, she locks her brother in a cupboard for his protection, expecting to be back soon to release him. But she's headed for Auschwitz and has the key. Julia, a reporter, tells the story of Sarah and her family's devastating history.

Flowers for Algernon by Daniel Keyes

After Charlie, who is mentally challenged, undergoes successful surgery to increase his intelligence, he finally understands how his coworkers were treating him when he had a low IQ. Then he starts to lose that intelligence, and what makes it worse is that he's aware of it. This is a heartbreaking look at how society treats those with mental illness and other chronic conditions.

They Both Die at the End by Adam Silvera

Well, we know there won't be a happy ending for this one. After learning they only have a day left to live, two teens grapple with the emotions of knowing it will be their last. They must resolve relationships, say goodbye to loved ones and consider all their regrets.

What's the saddest book you've ever read? Let us know in the comments below.