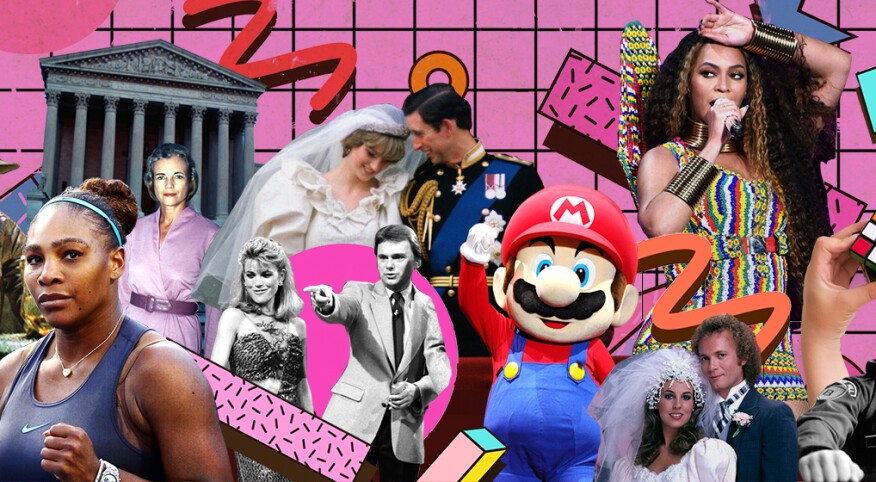 Let's go for a stroll down memory lane! But before we leave, don't forget to bring a few essentials — like your Rubik's Cube, glitter nail polish, rubber bracelets and VHS copy of The Goonies. Maybe leave the Kajagoogoo cassette at home?

The totally rad thing about the'80s is that even though it's waaaay in the rearview mirror, we don't have to travel in a DeLorean to look back on it and smile. This was a good-times decade, and we delighted in finding fun the old-fashioned way — from getting up to turn the TV channel to scouring every toy store to find a coveted Cabbage Patch Kid. Even without the benefit of YouTube, we devoured Golden Girls and Silver Spoons and The Flamingo Kid and The Karate Kid and "Like a Virgin" and "Like a Prayer."

Still, 1980s' reflection isn't just a matter of putting on rose-colored Ray Bans and wallowing in childhood nostalgia during a challenging period. For a decade soaked in neon, it has proven to be remarkably durable. Consider that some of our favorite pop culture obsessions can be traced back to the magical year of 1981 — which, per my iPhone calculator, was already 40 years ago. Yes, that's the same span between then and 1941 and twice the span between now and 2001. But don't freak out about the age math; just celebrate and appreciate the fact that these 10 in-chronological-order events and debuts remain timeless.


The premiere of Raiders of the Lost Ark
The fedora. The whip. The snakes. No doubt about it, Indiana Jones remains a celluloid hero for the ages. And the adventure all started on June 15 with this installment, in which Harrison Ford's sly and wry archeologist tries to beat a band of Nazis to a religious relic. Director Steven Spielberg and writer/producer George Lucas set out to recreate the serials of their youth and ended up forging a rip-roaring action saga. The team reportedly is working on a Part 5.



There's something special about the dopey romance Endless Love, and I'm not referring to the Oscar-winning duet by Lionel Richie and Diana Ross. Though the movie (which opened July 17) starred a young Brooke Shields, it features the on-screen debut of one Tom Cruise. Then 19, he appears (shirtless) in a single-yet-pivotal scene. Just five years later, he'd solidify his star status with Top Gun; its long-awaited sequel arrives in theaters in July. Taps also came out in 1981, starring Cruise alongside Timothy Hutton and Sean Penn.



Leave it to a plucky mustached mascot in overalls to withstand every iteration of video game technology. (Seriously, have the kids Google "Atari 2600" sometime.) Super Mario made his debut on July 9 in the arcade game "Donkey Kong" as a character referred to as "Jump Man." He proved so popular that he was spun off into his own adventure; his games have now sold a record-breaking 510 million copies and counting.



Siiigh. On July 29, Prince Charles, then 32, married 19-year-old Lady Diana Spencer at the St. Paul's Cathedral in London in what was dubbed as the Wedding of the Century. More than 3,500 guests watched the glamorous ceremony — not to mention Diana's 25-foot-long wedding gown train — in person; a global audience of 750 million watched from home. (My mom still claims she woke me up in the middle of the night to see it.) The fairy-tale day is recreated in Season 4 of The Crown.



How fitting that the groundbreaking youth-oriented cable network — which represented one small step for music and one giant leap for music-kind — launched on Aug. 1 with vintage footage of astronaut Neil Armstrong planting the flag on the moon. Now we could hear and see REO Speedwagon and Stevie Nicks! The first clip? "Video Killed the Radio Star" by the Buggles. (Pat Benatar's "You Better Run" was No. 2!) A few decades and a gazillion Madonna entries later, reality TV killed the video star.



Who would dare ignore Rick Springfield?! In 1981, the Aussie made audiences swoon thanks to his role as Dr. Noah Drake on General Hospital and this pop ditty about unrequited love. Springfield later revealed that he wrote the song about a girl in his art class and the guy in question was actually named Gary. Consolation prize: The song reached No. 1 in mid-August, spent 32 weeks on the Billboard chart and led to a Grammy for best male rock vocal performance.



Before the Notorious RBG, there was Sandra Day O'Connor. On Aug. 19, the daughter of a Texas rancher-turned-Arizona Court of Appeals judge became the first female to be nominated to the Supreme Court. A moderate conservative (then-POTUS Ronald Reagan put her up for the job), she was approved 99 to 0 with one senator in absentia. O'Connor, now 90, retired from the bench in 2006.



The births of Beyoncé and Serena Williams
One was born in Houston; the other in Saginaw, Michigan. One commands the stage; the other commands the court. They both broke out into the mainstream as teen phenoms and became wives and mothers. And as Beyoncé and Serena Williams approach 40 (on Sept. 4 and 26, respectively), we still cheer for them. Other famous '81 babies include Britney Spears, Justin Timberlake, Alicia Keys, Chris Evans and Natalie Portman.



"It's the beginning of our lives and we're together and that's all that counts." Lucas Lorenzo Spencer (Anthony Geary) spoke those words to his bride, Laura Webber Baldwin (Genie Francis), in a two-part November episode of General Hospital, and more than 30 million Americans — a daytime-drama record — bore witness. Elizabeth Taylor made a cameo during the event, while the actors landed on the cover of People and Newsweek. Alas, the characters divorced in 2001.



When Chuck Woolery departed as the host of the daytime Hangman-like game show Wheel of Fortune, few would have thought that his fresh-faced replacement — a former weatherman and disc jockey for Armed Forces radio — would evolve into a quick-witted TV icon. Sajak, tapped in December, was joined by letter-turner Vanna White a year later. In 1983, the show started airing in syndication. It has been a dinnertime TV staple ever since.