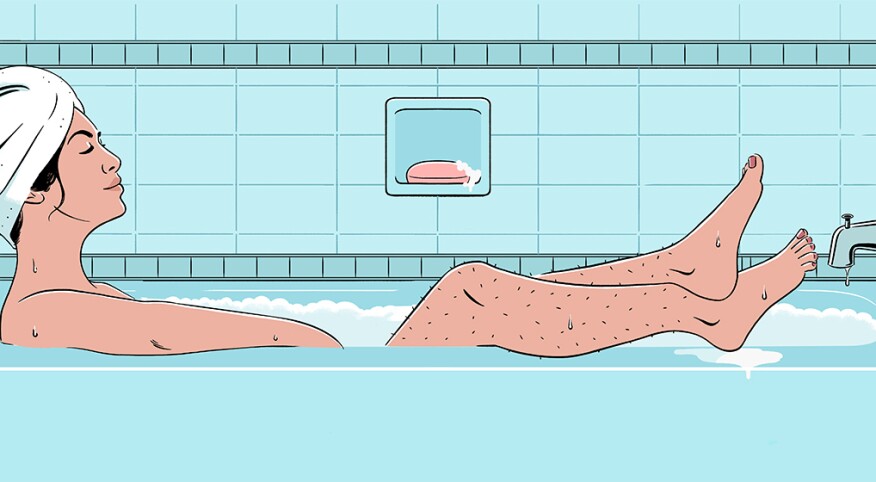 Have we been showering wrong our whole lives? This is the question that came to mind when an old Twitter debate divided the internet a few years ago: to wash your legs or not? While we're not ones for hygiene shaming, the debate is an ongoing one. Women against leg washing argue that their shaving cream works as a cleanser, while those in favor of leg washing claim that maintaining a proper skin-care regimen doesn't end at the waistline.

To get to the bottom of this, we tapped Joshua Zeichner, M.D., board-certified dermatologist and director of cosmetic and clinical research in dermatology at Mount Sinai Hospital in New York City, for some answers.

Skin care for your legs

While Zeichner notes that showering every day isn't necessary, he maintains that when you do shower, it's important to wash your skin — legs included — to remove any dirt, oil and sweat that builds up, particularly after a workout or heavy sweating. This is because sweat can exacerbate dirt and oil already present on the skin (especially if you're wearing tight workout clothing), which can lead to bacteria that causes breakouts. And, though this goes without saying, Zeichner also recommends washing your legs if you have any visible soiling.

Those who are part of Team No Leg Washing may still ask themselves, "does shaving cream suffice?" According to Zeichner, the answer is no. "Shaving cream is designed to soften hair and enhance the glide of a razor against the skin for optimal shaving," he says. "While shaving cream helps hydrate the hair and skin, it does not offer cleansing benefits and cannot be substituted for a body wash."

Rather, look for gentle cleansers that aim to remove dirt from the skin without compromising the integrity of the skin barrier — and make sure they're soap-free, as "true soaps have an alkaline pH, which can disrupt the outer skin layer and lead to dryness and irritation," notes Zeichner. He recommends using a cleanser that contains hydrating ingredients such as glycerin, hyaluronic, oat extract, ceramides or natural oils.

Our current favorites? Dial Clean + Gentle Hypoallergenic Body Wash ($4 at Walmart) or Dove Body Wash for sensitive skin (from $6).

While cleansing the legs is essential, Zeichner says to avoid too much scrubbing (aka exfoliation) of the skin. "Exfoliation can help remove dead cells from the skin's surface, but overexfoliating or overscrubbing can actually cause more harm than good," Zeichner tells us. "I tell my patients to listen to … your skin needs; if you see flakes, it means that your skin needs hydration, not exfoliation. Exfoliating skin that's already dry can further disrupt the outer layer of skin, ultimately contributing to more dryness and flakes."

Post-shower leg routine

After a shower, Zeichner recommends patting — versus rubbing — your skin dry. Patting is gentler and reduces the risk of tugging and pulling. You should also apply your moisturizer on damp (not wet) skin within five minutes of getting out of the shower to lock in hydration. If you're struggling with super dry legs, Zeichner recommends selecting one of the three different types of moisturizers: Occlusives, including petrolatum and dimethicone, form a protective seal over the skin to prevent loss of hydration; humectant ingredients, such as glycerin or hyaluronic acid, act like a sponge to pull in hydration to the outer skin layer; and emollient ingredients (think: natural oils or fatty acids) soften the outer skin layer and seal in cracks between rough cells.