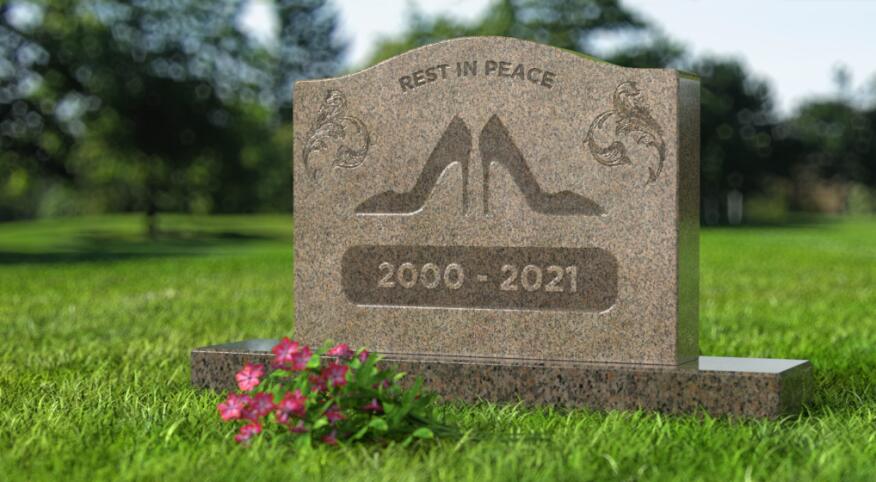 A dozen pairs of high-heel shoes recently passed away peacefully in an unassuming closet on the Upper West Side of Manhattan. Cause of death was gross neglect during a global health pandemic that rendered them obsolete and useless.

The children of Steve Madden chunky platform sandals and Nine West kitten heels, the pumps originally were brought home in 2000 after their owner landed a glossy magazine job at offices inside a classic skyscraper in Rockefeller Center. Thanks to an unofficial dress code of "workplace chic — even if you can't afford it," two pairs of elegant shoes with a block heel for support were promptly purchased from Bloomingdale's on a chilly Monday night.

The collection flourished throughout the early-to-mid aughts. This was a golden era of journalism and footwear, spurred by the potent aspirational mix of Sex and the City and The Devil Wears Prada. Gnarly blisters, cuts and calluses be damned — squishing size-10 feet into a stiletto represented the ultimate status. A female media boss often set the tone by crossing her legs to reveal coats of bright red on the underside of her pointy Christian Louboutins. Any bump in her staffer's paycheck led to a Carrie Bradshaw-approved shopping trip, where heels from Prada to Michael Kors were put on public display and in heavy rotation in a bid to imbue the vibe of a professional urban sophisticate. (Alas, ultra-fancy Jimmy Choos and Manolo Blahniks remained out of price range.)

The heels greatly enjoyed making clacking sounds in the marble-floored lobby ala Miranda Priestly and receiving compliments from fashion editors. They also didn't seem to mind the unflattering overhead fluorescent lighting in the conference room or being kicked off under a desk because they were pinching their owner's toes into oblivion. (To wit, the shoes reunited with their peers underneath that desk, as several pairs got stashed there for emergency purposes.) Sure, they caused awkward wobbling and often snagged in the cheap carpeting, but they continued to provide a distinct psychological edge.

Outside the office, the heels' favorite hobby was extensively traveling around the world. The shiny strappy ones strutted on the legendary red carpet along the Promenade de la Croisette in France at the Cannes Film Festival. The red ones with the 4-inch heels that could pierce a heart stayed put during an exclusive movie after-party at a downtown Toronto restaurant cohosted by George Clooney. The open-toed, pink suede ones made the trek to various destination weddings along the Eastern seaboard and fit nicely into purses of a certain size. Despite the serious wear and tear, friends admired their perseverance.

The decline became evident after a work-from-home pivot. With no colleagues to impress every day or power lunches to dart off to anymore, the heels started to lose their luster. Pounding the city pavement in a pair of accessible and user-friendly sneakers or flip-flops suddenly became second nature, not to mention a welcome relief to certain middle-aged feet. The stylish stilettos collected dust, silently passing judgment when cute ballet flats got the nod for a first date. Nonetheless, they had earned a much-deserved retirement.

Their health took a turn for the worse in 2020. Because of a prolonged at-home quarantine, they never saw the light of day and suffered dearly for it. Instead, more sensible (and affordable) shoes became de rigueur and got the job done. Socks even made a surprise comeback. This decision was cruel albeit for the best, as vertically enhanced pumps served zero purpose other than a visual reminder of a long-ago extravagant lifestyle.

They never did recover. Indeed, in late spring, the heels were left home alone during every single celebratory post-vaccination dinner on the town. Nobody noticed, let alone cared. It was time to finally let go. The high heels are survived by several Dr. Scholl's inserts, medicinal-smelling foot-repair lotion and flesh-colored Band-Aids. Relatives include five pairs of leather knee-high boots that remain surprisingly durable, especially in the winter. No burial or cremation; they're wrapped in tissue paper and stored in their original boxes. Visitation hours will be at the closest thrift shop, exact time and location to be determined. In lieu of gifts, please simply remember they lived well.