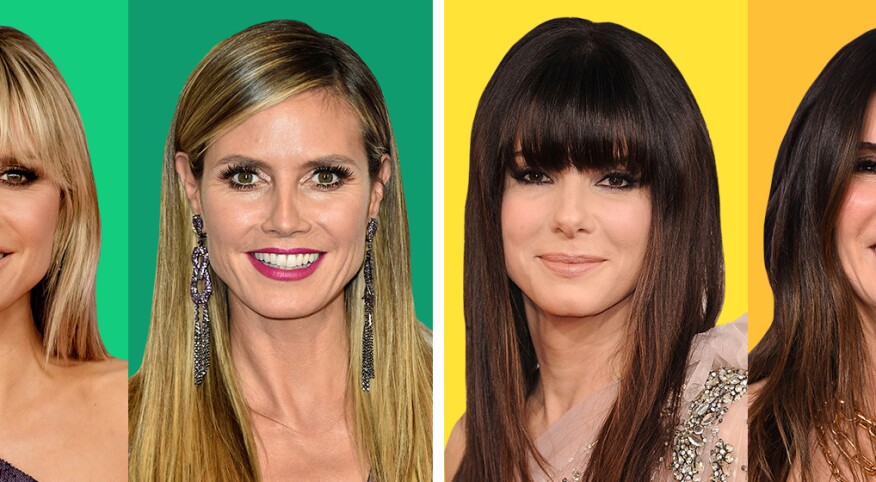 For most of my life I wore my hair with bangs. Then sometime in my 40s my hairstylist suggested growing them out, and I did.

Fast forward to my 50s. Every so often I'll contemplate if I should get bangs again, and I'll take my hair and drape it across my forehead to get an idea of how it would look. Would it be flattering? Would bangs make me look more like my younger self?

Yet every time I mention bangs to my stylist, he strongly discourages me. My friends are equally adamant. "Don't get bangs!" they warn me.

What is the big deal about getting bangs? After all, celebrities like Christina Hendricks, Heidi Klum, Kerry Washington and Sandra Bullock look amazing with bangs.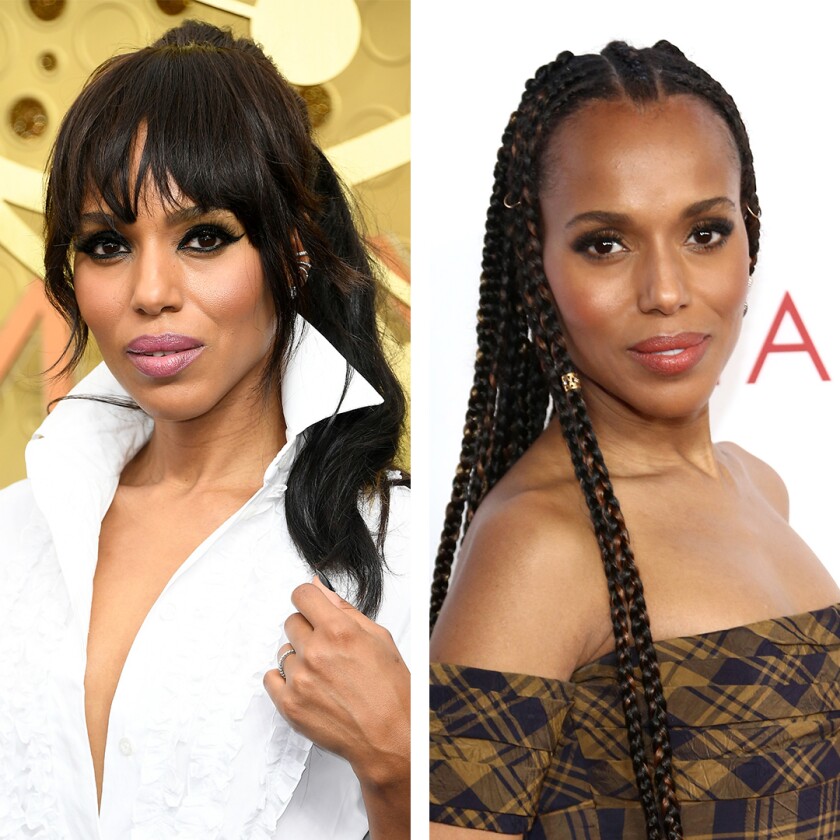 Monica Davis, a professional hairstylist, says, "There's actually nothing wrong with bangs. They will be trendy forever if they are done properly. You just need to know several simple tips to figure out if it is the right style for you."

All bangs are not the same

There are many different types of bangs to choose from, including:

Fringe: "In general, these are the bangs we are used to seeing when we think of bangs," says Ghanima Abdullah, hair expert and cosmetologist. "Rather than simply cut straight across, the modern version of fringe bangs are cut in small pieces that have little angles to them. They come across the eyebrows or a little lower."

Bowl cut: These are the hardest type of bangs to grow out. "Bowl cut bangs are heavy. The bowl cut divides all the hair starting from the center and cuts it evenly around the entire head," Abdullah explains.

Short and jagged: This type has hair scattered around the forehead. The bangs look edgy with a pixie haircut.

Curtain: These styles spilt open at the center of your forehead like a curtain would. The center is a little shorter, and the longer, outside edges frame your face.

Side swept: "These bangs are cut on an angle to help them grace the curves of your cheekbones," Abdullah says. "Side-swept bangs blend effortlessly but grow out quickly, so there's less to worry about if you decide to change your look with them."

Face shape and hair type

The right type of bangs depends on your face shape. Oval or heart-shaped faces work well with almost any style of bangs. For round faces and faces with an angular jawline, avoid blunt-cut bangs in favor of long side-swept bangs, which tend to be more flattering. Davis says, "As for square and oblong face shapes, they look best with A-shaped bangs and choppy bangs."

Bangs work well with straight, wavy and curly hair, although curly hair can be the trickiest to get right. Sharon Terera, founder and CEO of AfroLovely, says, "Curly bangs can sometimes look slightly overwhelming because their hairdressers cut bangs that are too thick and heavy. Curly bangs should be sparse but still playful." When requesting bangs for curly hair, it may be best to ask for a dry cut. "Wet curls shrink when dry, causing the strand to be shorter; therefore, don't cut the bangs above the eyes initially," suggests Terera.

To bang or not to bang

On the plus side, bangs can soften your appearance and make you look more youthful. Hairstylist Melissa Franco says, "Bangs are the Botox that keeps on giving! With even a wispy bang that sits just above your sightline, you cover any imperfections you may want to hide on your forehead. Since bangs draw attention above your nose, it can give the illusion of uplifting your face, even when you feel like you look dragged down."

On the downside, it can take a few attempts to get bangs right. I remember once time where my own bangs were cut a wee-bit too short, and for two long weeks I felt I resembled Jim Carrey in Dumb and Dumber.

Another thing to consider is that bangs require maintenance. Expect to visit the salon every two to three weeks for a bang trim. They can stand up if you sleep funny and look unkempt if you don't give them a little styling attention daily (especially if you have curly or wavy hair).

In addition, you may have to wash your bangs more often than you do the rest of your hair. Lily Will, CEO of NiaWigs, says, "Because bangs are close to your face, they absorb your skin's natural oils far faster than the rest of your hair. Your fringe will not only be prone to looking oily, but it may also create acne breakouts on your forehead."

The bang bottom line

If you are thinking about getting bangs, it's essential to communicate precisely the look you are after with your stylist. Khamis Maiouf, hairstylist and founder of Book of Barbering, says, "Be specific about high off your face you want the bangs to be. Some people prefer to have them right above the eyebrows, while others prefer to end at the eyebrow line. It's also important to know how thick and full you want them."

Try to find a picture of the kind of bangs you're thinking about getting, and then have your hairdresser evaluate them to make sure they'll work with your hair type and face shape. And keep in mind, if you get bangs and you hate it, you don't have to keep them. Invest in some cute hair clips or headbands for that awkward in-between time while you wait for your bangs to grow out — and then contemplate whether to get bangs again!