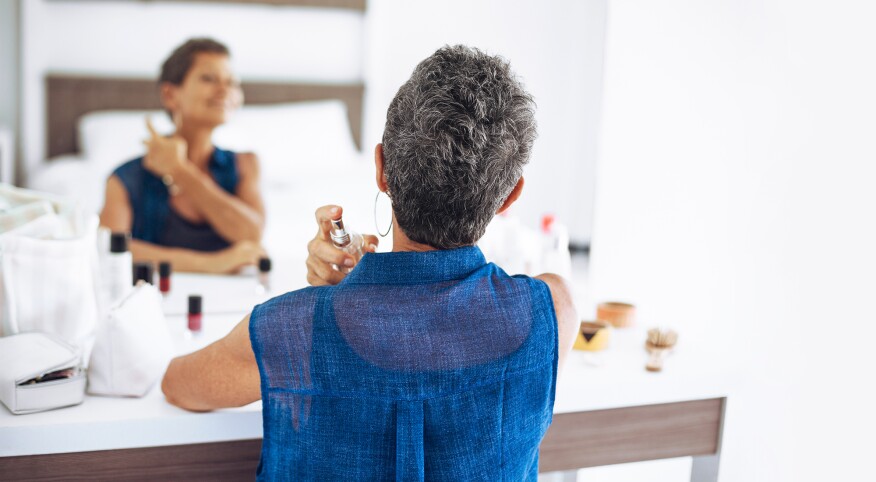 In the late 1970s and early '80s, my dad traveled frequently to Europe for work. At the time, he was a successful CEO and favored elegant and expensive hotels like the Intercontinental and Brown's in London. He would bring home stacks of small, luxurious soaps collected from his hotel stays. They were beautifully wrapped in delicate paper and often had the hotel's insignia imprinted on them. To me, they were the height of sophistication and smelled far more exotic than the Ivory and Irish Spring soaps I used each day.

My dad and I bonded over our shared love of fancy hotels and fancy hotel soap. It was one of the few moments of peace between us during those angsty tween years. To this day, I still rush into hotel room bathrooms to see what kind of delightful soap awaits me. Those tiny joys keep me going during the toughest of times.

Scent is transformative. One whiff of Obsession reminds me of a high school bestie, while Opium immediately brings back memories of my mom getting ready to go out in the '80s. Patchouli transports me to college — where every Deadhead I knew left a trail of patchouli in their wake. During those heady years when all I had to worry about was getting decent grades, my signature scent was Water Lily, an oil that I applied liberally to my wrists before going out to hear whatever alternative/grunge band was playing in Madison at the time. Sure, my hair was jet black and I sported a motorcycle jacket and Dr. Martens, but I smelled like an angel.

In my late 20s and 30s, mass market perfumes were all the rage. CK One launched in 1994 and wafted through all the dance floors and parties of my youth. One guy I dated practically bathed in it — much to my dismay. The Gap came out with a signature line of fragrances that were fresh and sassy, much like the persona I was trying to cultivate at the time. And of course, I partook of Clinique Happy in the hopes of transforming my frequently dark moods into something more palatable.

These days life is far more complicated, and with the 24-hour news cycle and internet it's nearly impossible to escape the horrors of the world. Like many of us, I find myself doomscrolling during the wee hours of the night and anxious during the day. Even though there's not much that keeps my mind from succumbing to "what if" scenarios and worry, the not-so-guilty pleasures that still distract me are trips to bath and body emporiums and nightly bath time. My collection of soaps is impressive. There are ones from hotels (of course), hand-crafted soaps from upstate New York, rose petal-infused soaps from my friend's shop, scrubby soaps, soap slabs, face soaps, and soap slices. I promised myself that I wouldn't get more until I'd whittled away the current batch — but whom was I kidding?

Recently, I found myself wandering around an Aesop boutique. It was during a particularly brutal news cycle, and I was desperate for some solace. The Australian luxury skin-care brand always reminds me of the cute bistros and boutique hotels where their hand soap used to be ubiquitous. Frankly, I think the products are ridiculously overpriced, but I couldn't help myself. I needed to be carried away by the heavenly scents and soothing textures of clean, wholesome bath products.

Aesop has elevated bathing and handwashing to something to be savored, and I was there for it. The shop has two sinks set up where you can try any of their products — from hand washes to facial serums. It was glorious. I pumped several generous dollops of Reverence hand wash onto my hands and gazed into the sink as the aromatic suds washed over me. Then I helped myself to a generous blob of Rind Concentrate Body Balm, a silky citrusy scented lotion in a clever eco-friendly tube. Even though I spent far too much money on body wash, soap and the aforementioned body balm, it was a small price to pay for a moment of calm.