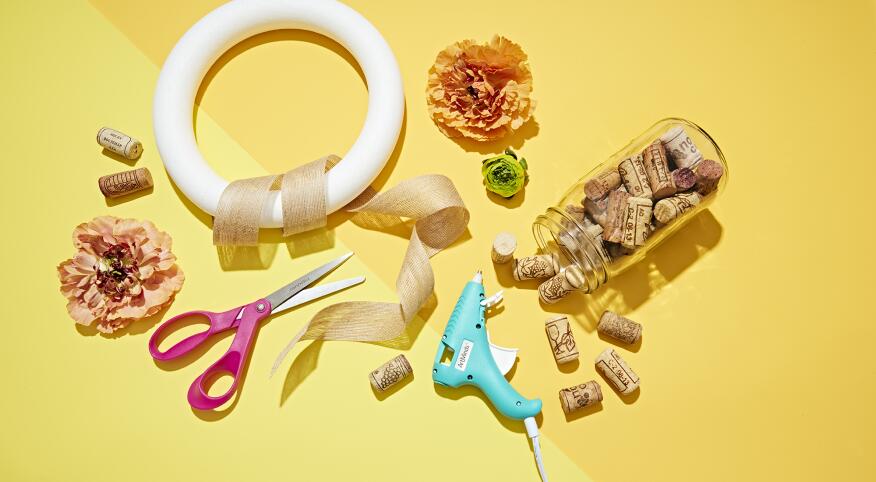 While you already may have several new hobbies to keep you occupied during the pandemic, here are some ideas for what to do with all those wine corks. I have plowed through more than my fair share of wine bottles in 2020, and the trend seems to be continuing in 2021. The result: an embarrassingly large bag of corks.

Here are five of my favorite craft ideas to make all that drinking worthwhile. All you need is a hot glue gun and a desire to empty that wine bottle … you know, for the cork. Corks are an excellent foundation for your craft, as they are durable and can be cut to size if needed. You may also notice that the corks come in slightly different colors and shapes. You can use this to your advantage as you are crafting; utilize the various forms to emphasize or accent certain features.

I enjoy throwing in a champagne cork or two to cap off a unique creation. There are no rules in wine-cork crafting. Just have fun with it!

Don't let a dearth of wine corks keep you from participating in this fun craft. If you don't drink wine or haven't been saving your corks, you can buy crafting corks from your local craft store. Don't be shy to ask around; your local restaurant may have a stash for you to raid, and who knows, it might be an excellent way to start a conversation and find a local craft buddy!

Trivet

The simplest and perhaps most fun craft to make with cork is a trivet. It not only goes together quickly, but also is an item that you will find yourself using over and over. This article by Creatorvox provides a great starting point to get you going with a few simple designs. Once you have the basic structure down, experiment with different patterns and sizes to customize the trivet to your taste.

Utensil holder

I love this idea from A Magical Mess, which recommends using a tin can as the base for this lovely kitchen utensil holder, which will be something you look at every time you pop a cork. Take it a step further by experimenting with these guides from Design Improvised to make all kinds of vases or boxes, which you can customize to meet your needs.

Birdhouse

If you are ready to move on to the next level of corking, decorating a birdhouse is a lot of fun and will be a lovely addition to your yard in the springtime. The easiest way to complete this craft is to purchase an unfinished birdhouse at your local craft store and use the hot glue gun to glue corks onto the walls and roof in the pattern of your choice. Accent the roof with a champagne cork "chimney." You may want to add shells or decorative stones to give your birdhouse your signature flair. Or you can be a purist and check out this Crafty House recommendation, which shows how to build your birdhouse using only corks as the foundation.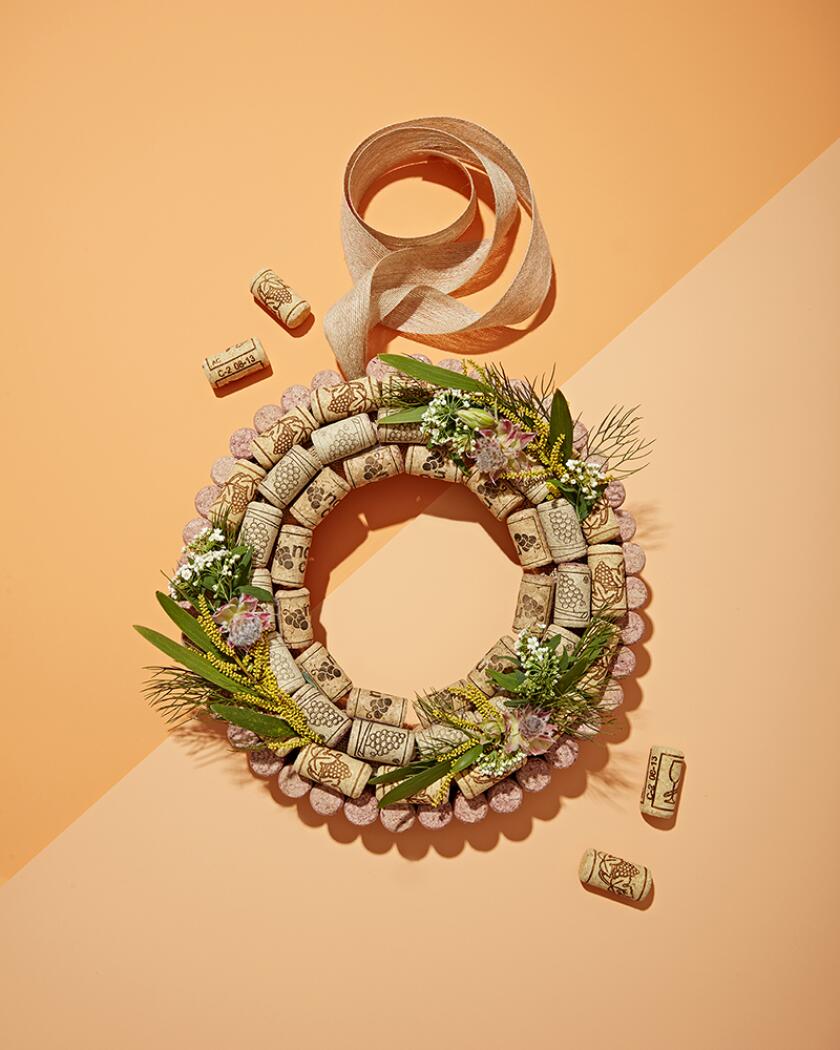 Wreath
Shana Novak (Prop Stylist: Wendy Schelah)
Birdhouse
Shana Novak (Prop Stylist: Wendy Schelah)
Vase (or Utensil Holder)
Shana Novak (Prop Stylist: Wendy Schelah)
Wreaths

I have been experimenting with making wreaths large and small out of corks. I have found it works best to have a frame to hold them together and provide the round shape. You can find metal, wooden or Styrofoam wreath frames at your local craft store, which you can accent with corks, succulents ribbon or dried flowers. Make sure to lay out your design and have your plan in place before you start gluing. Here are a couple of excellent tutorials to get you started: a wreath with ribbon from Wine Folly, and a grape-themed wreath from Debbee's Buzz. Customize your wreath for the season, and you will always have a beautiful accent on your door.

Charm tags and key chains

If you have only a handful of corks, these little one-offs are a fun way to remember that special bottle. These charm tags by Style Baggage can be just the ticket to mark your wine glasses or to label gifts. You don't need to go big; if you only have one cork, here's a lovely cork key chain from A Few Shortcuts. You will always be able to find your keys, and when you do, a memory of that particular bottle will bring a smile to your face.

I know it's challenging to make time to craft. It's easy to get caught up with work, chores and all those other items on the to-do list. But it's also important to treat yourself to a little creative time; you might be surprised by how relaxing and fun a short craft session can be. Moreover, you will be doing something good for the environment by upcycling and repurposing those corks rather than throwing them away. See, all that drinking wasn't for nothing! Take some time for yourself along with a nice glass of wine, and let your imagination soar. Cheers!