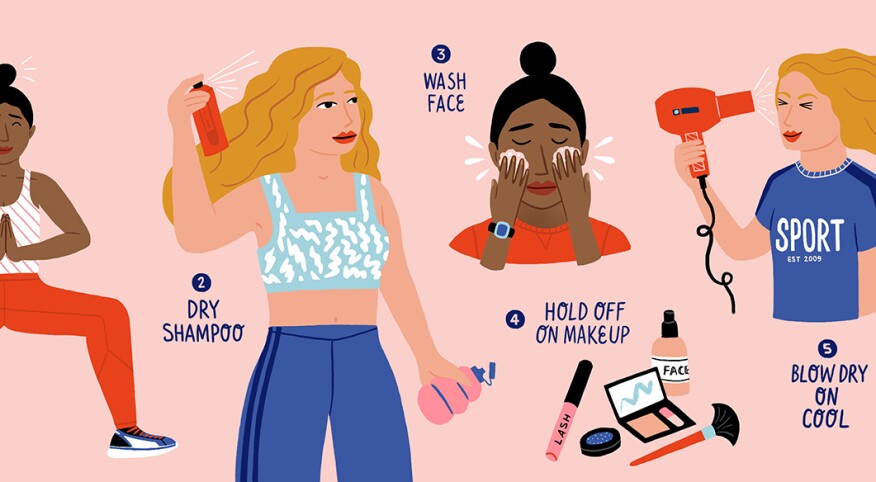 Sometimes, the biggest issue with hitting the gym is figuring out the logistics.

No time to shower after being at the gym but don't want to show up in the office or at a friend's looking like a hot mess? Here are some tricks to getting the sweat and smells away — and actually looking work-ready five minutes after hopping off the treadmill.

Style before the gym

Put your hair in a high bun before exercising, says Katelyn McCullough, cofounder of Elwynn & Cass LLC, a beauty concierge service. If you want to maintain an overall presentable look, it's best to brush your bangs back, like you are going to put your hair into a ponytail, she says. Once slicked back, wrap a hair tie around your hair approximately two times depending on hair thickness, so it's tight enough to stay up and hold its shape, but not so tight that it will cause creases in your hair. "The secret is to keep your hair in the bun until all your hair is completely dry (top to underneath)," McCullough says. "Once it's dry, you can take it down and should have loose waves that look like you styled it on purpose."

Dry shampoo … before you work out

Dry shampoo is the obvious solution, but dry shampoo is meant for dry hair, says Lauren Fink, hairstylist with Spa Pechanga in Temecula, California. "If you're sweaty, do not use it," she says. But, you can apply the dry shampoo to your roots before you work out to absorb sweat during the workout. After your session, brush through your hair to spread the product through the strands.

Wash your face thoroughly

Regardless of how much or how little you sweat, wash your face with soap and water. "This isn't the time to splash water on your skin, because you need to rid your pores of dirt, sweat and oil buildup," says Rochelle Maribojoc, aesthetician with Spa Pechanga, who suggests using a gentle cleanser. Skip the exfoliant, however, as it'll leave your face red. If you don't have time to wash your face, dab toner onto it. Toner will rid your face from oil, though it may be a little drying.

Wait to apply makeup

Don't apply your makeup in the locker room, says Rachel Reid, founder of Subtl Beauty, based in Pittsburgh. "You're probably still cooling down and the locker room is typically very humid, which promotes continual sweating," Reid says. "We recommend waiting until you get to your car, blasting the air-conditioning and applying your makeup once your body temp has returned to normal."

Blow-dry on cool

Dry your hair on the cool setting from the top, around your face and back to the ends of your hair. "With the blow-dryer settings on cool, this will move the oils in your hair from the root to the mid-shaft and end of your hair, leaving hair around your face refreshed," says Jana Rago, owner of Jana Rago Studios in Boston at Area Salon Studios. Once you're done drying your hair, throw it into a bun or ponytail. If it was an intense workout, apply a few pumps of baby powder to the roots of your hair before drying.

Baby powder is your BFF

Try to stay away from using dry shampoo all the time, Rago says. Too much dry shampoo will build up gunk on your scalp and on your hairline — it's just as bad as the buildup of hairspray, she says. Keep your blowout alive after a workout by using baby powder, and apply it as you would dry shampoo. Brush it through until it's blended into your hair.