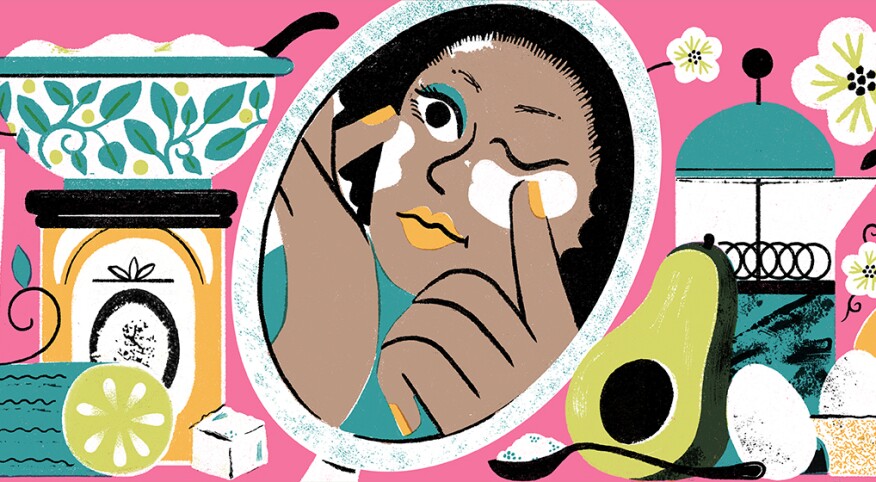 My daughter makes the best sugar scrub. She always has some on hand, and it literally takes her a few minutes to mix it up. I also buy eggs, yogurt and avocado very often — and we aren't always eating it.

The truth is, there are so many good things you can use on your hair and skin that are right in your pantry. After all, we see lots of beauty products out there with labels stating they contain real avocado or coconut oil. Sugar and salt scrubs have actual salt and sugar. And there's nothing like a cold vegetable to reduce puffiness.

So, whether you don't have time to book a spa appointment or forgot to pick up your favorite hair mask, you might be able to find exactly what you need in your refrigerator and pantry, or down the aisles of your favorite grocery store.

The cherry on top is you don't have to leave home, spend a ton of money or worry about harmful ingredients.

Cucumbers

Yes, these are wonderful to eat and a great way to spice up a glass of water. But they also make great depuffers. We watched our parents' generation do this, and it still works. Cucumbers work because they are often kept in the fridge, and anything cold can reduce inflammation. They feel great on the eyes and are the perfect shape to stay in place.

If you find yourself out of them, try putting a few spoons in the freezer for about 10 minutes and use the back of one over each eye. I've done this more times than I can count, and it works like a charm.

Greek yogurt

The good bacteria in yogurt helps support gut health, and I've even heard a nurse prescribe it to a woman for a yeast infection (plain only). But yogurt also can be used as a face mask. If you put it right on a clean face and then wash it off, the same bacteria that helps your gut will clean out clogged pores.

Avocado

Avocados are great to eat and can benefit your skin, nails and hair, but do they also make a good beauty product when used outside the body? A lot of people say yes. You would purchase a premade avocado hair mask, so why not make one for yourself? Avocados have been said to help with dry scalp, add shine and moisturize dry, damaged hair. Just mash one up and put it on the middle to ends of hair, let it sit for five minutes, and then wash and condition as normal.

Rice water

For years people have been using rice water on their hair. It promotes root strength and can be used as a conditioner or hair mask. The nutrients in rice water boost shine, and the carbohydrate it contains (inositol) helps cut down on breakage.

My daughter rinses with this almost every night before she braids her hair and sleeps on her silk pillowcase. I can't believe how much thicker and longer her hair has become.

Coffee grounds

I've been rubbing coffee grounds on my inner thighs for years. The coffee is said to draw out fluids from fat cells, which can reduce the appearance of cellulite. It's also great for exfoliating the skin — so I use it everywhere.

Mixing equal parts coffee grounds and olive oil and keeping it in a jar in your shower is a great way to take some extra self-care time in the morning. And the smell is amazing!

Coconut oil

You can not only cook with this healthy fat, but also use it as a moisturizer or teeth whitener. In fact, the last time I had my teeth cleaned my hygienist showed me a picture of her daughter's teeth and told me she rubs coconut oil on them every night. She leaves it on for five minutes, then brushes. It can also be mixed with raw sugar to make a great lip scrub, and is the only thing that will take care of my dry, cracked hands and feet in the colder months.

Instead of searching for the perfect hair or face mask, you might as well try these super nourishing things that are only a few feet away. And the good news is, you don't have to put on your bra or leave your house to do it.