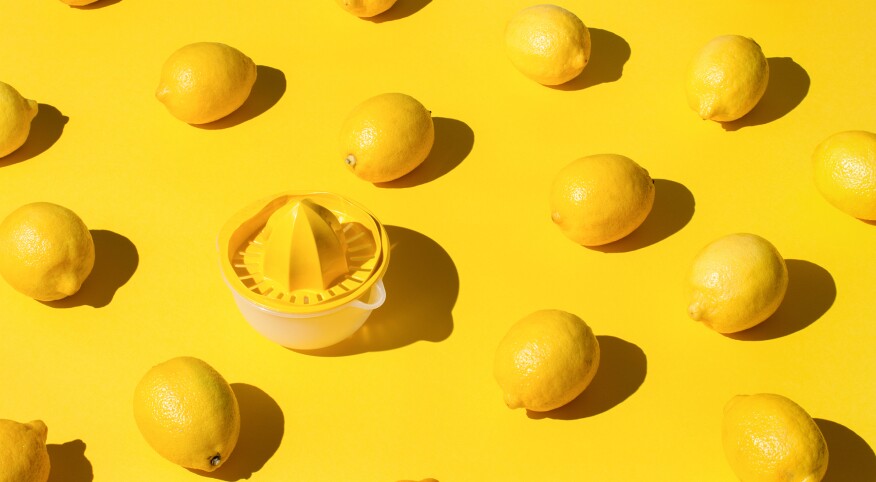 Let's begin by pointing out that lemons often are the subjects of unfair criticism. Their sour taste has made them a synonym for all things in life that are unsatisfactory or defective. Your recently purchased car broke down; you bought a "lemon." Your boyfriend cheats on you; he is a "lemon." Common advice is that when life hands us lemons, the only answer is to make lemonade.

Lemons, however, are pretty great and have a lot to offer. Lemons, a citrus fruit, are known for their bold yellow color and tart taste. A hybrid of citron and lime, lemons grow on small evergreen trees in subtropical and tropical areas.

There are many different types of lemons, but the three most common varieties are Meyer, Eureka and Lisbon. The top producers of lemons include Mexico, India and the United States, and the fruit is available in supermarkets year round.

No disrespect to lemonade. It's a delicious beverage and refreshing on a hot day. But the next time life hands you lemons, consider trying one of these six fresh ideas!

Add lemons to your beauty regime

Remember that old trick from high school where you tried to lighten your hair with lemon juice? It actually can work. Combine the juice of four lemons with one-half cup of warm water. Place in a spray bottle and apply to hair until it's damp. Sit in the sun (with sunscreen on your face and body) for about 30 to 60 minutes. Afterward shampoo and condition hair thoroughly, because lemon juice can make hair dry.

Bothered by dark skin on your knees or elbow? Lemons can help there, too, since vitamin C is a natural skin lightener. Just rub the area you want to lighten with a lemon cut in half. Lemons are also great for at-home manicures. Soak nails weekly in lemon juice for 10 minutes to help them grow and remove any discoloration.

Use lemons to boost your health

Lemons are a great source of vitamin C, fiber and antioxidants. While there isn't enough evidence to support that it prevents getting sick, vitamin C can strengthen your immune system and may lower the duration of a cough or cold. The next time you are under the weather, squeeze a whole lemon into a cup of hot tea with some honey for a soothing elixir. Lemons are also a natural laxative. If your digestive system is a little sluggish, try starting your day with a cup of hot water with lemon.

Clean with lemons

It turns out that lemons are a versatile home cleanser. Try using lemons to clean your microwave, polish stubborn stains on silverware, or freshen a garbage disposal. A lemon cut in half can be used as a natural cleaner to disinfect and clean a cutting board. Or use a lemon mixed with coarse salt to scrub away leftover scraps on a cheese grater.

Decorate with lemons

Are you looking to get lucky this year? Lemons may be a way to neutralize negative energy in your home. As explained in an article for LoveToKnow, feng shui practitioner Sally Painter wrote, "For some feng shui practitioners, lemons represent cleansers and purifiers of sha chi (negative chi)."

Instead of a floral centerpiece for your kitchen or dining room table, try placing nine fresh lemons in a bowl. Painter explains, "In time dimension feng shui (flying stars), the number nine flying star is often referred to as the 'big-hearted star' since it bestows auspicious energies as the purple star."

Drink your lemons

Although lemonade with vodka is tasty, why not try a different lemon-inspired cocktail this summer?

Lemon Drop Martini


From food blog Inspired Taste
Ingredients

½ cup granulated sugar

Zest from 1 lemon

2 ounces (¼ cup) quality vodka (try a citron vodka)

¾ ounce (1½ tablespoons) Cointreau or triple sec

1 ounce (2 tablespoons) fresh-squeezed lemon juice (juice from ½ large lemon)

¾ ounce (1½ tablespoons) simple syrup

Ice

Directions for lemon sugar

Add sugar to a plate, then rub the zest from the lemon into the sugar with your fingers until tinted yellow and fragrant.

Directions for martini

Moisten the rim of a chilled martini glass with the juiced lemon, turn the glass upside down and twist into the lemon sugar; set aside. Add vodka, Cointreau (or triple sec), lemon juice, simple syrup and a handful of ice to a cocktail shaker. Shake for 30 seconds or until very cold. Strain into the prepared martini glass and serve immediately.

Bake with lemons

Refreshing lemon bars are sure to be a hit at your next picnic or barbecue.

Easy Lemon Bars


From recipe site Spend With Pennies
Ingredients for the crust

10 tablespoons butter, room temperature

1¼ cups flour

½ cup + 2 tablespoons powdered sugar

¼ teaspoon salt

Ingredients for the filling

3 large eggs, room temperature

1 cup granulated sugar

3 tablespoons flour

1 tablespoon lemon zest

⅓ cup lemon juice (about 2 lemons)

½ teaspoon baking powder

Directions for the crust

Preheat oven to 350°F and lightly grease a 9-by-9-inch pan. Mix the flour, powdered sugar and salt together. Cut the butter into the mix until crumbly and then press into the bottom of the pan. Bake for 15 to 18 minutes until lightly golden. Meanwhile, make the filling.

Directions for the filling

Whisk all the filling ingredients together until combined. Pour over the cooked crust and place back in the oven for 17 to 20 minutes until filling is set. Cool completely, dust with powdered sugar and cut into squares.