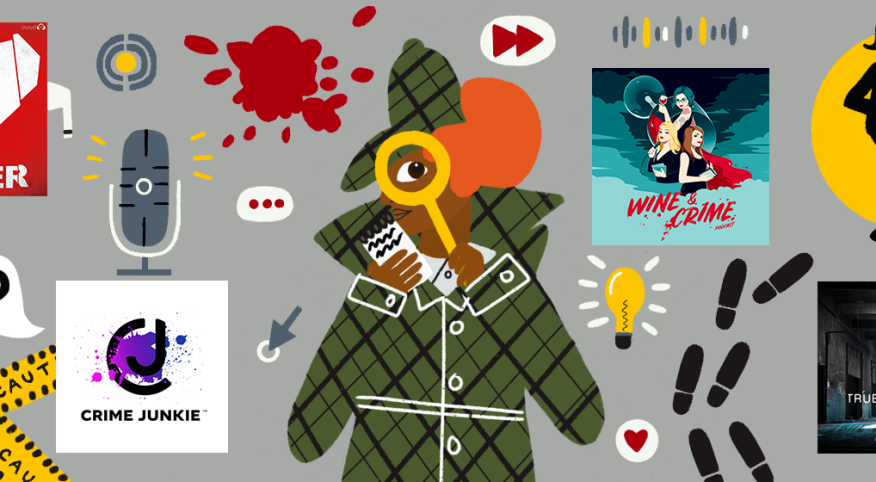 Our lives don't seem so crazy or horrible when we listen to a true-crime podcast. After all, what's an argument with the hubby over the dishes … when someone else's husband has murdered, beheaded and stuffed his mistress into the dumpster before leaving on his honeymoon? Oh, how we love a good true-crime podcast. Here are a few of the best.

Sword and Scale

This podcast has been producing true crime since 2013 before this genre was even popular. It's basically perfected the true-crime podcast, complete with scary music, the perfect build and the absolutely craziest true-crime stories. This podcast does its homework, and has interviews with key people, police recordings and more. Some of it is very graphic and horrifying, so listeners beware. The basic podcast is free, but if you choose you can sign up for +Plus (starts at $5 per month) for extra episodes, content and merchandise discounts. It's worth it.

Crime Junkie

This is the podcast you'll want to binge. The hosts tell the stories, and you'll feel like you're overhearing friends shockingly rehashing the most insane true crimes. The episodes focus on victim justice, and you can tell they really care about the victims. When you're listening, you can go to the website to see correlating photos. They also recommend books, YouTube videos and more — so you can totally go down a rabbit hole for each case.

Love Murder

We hate to play favorites, but all is fair in love and war. So this is our favorite podcast of all time, specifically because all of the true crimes revolve around scandalous relationships gone bad. The stories always start so well: Boy meets girl; they fall in love; then they meet someone else, or someone gets a little jealous. Bam! Murder. Bonus: The two women on this podcast sound like casual best friends, and their commentary is spot-on and often, dare we say it, funny? You'll giggle along as you listen to the gruesome details.

True Crime Garage

Many of the cases discussed on this podcast are recent, such as the big Murdoch case — but they go into way more detail than you'll ever get in the newspaper. In fact, they often have two or three episodes per topic because they really dig deep. The hosts, Nic and the Captain, usually share their theories, but they keep their thoughts at a minimum, preferring to focus on the facts.

True Crime Obsessed

If you love true crime but it also causes you anxiety, then try this podcast, which combines true crime and comedy. It's an odd blend, but it works. Some listeners have shared their hesitation regarding this podcast because the hosts are brutally honest. They have a "garbage bell" that they ring whenever they're discussing anyone they deem to be human "garbage," they aren't shy about their dislike for Republicans, and they like to bring awareness to various social issues. If you click with them, you'll also become obsessed with True Crime Obsessed.

Morbid

Hosted by Alaina Urquhart, an autopsy technician, and Ashleigh "Ash" Kelley, a hairdresser, this aunt-and-niece team are great for newbies to the true-crime genre. They will warn you if something horrible is about to be discussed in the case, and if you have a weak stomach you can mute that section. They always choose interesting topics, and their banter makes the discussions lighthearted — so you know you won't fall into a terrible depression following the podcast, despite the heavy material.

Wine and Crime

It's wine paired with crime. Seriously. They choose wine that would be best paired with each true crime they discuss (you can order the wine they suggest on their website if you're so inclined). This is a podcast about true crime, about wine and about the three Minnesota hosts who talk about everything from their daily lives to their murder fascinations. It's a great podcast to follow with your girlfriends or alone — as you'll feel like you're with old friends while you listen.

ALSO:
Check out AARP's weekly podcast The Perfect ScamSM that tells the stories of people who find themselves the target of a scam. Host Bob Sullivan introduces listeners to those who have experienced scams firsthand, as well as professional con artists and leading experts who pull back the curtain on how scammers operate.

The Perfect ScamSM is a project of the AARP Fraud Watch Network, which equips consumers like you with the knowledge to give you power over scams.