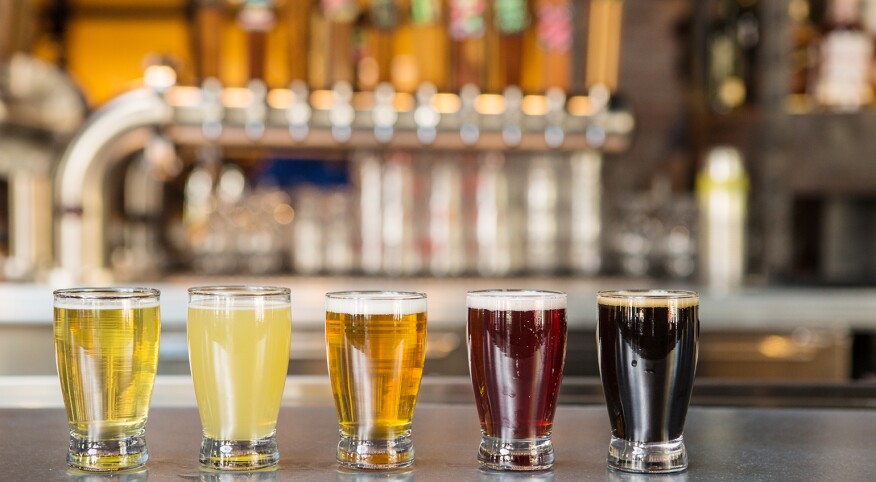 Women love beer — and we drink a lot of it. We still have a soft spot for wine and a killer cocktail, but more and more, we're reaching for pint glasses over stemware. With so many new breweries and beers popping up, it's becoming more standard to order a hazy IPA or a fruity wheat over the traditional glass of full-bodied cabernet.

The recent surge in craft breweries doesn't appear to be slowing down. In 2017, there were more than 6,300 craft breweries in the United States. (That's up from 1,700 in 2010!) For those of us who love unique, flavorful and experimental flavors, we couldn't be happier. And those of us who appreciate a well-made and perfectly crafted pilsner or lager are pretty excited, too.

So, what's best to order at a craft brewery? What do you HAVE to try, and what should you skip? Here are some tips to help navigate the delicious world of craft beer.

Tip No. 1: If a beer has a distinct fruit or specific seasoning in the name, you absolutely must try it.

The 21st Amendment Brewery out of San Francisco has a phenomenal and hugely popular wheat beer called Hell or High Watermelon. It's the gold standard when it comes to fruity wheat concoctions.

If you find a pilsner infused with rosemary, try it. Stumble across a basil wheat? Have a taste. It's part of the fun of craft breweries. The rosemary beer at Wild Woods Brewery, a small, family-owned brewery in Colorado, is outstanding!

Jennifer Krupey, a Boulder, Colo., local and discerning beer drinker, loves 4 Noses Brewing Company's Pineapple Velvet IPA. "With so many beer choices in this area, it's hard to find one that stands out in a crowd of IPAs. Their Pineapple Velvet IPA is a refreshing, drinkable beer with a distinct flavor," she says.

Tip No. 2: Find out the bartender's favorite brew.

This may seem obvious, but it's easy to get distracted by the long list of interesting brews or to default to "what you know." Many of the bartenders at small breweries are family members or the actual brewers themselves. Not only will they know what's best, they'll be able to cater their suggestions to your specific tastes. Remember, these guys and gals started a brewery because they LOVE BEER.

"I like to think of beers like my children," says Michelle Miniutti, one of three female founders of Bombshell Beer Company in North Carolina. "I love them pretty much equally, but on some days I do have distinct favorites. For instance, I love a really rich Imperial Stout for a night cap."

On the flip side, they'll help figure out what not to order. If you don't like your beer too hoppy, let them know. If you're not into citrus, give 'em a heads-up. They'll guide the order so you'll enjoy every last sip.

Tip No. 3: If you're deciding between IPAs, choose a hazy one.

"We pride ourselves on brewing a wide array of beers — everything from lagers to sours to IPAs to cocktail-inspired beers," says Regan Long, one of two female founders of Local Brewing Company based in San Francisco. "Recently, it's been really fun playing with hops in our hazy IPAs. That might be a favorite style at the moment." Hazy IPAs are unfiltered, which means they lack the bitterness of traditional filtered IPAs. Plus, if the brewer loves it, you gotta try it!

Tip No. 4: Always, ALWAYS, try the sour.

They're trendy and yummy, and the tastiest way to step outside your comfort zone.