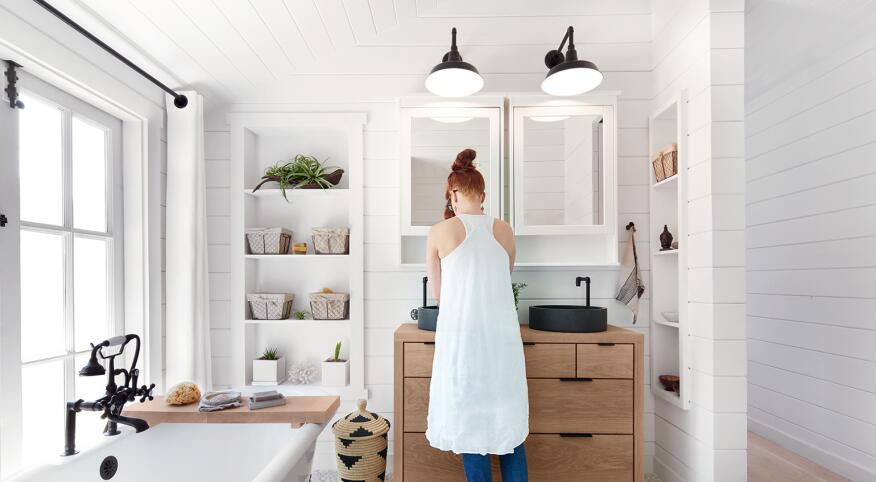 I've never been much of a subscriber to a "skin-care routine." In fact, for most of my teen years and well into adulthood, I've been a "soap and water" kind of gal. And, while that worked for me for the most part well into my 40s, in the last couple of years, I started to notice that my skin didn't seem to glow. In fact, some mornings, I would look at myself in the mirror and wonder exactly when my teenage skin decided to make a comeback: From acne to dry spots to blemishes, my skin was a mess.

But, considering I don't know the first thing about expensive beauty products, I was at a loss. And, since I've outgrown Clearasil, I was pretty sure I needed some expert help. So, naturally, I turned to one of my girlfriends with flawless skin for advice. After she recovered from hearing that I only used soap to clean my face without any regularity, she let me in on a beauty secret that has changed my skin.

And, though I was dubious at first, I don't want to overstate: My skin is living its best life these days thanks to a few simple steps and a handful of skin-care products.

Here's the thing, ladies: Bar soap doesn't really remove all that makeup and grime from your face. Far from it, actually.

What you need is a degreaser, so to speak. A product that is oil based that will lift the makeup, sticky mascara and city grime from your face before you actually wash it. My friend introduced me to a hot cloth cleansing balm product that effectively loosens up the oils from every crevice on your face. (I use Botanics Organic Hot Cloth Cleansing Balm by Boots but you could also try Benjabelle Organic Cleansing Balm or Heladerm Melting Cleanser.)

After I massage the cleansing balm onto my face, I use a warm dampened cotton washcloth (like the ones you buy for newborn babies) to gently wipe off the grime. Warning: You will almost drop dead when you see how much makeup you are actually wearing, trust me.

When I'm finished removing the balm, I use two pumps of a non-sudsing skin cleanser to really deep clean my skin. (I use La Roche-Posay Toleriane Face Wash Cleanser but you might also try Lavender Citrus Foaming Cleanser from Beauty by Earth or CeraVe Foaming Facial Cleanser.) Non-suds products are hydrating and act as a natural moisturizer to your skin as you clean it. Seriously, what would we do without our girlfriends to help us figure these big life issues out?

When I'm finished with my two-step cleansing process, I smooth on a liquid toner with a soft, disposable cotton pad. By this point, my skin feels like a million bucks, and we haven't even gotten to the good part yet. Oh yes, the best is yet to come, ladies.

Let's talk about vitamin C serums, shall we? If you want your skin to glow, you are going to need to help it along with an antioxidant serum. Vitamin C boosts collagen production and helps to eliminate free radicals in the skin. I use a tiny squirt of a vitamin C serum after I two-step cleanse to give my skin a rejuvenating boost. Spoiler alert: Of all the products I mention, serums can be pricey. But, a little dab will do you, and when your skin starts glowing as you take better care of it, you'll be glad you treated yourself. (I use Pixi Glow Tonic but you might also try Vitamin C Serum from LilyAna Naturals or TruSkin Vitamin C Serum.)

I round out my skin-care regimen with a light all-purpose moisturizer. By the time I get to this part, my skin feels amazing and I'm not going to lie: I'm usually smiling because it just feels so damned good to pamper myself, even if it's only for five minutes in the morning and five minutes at night. (I use Ultra Facial Cream by Kiehl's but you might also try Glycolix Elite Facial Cream Ultra Lite or Ultimate Face and Body Cream from Honeyskin.)

Oh, and don't forget to add a layer of SPF 50 sunscreen, ladies: The sun is no joke. You can add sunscreen right after the moisturizer for an extra layer of protection on your now smooth-as-a-baby's-bottom skin.

Like I said, I resisted sticking with a skin-cleansing routine, but now I look forward to removing my makeup at night. The warm washcloth on my face as I take off the cleansing balm and remove the stresses of my day feels like a little bit of heaven. And, when I see my face smiling back at me in the mirror, it makes me feel good inside and out.