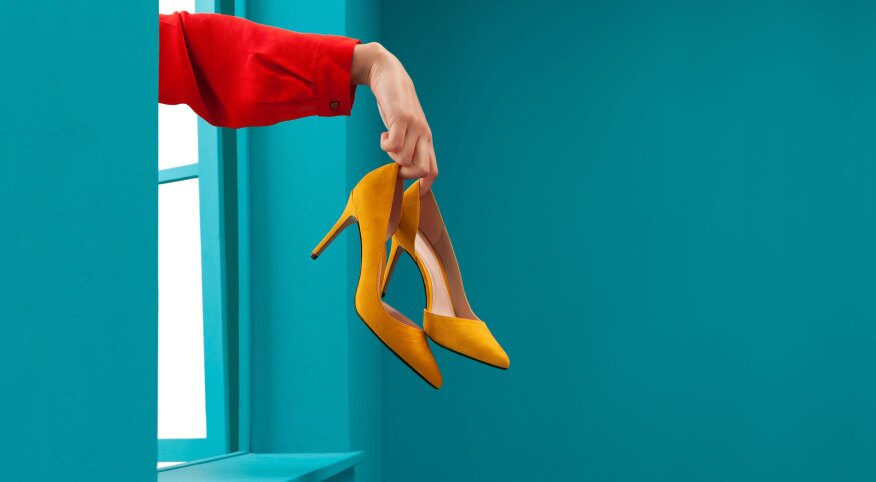 Over the last six months, I've heard an unfamiliar phrase come out of the mouths of several of my friends … "I got it at Eddie Bauer! It's so comfortable!"

I remember getting ready for an event with my mom, and as we walked out the door she changed out of her heels and into flats "for comfort's sake." I was appalled! You know you're getting old, I told her, when you start dressing to be comfortable instead of cute!

My nose turned up when a gal pal told me her super nice capris were from Eddie Bauer. "When did we start shopping there?" I asked. But, I found myself envious of them. They fit well, they looked good ... and they were most likely cheaper than the pants I was buying elsewhere.

When another friend showed me her big scores from a recent shopping spree, her favorites were a dress from J.Jill and sweater from L.L.Bean. Who are we becoming, I wondered while also admiring her great finds.

It's an interesting shift — when, as a woman, you decide to dress for comfort. Is it a sign of age? A sign of growing up? Or are we just hitting our limit of sore toes and muffin tops?

"I have gone all-in on comfort before style," says 40-something Meredith Rodkey. "I used to teeter around miserably in high heels in my 20s and early 30s, but I retired them the instant I got pregnant. Now, most days instead of heels, I wear a pair of simple black Nikes, or sneakers from Dr. Scholl's (yup, I said it) or Naturalizer."

Many of the women I talked to said it was during their 30s that they began to trade in Neiman Marcus and Nordstrom high fashion for more functional and comfortable attire. The catalyst? Kids! "I haven't worn a pair of jeans since my third child was born," says Tracy Bitonti, a 43-year-old mom of three. "She's 8."

"I remember an older friend telling me 10 years ago how much she loved J.Jill but that I was too young for it," Bitonti continues. "Guess what? I couldn't wait to try it! I love those darn tunics and leggings … oh thank God for leggings and tunics!"

I was 36 when I discovered a pull-on pants with a tummy-control panel. Pull-on pants! Tummy-control panel! My toddlers were wearing pull-on pants and here I was, not only wearing them so much I had to buy multiple pairs, but raving about them to every mom I knew. "They're miracle pants!" I'd shout to my friends. This pair of pants was the beginning of my switch. I slowly began swapping out my wedge boots and Spanx for flats and loose flannel shirts.

"The older I get, the less I care about it," says Rachel Brown, who turns 40 in a couple years. "I am perfectly fine in my $6 Target T-shirt and running shorts. I am comfortable and not at all interested in what people think about what I am wearing. I think this comes with the confidence we gain as we age."

In reality, the debate over style versus comfort doesn't need to be a debate. There are brands and stores that manage to incorporate both. Christine Wilson, a mom of two in her early 40s, received so many compliments on a pair of camo pants she got at BJ's (yes, that BJ's!) that she bought four more pairs in different colors to wear each day of the week. "They look good, are comfortable, and were $19 a pair," Wilson says. "And who would have thought? I go there to buy groceries!"

Let's be honest. The athleisure trend has helped significantly. Wear workout clothes that are comfortable and flattering every day? Yes, please! "I'm able to buy skirts and leggings and flowy tops from Athleta and Lululemon, not to mention Target's JoyLab line, and throw a blazer on top and — I look perfectly professional and presentable," says Rodkey. "Whereas I used to buy Marc Jacobs and DVF, I now invest in simple basics I know I can wear seven days week."

Bottom line, wear what you want. Be comfy, be stylish, be whatever makes you feel the best as you sashay down the runway of life. And by runway of life, I mean your kid's elementary school hallway.