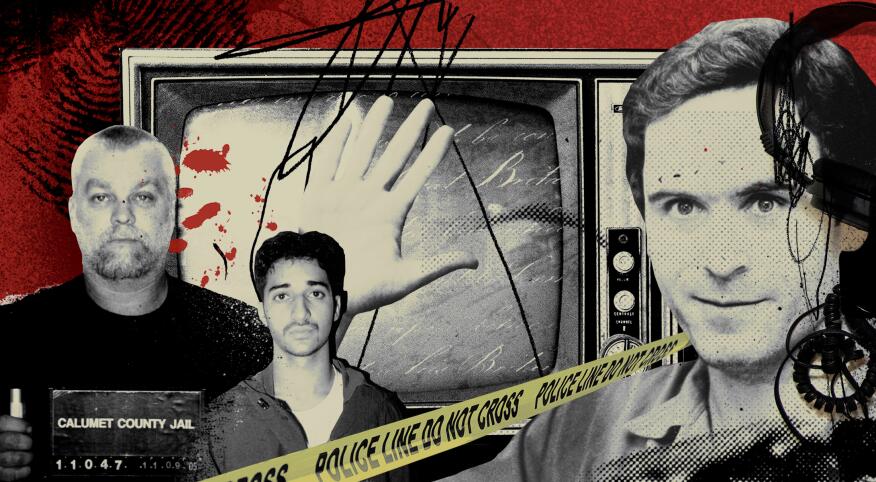 Ours was the perfect friendship. From the moment Jenny and I met, I knew we were destined to be together forever. We enjoyed intimate dinners and drinks as we shared the ups and downs of our burgeoning careers and checkered love lives.

We took fun-in-the-sun walks along the beach. Then came a fateful Sunday brunch in January of 2015 at a café in Malibu, California. There are witnesses. It led to a shocking development that nobody saw coming. Jenny and I were not only all-in on a true-crime miniseries on HBO called The Jinx, but we also were both longtime fanatics about the genre.

Suddenly, office gossip could wait. We plunged deep into our favorite Dateline episodes of all time. We concluded that serial killer Ted Bundy was an evil genius, and JonBenét Ramsey's parents knew way more than they let on.

Ever since, Jenny and I have morphed into Nancy Drew-like sleuths and crime-scene investigators. That is, we regularly send each other court documents, analyze DNA results and spew our theories to each other.

That brunch was not an isolated incident: I can expound on true-crime stories with several of my Gen X girlfriends. It doesn't matter whether they're married suburban moms or single hipsters living in Brooklyn — they all know that the shifty, dead-eyed husband who took out the hefty life insurance policy before the murder is always guilty as sin. And those grainy, videoed police-station confessions? They can't necessarily be trusted.

Two of my former coworkers and I do live group texts on Saturdays at 10 p.m. to discuss 48 Hours; a decade ago, I went clubbing with one of these ladies and she became so wasted that she took off her shoes and decided to pop a squat on the Manhattan pavement in the middle of winter.

Putting on my amateur detective hat, I'd deduce that our true-crime passion fills several needs. In terms of escapism, a juicy Serial podcast or Dateline episode is even more effective than a glossy movie. Now that we're settled, most of us go through the day like hamsters running around the wheel — alarm, work, dinner, sleep, rinse, repeat.

Learning about, say, the guy who went missing after a night of partying in a high-rise apartment gives us a window into a reality to which we almost never have access. To wit, it seems like most killers and/or victims are either extraordinarily wealthy or live in one-horse towns where nobody locks their doors.

And few of us will ever be called onto a witness stand or submit to a DNA test. It's as if all the drama occurs in another universe. And yet, all the sensational twists and turns aren't happening on Law & Order or NCIS. It's real, honest-to-goodness life that combines intricate elements of science, law, medicine and psychology.

A thorough investigation of a crime may be difficult to hear, but it leads to a learning experience.

When we watch Making a Murderer, we wrap our brains around a criminal's mindset. We can understand what they do and why they do it. And because women are, unfortunately, often the victims, we tend to visualize ourselves in a similar scenario and wonder how we'd react. (At least I do.)

The comfort factor can't be denied, either. On a cold winter night, a new episode of Snapped is the equivalent of snuggling under a quilted blanket in your thickest socks. In less than an hour, we get to confront our biggest fears, observe the meticulous investigation, weigh the evidence, see the villain be captured and, fingers crossed, achieve a sense of closure in the form of a guilty verdict.

All from the safe distance of our couch. The formula is a success because it works! And we keep coming back for more.

Last June, Jenny and I attended Crime-Con in New Orleans. It's exactly what you think it is: an immersive weekend retreat dedicated to All Things True Crime. At long last, I had the opportunity to listen to the legal and criminology experts in person and hear from some of the victims and their families.

At an NBC meet-and-greet, I literally watched a Dateline rerun behind star correspondent Keith Morrison and his immaculate head of white hair. Did Jenny and I have a wonderful time celebrating our obsession — and finding like-minded people who shared our bond? Are we planning our trip for this year? Did we eagerly anticipate the Durst trial? Do we shamelessly feed our passion and dismiss the naysayers? Guilty as charged.