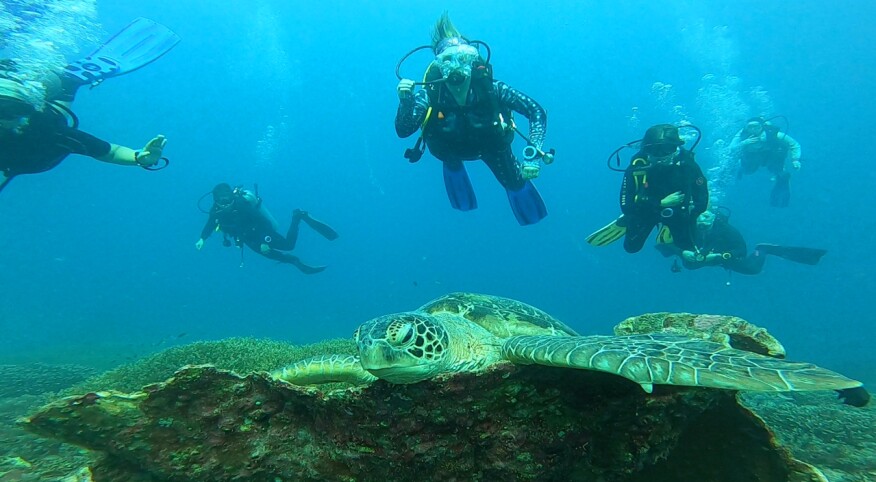 Seventy-five feet, 80 feet, 90 feet. With the numbers on my diving computer's depth reader rising, I knew I was close to touching bottom at 100 feet — the maximum depth allowed for scuba divers.


I was in the Red Sea, sailing for a week from the port of Hurghada, in Egypt, alongside 10 other women — some old friends, some friends-to-be, all certified scuba divers from various walks of life, and between the ages of 29 and 60, who share my passion for exploring the underwater world.

It had been a tough year: I had lost my beloved father five months earlier, in February 2022, after a long battle with Alzheimer's disease. So much loss had taken place in the two years between the original date for this trip (what was meant to be a 40th-birthday celebration in the summer of 2020) and now. I hesitated to even go. But my father loved the ocean. If I sought to connect with him in a spiritual way now, it would be in the water. That is, after all, where he had asked us to spread his ashes: "Bodies of water are interconnected," he used to say, "so it doesn't matter where you are in the world. If there's an ocean, I hope to 'be' there."

I wasn't always an avid scuba diver. I loved the water, and I was a decent swimmer. That's it. But then a few years back I traveled to the Florida Keys to get certified as an Open Water Diver. I needed the certification for the Egypt liveaboard trip, so I trained with a former Navy Seal who had been diving for longer than I had been alive. I trusted him — literally — with my life, as he taught me how to recover my regulator if someone accidentally kicked me in the face, how to remove my mask underwater and clear it without having to resurface, how to regulate my breathing to aid my buoyancy, how to communicate underwater (" 'Thumbs-up' means 'to ascend,' not 'I'm OK,' remember!?") and, if the worst were to happen, how to do an emergency ascend.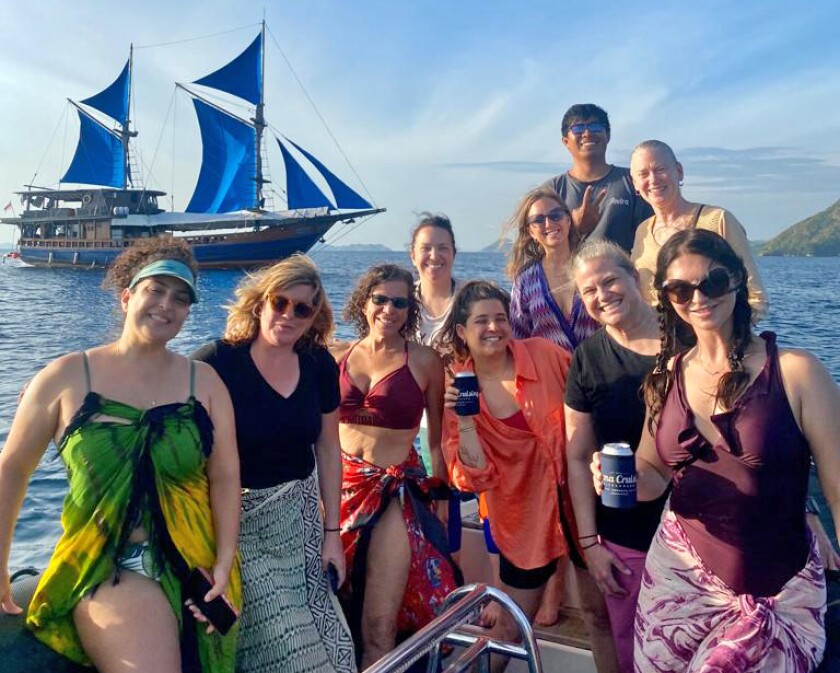 His teachings would prove invaluable for subsequent night dives, wreck dives and deep dives, which I was able to do once I obtained my Advanced Open Water Diver certification.. I have since logged more than 40 dives. The most rewarding part of this short but intense journey, however, has been finding a passion, a state of tranquility that's hard to achieve with the noise of the above-the-surface world — as well as the friends and memories I've made along the way.

Diving pioneer Jacques Cousteau once said: "The sea, once it casts its spell, holds one in its net of wonder forever." I've found this to be true. After all, I fell fast and hard for it.

But scuba diving is not a sport in which women have nearly enough representation. In the Red Sea alone, 90 percent of recreational divers are men. The remaining 10 percent are mostly mixed-gender couples who dive together.

In fact, both in Egypt and in Indonesia, where I visited this past summer, we were the first all-women diving group that both companies had ever hosted. Witnessing the all-male crew's evolution from surprise to skepticism to awe as they attested that we could hold our own across all sorts of diving sites, just like the pervasive male divers could, has been fun to watch.

Known for its strong currents, Komodo, in Indonesia, is reserved for experienced divers. I was nervous. But we'd found a reputable company, and I spent another week at sea diving four times a day with my scuba friends. I was all in.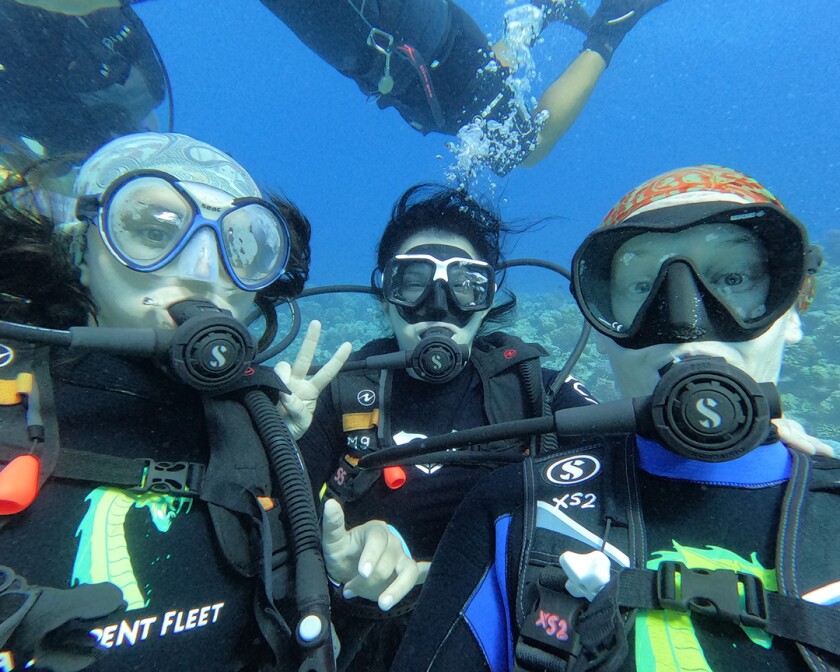 On our first day in Flores, I completed the check dives without issues. The night dive, however, was a different story. I failed to equalize twice (unable to relieve the pressure that builds in your ears as you descend) before finally ending the dive altogether and doing the "ride of shame," wet and alone, back to the big boat. I was disappointed, but I knew from experience that I'd start fresh the next day. That's the thing about diving: It is as unpredictable as it is humbling. As in life, you try, you fail, then you try again.

Komodo's waters are beautiful, with corals, reefs and fish that will be forever embedded in my mind. Also, the world-famous diving site the Cauldron lives up to its name.

People always ask me whether I'm scared when I'm deep in the ocean, and the answer is yes. Passion and fear are not mutually exclusive. I am scared sometimes, but I want to dive more.

They also want to know what I'm thinking about. It depends, but the recurrent themes are my family — my husband and sons — and how lucky I am to have their support and encouragement. I think about my body, its ability to move freely and confidently through water — sometimes with, sometimes against the current — and its strength as it lifts 55 pounds of metal on its back. I think about the amazing women surrounding me in the water, in whose hands I put my life, and vice versa. Most of all, I think about my father, who would've loved to see all these wonders. And I think about this still undiscovered world that has given me so much already and my determination to explore it — not in spite of, but because of everything I've lived through.

Want to enjoy an eco-friendly vacation? Here are five tiny home resorts that are big on fun.

Have any of you ever gone scuba diving? Let us know in the comments below.