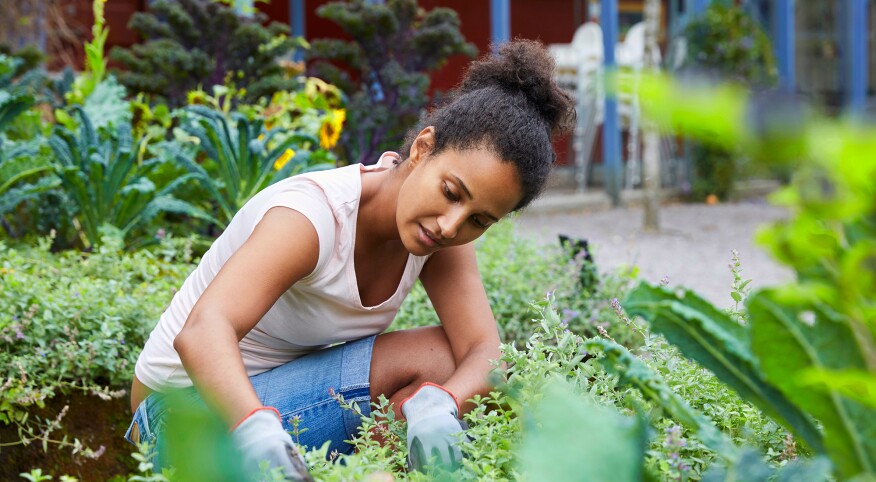 Traditionally, Memorial Day weekend is the unofficial start to summer — and the cue to get your plants in the ground. But that doesn't mean you should wait until the end of May and start from scratch. There are plenty of cooler weather crops that would benefit from getting planted in March, even if you live in a colder area of the country. Here's a step-by-step guide to prepping and starting your spring garden — stat.

Give it a clean sweep

Winters are for cozying up indoors, but plants always bear the brunt of the harsh climate, says Vera Kutsenko, a garden designer and the founder and CEO of Neverland, an online home, garden and lawn marketplace.

"Snow, dirt and other forms of debris collect on plants," she says. "The best way to welcome spring flowers is by doing away with all that dirt. This will help new seeds grow in a better way, and your flowers will bloom beautifully in the spring." If you've grown annuals that died over the winter, trim the dead shrub stems with hand shears. Low-growing perennials, such as daylilies or grass, should be raked and used as compost for the spring garden. Then remove any dead or brown plants to prepare the ground for better growth later in the season, says Dale Steven of Mowers & Yard Tools. Next, feed your plants with a balanced fertilizer such as Organic Holly-tone Fertilizer ($24 at HomeDepot.com) or Miracle-Gro Plant Food ($6 at Target.com).

"This will help to encourage healthy blooming," Steven says. Water your plants regularly, especially in the early stages of the season. Steven recommends watering every two to three days, but not more often, as too much water can cause plants to rot. Finally, he says, keep an eye out for pests and diseases. These can show up in the form of holes in your plants, yellowed leaves, white splotches, spots or mushy stems. If you notice any problems, make sure to sterilize your tools between plants, avoid crowding them and, if appropriate, apply a fungicide.

Add some cool weather crops and flowers

It's ideal to sow some crops in early spring, when the weather is cool and moist, helping the warm season annuals grow better. Here are a few crops to get into the ground now.

Brussels sprouts

They're a powerhouse among vegetables, and they should be planted in mid-March. At the latest, get these into the ground in the early days of April, says Jamie Penney, a home improvement and outdoor design expert and CEO of The Backyard Pros.

Peas, radishes, spinach and carrots

Here's a simple way to remember when these crops should go into the ground: As soon as you spot daffodils blooming, it's time to plant the peas, radishes, spinach and carrots.

Onions

Onions are ready to sow in late March or early April, says Alex Tinsman, a gardener from How to Houseplant.

Spring cabbage, broccoli, leeks and kale

These are cool weather plants that grow well in March, says Miguel Palma, a professional gardener and the owner of Jardin Tienda, a site dedicated to sharing gardening advice. "These plants thrive in cool conditions where the atmosphere has high moisture content," Palma says. "These plants, though delicate, are hardy enough to withstand the cold seasons in March." The key is to use a soil thermometer: As long as the soil is consistently around 40 degrees, you can get these crops into the ground.

Strawberries, blueberries and mint

They're perfectly fine to plant in March, and they will be ready to harvest for summer, says Paul Wells, an eco-activist with Sustainable Tag, a site that provides information and resources for sustainable living.

Potatoes

Start your potatoes on the windowsill. Then, in March, after they've sprouted, plant them outside.

Flowers

These depend on your specific climate, says Erinn Witz, a gardener and the cofounder of Seeds and Spades, an educational gardening website. Gardeners in areas with mild winters can start planting zinnia, marigold and cosmos seeds. It takes several weeks before your flowers will bloom, so planting in March should give you plenty of time to have vibrant color in June, Witz says. If you live in a colder region, start your seeds indoors so they'll be ready to transplant into your garden later in the spring. "If you want to make an early spring flower planting, cold-hardy plants like pansies and violas can be a great choice," she says. "These spring flowers give much-needed color at the end of winter, and they'll maintain their pretty shades all the way through early summer."

Trees and shrubs

This one is a "maybe." If you live in a warmer area (the lower half of the United States), if you had a mild winter, and if it hasn't rained recently, now is a great time to plant your trees and shrubs in a wide, shallow hole. The warm but not hot weather will help with healthy root growth.

Will you be planting a spring garden? What will you plant? Let us know in the comments below.