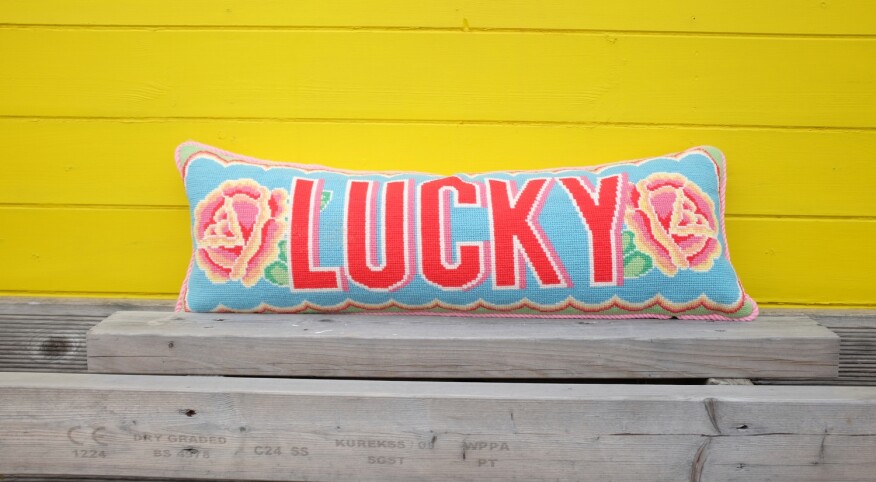 When I was a kid growing up in the 1970s, I remember that whenever I visited my grandmother, she would be sitting in the living room working on her needlepoint.

I hadn't seen anyone working on a needlepoint since then, over four decades ago. That is until a friend who is several years younger mentioned that doing needlepoint was one of her hobbies.

It turns out that she is not alone. Needlepoint is once again a popular pastime. In fact, many celebrities — including Sally Field, Gwen Stefani, Cameron Diaz, Taylor Swift and Parker Posey — have been very candid about their passion for doing needlepoint.

Needlepoint 101

So what exactly is needlepoint and how does it differ from, say, knitting?

Contemporary needlepoint designer Emily Peacock says, "Knitting, needlepoint, crocheting, embroidery and latch rugs are all types of textile work — but vary enormously." She offers this brief overview:


Knitting uses two needles and yarn to create a fabric.

Crochet is the same but uses one hook.

Needlepoint, embroidery and latch hook rugs are all crafts that use fabric as a base, and the design is put onto it with wool or other threads.
Needlepoint uses a needle and long lengths of yarn to stitch a design onto a stiff open weave canvas. Tara Faircloth, owner of One Part Whimsy, says, "In needlepoint, the design is usually hand-painted in advance ... so it is a bit like doing a color-by-number with fiber."

At its simplest, needlepoint is comprised of three basic tent stitches: half cross, continental and basketweave, which are all diagonal on the canvas. "Beginners should start with a continental or basketweave stitch, Faircloth says. "They can add more as they gain confidence, but they don't have to. Some longtime stitchers never use more than the simple basketweave."

Why needlepoint made a comeback

"Along with so many crafts," Peacock says, "needlepoint has certainly made a comeback, and I'm so happy about that! The resurgence of crafts in general, I feel, is a pendulum swing away from mass production and instant gratification."

One of the reasons needlepoint fell out of favor was because the designs were considered a little tired and boring. Seth Berman of NeedlePaint explains, "People used to stitch designs that go on the wall as artwork. While beautiful, our home decor is a lot more modern, so the needlepoint designs needed to catch up with the times." Today designers such as Peacock are offering patterns that feel more up to date, fun and even whimsical.

Needlepoint also has become more popular recently due to the pandemic. People who once may have felt too busy to do a craft project suddenly found themselves stuck home with a lot of free time. "So many people were feeling tense," Faircloth says, "and turned to needlepoint for stress-relief and a sense of community." Adds Berman, "I meditate daily and find needlepoint has a very similar effect on me. When you focus on just doing one stitch at a time, all of a sudden the mental chatter dies down."

Getting started

The biggest mistake beginners make is choosing too big a project and then getting frustrated. Peacock says, "As a first project, don't buy a huge canvas. I find that many customers come to me and tell me they have a stash of unfinished needlepoints which they bought years ago and haven't finished. It sits in a bag and then becomes a burden and something you feel guilty about."

In addition to picking a small canvas to start, be aware of the "counts," or mesh sizes. The count refers to the number of holes per inch — so a 12 mesh or 12 count canvas will have 12 holes to the inch. Most needlepoint canvases range from 18 count to 7 count. Berman points out that "18 count, which is called petit point, is super small and hard on the eyes." For beginners, a canvas that is painted on 13 count or lower is best, especially if you have eyesight issues.

Find a space to work that has adequate natural light and where you can sit comfortably. "Needlepoint requires repetitive action," explains Peacock, "so you want to make sure your posture is good and your back is supported."

Enjoy the process

There are dozens of tutorials available online for needlepoint beginners, and most needlepoint kits include diagrams and instructions. But the best way to learn is by doing. Fairfield says, "Jump right in! While there are plenty of rules that longtime stitchers may debate over, you can create something quite beautiful with no experience at all!" Adds Berman, "Even if it is not perfect, it will still look great. That is one of the nice things about needlepoint."

Finally, Peacock urges beginners not to see their project as something to get through. "You need the same mindset as, say, reading a book or doing a jigsaw puzzle," she says. "You don't buy a book and ask, 'How long will this take me?' Relax and enjoy watching the colors grow on your canvas. The joy is in the process."