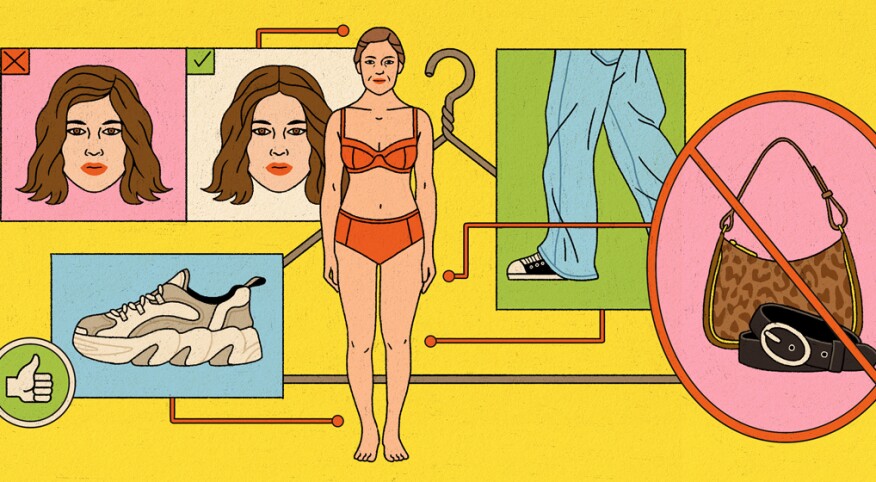 I spent most of the 1980s and '90s pouring over fashion magazines. I'd read my mom's magazines as soon as they came in the mail, get the freebies from the library, and save my allowance to buy the latest issue of Vogue.

I'd read things like "Don't wear white after Labor Day," "Never mix brown and black accessories," and "If you are petite, stay away from long skirts." If there was a fashion rule, not only did I never disobey it, I also never forgot and could spot a rule-breaker anywhere. My friends and I would keep each other in line, making sure we were always on trend.

It's scary that society can have that kind of power over us, especially when we are young and impressionable. If someone tells us something doesn't work for us, we believe them. If a stylist says, "Brown is over," we start to look at all our brown and khaki items with resentment.

How many times have you heard a style or piece of clothing was no longer "in" and thought, Well, I still love that look?

These days Gen Xers and millennials have been accused of "looking old," according to Gen Z.

Apparently, skinny jeans and side parts are dating us all. The only way to style yourself (according to Gen Z) is to sport a middle part and wear baggy mom jeans. According to the experts, '90s trends are back in full swing, and while there are many people out there who look great in — and love — the big, clunky white sneakers paired with baggy pleated pants, there are many who still love their skinny jeans, side parts, and shoes that don't have a 2-inch platform sole.

I refuse to give up my skinny jeans, because I like them. And frankly, I look ridiculous in huge, marshmallow sneakers. There was a time when I would have listened though. Doing right by the fashion world was something I participated in because I didn't feel confident enough to decide what worked for me, I guess.

Now that I'm nearing 50, those days are over. I refuse to listen to any of these rules. I've learned through the years that no one knows me better than I do. And I know when something won't work for me. I'm talking about everything from a haircut to a man, to a pair of boots. It has taken me quite some time to silence the noise out there about what I should be putting on my body and how I should style my hair. But, I'm finally here … and it's freeing.

Who is anyone to tell you what you should and shouldn't wear? I get we all like to have tips, examples and ideas when it comes to getting dressed, especially if it's for an important event.

However, there's no need to let someone make you feel ashamed because you are a mother or grandmother and want to dye your hair pink or wear a belly shirt. And wearing a miniskirt should be something you do at any age if you want.

The only fashion rule you should follow (according to me) is this: Put something on your body. If you like it — regardless of color, style or length — you should wear it. Who cares if no one else is wearing it? If you were recently thumbing through a magazine and were told to throw out all your oversized T-shirts yet those are your staples and you love them, don't listen. If you are wearing your hair the same way you were in high school and it's still your favorite style, don't change it unless you want to.

This not only makes the oh-so-complicated world of fashion trends that seem to change overnight a lot simpler, but also keeps you true to yourself. That's the only person you need to impress.

What do you think about all the articles that tell you how to dress — and how not to dress? Let us know in the comments below.