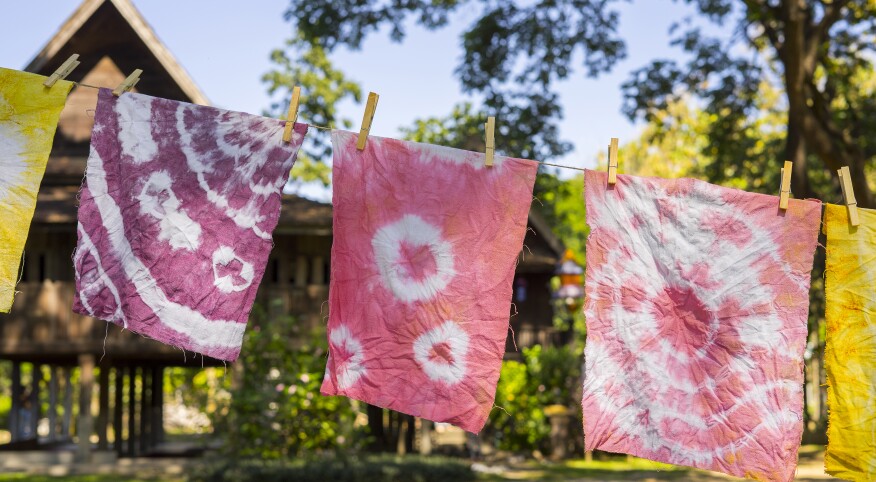 One of my kids' favorite summer camp craft activities was making tie-dyed T-shirts. They loved making their own one-of-a-kind creations — and then getting to wear their art.

Tie-dye brings out the kid in all of us. It's bright and cheerful, and you can't help but be happy when you wear it. That may be why tie-dye is a trend that always seems poised for a comeback.

The history of tie-dye

Tie-dye originated in Asia in the 1920s. Back then, people would use the natural dyes found in berries and flowers to color their clothing.

Even though it was around earlier, most people remember tie-dye becoming popular in America in the 1960s. Musical stars such as Janis Joplin and Jerry Garcia (of the Grateful Dead) made wearing tie-dye trendy.

Bold and colorful tie-dye was seen as a great way to break free of the societal constraints of the 1950s and express yourself. In the mid 1960s, Rit introduced affordable, squeezable liquid dyes that were easier to use than its boxed powder predecessor. Tie-dye became a cheap way to make do-it-yourself creations. The trend continued into the early '70s. It took a few years off before reemerging in the '80s, brighter and bolder than before due to new dyeing technology.

It's back again

Tie-dye made another comeback in spring 2019, appearing in the lines of high-end designers such as Prada, Prabal Gurung and Stella McCartney. Soon celebrities like J-Lo, Beyoncé and Hailey Bieber were photographed wearing the trend. By 2020, tie-dyed clothing was being shown in major retail stores at every price point. It turned out to be ideal timing. When the pandemic hit, the comfortable, loose-fitting tie-dyed sweat suits were perfect for stay-at-home lounging.

People were also looking for ways to fill their time at home. Along with baking banana bread and completing 1,000-piece jigsaw puzzles, tie-dye became a popular quarantine activity for people of all ages.

It was this forced downtime that inspired Jill Zarin, former star of The Real Housewives of New York City, and her daughter, Ally, to get a little creative. Zarin explains, "A few of Ally's friends taught her how to tie-dye. I had some connections from my years in the garment industry, so I decided to order some plain white cotton masks for us to tie-dye for fun."

Ally posted a few of the masks the two had made on her Instagram and people wanted to know if they were available for purchase. Zarin says, "The colors were bright and cheerful, and the fabric was soft." They decided to start selling the masks — and for every mask sold, they would donate one to a health care worker.

At first it was just Jill, Ally and a few friends tie-dyeing in the backyard. As demand increased, they wound up creating a fashion line, Jill & Ally, and expanded into tie-dyed hoodies and sweatpants.

How to tie-dye yourself

If you are feeling creative, you will need a few items to get started, such as dye, fixer solution, rubber gloves and rubber bands. You can buy each separately or in a complete kit from websites that include Amazon, Michaels and Etsy.

It's best to use white garments (anything from T-shirts to socks and underwear) that are either 100 percent cotton or a 50/50 cotton/polyester blend. Zarin says, "Cotton in the fiber holds the color better. Dye rolls off of polyester."

Prewash the item in hot water before starting the dyeing process.

Wrap the items (together or individually) in rubber bands to create patterns. Then start dyeing. Keep in mind that colors placed next to one another will bleed together. Pink next to blue will create purple (which can look nice), but purple next to yellow may turn an icky brown. The Neon Tea Party site advises, "Avoid placing complementary colors next to one another. If you would like to use a set of complementary colors next to one another regardless, just be sure to leave ample white space between each section of dye."

Once completed, place the wet garments in a Ziploc bag and leave for eight to 24 hours. The longer the dye sits, the more intense the color. Rinse the items under warm water until the water runs clear. Run the items through the washing machine in hot water with a small amount of detergent, and then place in the dryer.

You may want to continue to wash the tie-dyed items separately for the first few washes until you are sure the color is set. Zarin suggests running the washing machine empty after you have completed your tie-dye project. (She learned this the hard way when she ended up ruining some good sheets!)

Tie-dye can be messy, but that is part of the fun. Cover your workspace with tarp or garbage bags, and wear clothes you don't mind getting dye on.

Too old to wear tie-dye?

There is an old rule that says if you wore a trend the first time around, you are too old to wear it when it makes a comeback. But Zarin wholeheartedly disagrees. She says, "Tie-dye is for everyone — it's ageless, genderless and it keeps evolving."

Tie-dyed clothing gives off a "Don't worry, be happy" kind of vibe. It allows the wearer to express their individuality (since no two pieces are alike), but still fit in and be in vogue.

If you wore this trend years ago, that just adds to the nostalgic feeling. Adam Glassman, creative director of O, The Oprah Magazine, says, "The pattern gives us comfort and reminds those who were around in the late '60s and early '70s about a more carefree time." And let's face it, after the stress of the past year, being reminded of a time when we were carefree sounds pretty great.