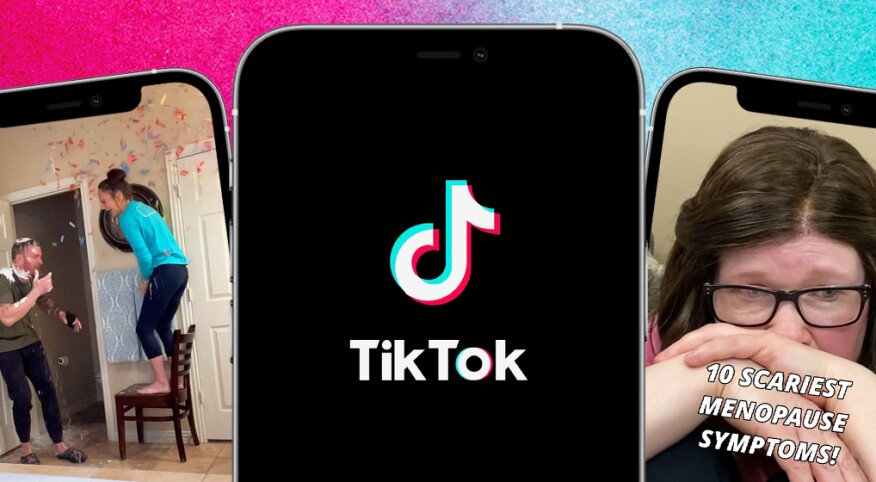 I consider myself a social media aficionado. I spend a lot of time on Facebook, Instagram and — oh, my personal favorite — Twitter. "Social-Media-ing" came easy to me from the get-go. I found myself using these platforms often, energetically and with pleasure.

Enter: TikTok. The ease slipped away. So did the pleasure. I didn't like it. I sure as heck didn't understand the attraction, and I wasn't really sure what to do on there. Who to follow? How to share content? And what to actually do? Please, dear God, I am not voluntarily videotaping my 43-year-old-self dancing, that's for sure!

Still, I've watched my kids dance for hours on end, completed many of the trending challenges with my teens, laughed over random babies and, yes, even made a few cameos on my kids' accounts in the early days (she says as she bows her head in shame). I desperately wanted more from the platform whose motto is "Make Your Day." I couldn't help but think, maybe TikTok is just intended for younger people. And really good dancers. And beautiful people. Because that is all I ever saw on there!

As a social media lover, though, I didn't give up. Rather, I set on a quest to find the best of TikTok for more "sophisticated" (read: older/mature) women. I knew there just had to be content out there that would inspire me, make me smile or teach me a thing or two about living the good life. Truth be told, I scoured through a lot of mediocre content before finding the true gems of TikTok, but it was well worth it! They are out there, and I offer you this list of my favorite finds.

Kari Anne Wright @kari_wright

Menopause is a fact of life, and Kari Anne Wright has answers to all the questions you never wanted to have! She provides helpful information in a witty, hilarious way. Sometimes I don't know if I am laughing at her or with her, but I'm pretty sure she doesn't care as long as I am laughing! She shares things like: seven of the weirdest things that happen in menopause (burning mouth syndrome, anyone?), things you should NEVER say to a menopausal woman, and her very own menopause pet peeves. She is quite active in the comment section and very compassionate to all who are struggling with "the change," as our moms once called it.





Dave Worthen @daveworthen

Oh, how I love Dave Worthen. He's a licensed marriage counselor, coach, published author and a lover of etymology. In his short videos, he offers advice and wisdom on a variety of topics from emotional affairs to dating as a single parent. He promotes full honesty as the key to a successful relationship, believes in a woman's intuition, and has a unique, beautiful and compassionate understanding of heartbreak. And if you are a words person, you will LOVE him even more. He often shares the derivatives and/or definitions of common words like admire, integrity and demolish to help hit home his points!





Nica Moghavem  @Yourfriend_nica 

Who doesn't need daily reminders to be unapologetically, authentically YOU? Or how about a little shift in perspective that reminds you that success is not measured in dollar signs, but in a little something called happiness? Nica Moghavem may be fairly new to Tik Tok (her first post is dated December 2021) but the quality of her content is powerful and she already has over 20K followers tuning in! Her tidbits of advice will help you practice and embrace self-love, acceptance and gratitude. She also discusses the benefits (both mental and physical) of cold therapy by way of ice baths and cold showers and her personal experience and thoughts on the topic are sure to surprise you— and may leave you curious enough to hop in a nice, freezing-cold shower!





Lindy @mamalindy

Meet Mamalindy, her handsome police officer husband and their two kids. Her bio reads, "smile so big it reaches your eyes," and that is exactly what I find myself doing when I scroll through her content. Her TikTok account is a heartwarming collection of confetti-popper wars and other random pranks and laughable happenings from the comfort of wherever life takes her. Mindless and entertaining? Why, yes it is. But somehow it is truly inspiring at the same time. They make you want to channel your inner child, because life is simply too short to worry about the mess. Inspired by Mamalindy, I popped some confetti in the middle of my living room last week when my kids came home from school. They were certain I had completely lost my mind! I had so much fun that I smiled through my eyes.





Mikayla Raines @saveafox.rescue

I never knew I had an obsession with foxes until I stumbled upon Mikayla Raines and her fascinating TikTok account. Raines rescues domestic foxes via her foundation, Save A Fox Rescue. Raines has an absolutely mesmerizing connection with these adorable little creatures. You will grow to love #Finneganfox, #DixieDofox and many others — as well as all the unexpected, strange, sometimes cute noises they make. Raines cuddles with them and gives them kisses, and you may even catch her putting a touch of makeup on one! It's all oddly comforting. Just don't let this account fool you into thinking all foxes are cuddly and friendly. Stay away from the wild ones!





Charles Mallet @charlesmallet

Get ready to fall in love with this 85-year-old grandpa, his wife, Maudra, and their granddaughter, Basia. He was diagnosed with Alzheimer's seven years ago, but that doesn't stop him from dancing, cooking, singing duets and loving his family with all of his heart. You will want to see this account. It will make you laugh out loud and cry both happy and sad tears, and remind you of what is really important in this short life: family, music, ice cream and, of course, love.





Dr. Tim @tmdad14

Full disclosure: I am majorly crushing on Dr. Tim, a handsome dad and young-at-heart dancing dentist who will have you scrolling for hours and maybe even hitting his DMs (not pointing any fingers, here). He is tall, fair, well-dressed and blessed with flowing, wavy ginger locks. And boy, can he dance! For some reason unbeknownst to me, he incorporates plastic baseball bats into his dances — and you just have to trust me when I say it works! You'll catch him at home with his kids and at the office in between patients. His energy is contagious, so give him a follow. Sit back and smile for your new favorite dentist.

So this is what "sophisticated" TikTok can do. It delivers inspiration, smiles and wisdom. It can teach us about the good life, reminding us that we can laugh with menopause, look forward to a root canal, and focus on the things that are most important in life. If you haven't already, I suggest you try it. It just might Make Your Day