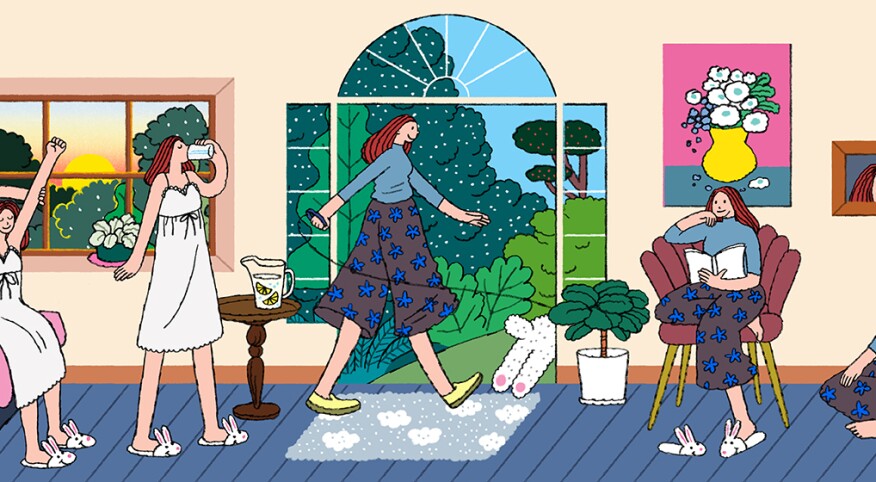 Is your to-do list getting longer? Are your emails seemingly never-ending? Did you ever get a chance to call your old high school friend back? We all lead busy lives, but you're bound to fall behind if you don't set your day up for success. To take things a step further, if your morning routine consists of nothing more than a handful of alarm snoozes and a couple ounces of coffee, it may be time to switch things up. "Creating a morning ritual or routine is pivotal in setting the right tone for the day ahead," says Elisabeth Galperin, founder and owner of Peak Productivity. "A solid morning routine allows you to step into the working hours of the day with confidence, clarity and motivation." Here are five things you can do to lock in a productive day.

Create a self-care ritual

Before you check your phone, open up your laptop or even get dressed, engage in a self-care ritual that's meaningful to you. "It's a big win for your day when you start by prioritizing 'me-time' and filling up your cup whether it relates to your spiritual, physical or mental well-being," says productivity expert Tanya Dalton. "If you have activities in the morning that you enjoy, you'll be more motivated to get up and get your day going." Some things you can do to get your day started on the right track are spending 10 minutes to meditate, stretch, journal, take deep breaths outdoors, or engage in quiet reflection.

Andrea Gharritt, an executive success coach, adds to this, noting that so much of our day is spent in to-dos and meeting other people's needs, but "this small morning practice is an intentional way to anchor your energy for the day, focus on your needs first, and feel in charge of your day from the start."

Eliminate distractions

You know yourself. And you know what distracts you. According to Galperin, it's important to anticipate and eliminate morning distractions or interruptions so that you can focus on your morning ritual. This could mean "turning off notifications on your devices for nonessential apps" or "communicating with your team and informing them of the best (and worst) time to bring questions or needs to your attention," she says. Setting and communicating boundaries is an underutilized key to success, she notes.

Gharritt adds to this, explaining how keeping your phone off-limits for some time after waking up can be beneficial. "It's easy to get caught up in the swirl of emails and to-dos, enter the quicksand of doom-scrolling, or simply lose track of time passively consuming media that may or may not be a value-add for you," she says. "Instead, once you're awake, either keep your phone tucked away or set a timer for one hour so that you can set it down, forget it, and be pulled back in when you need to." This crucial step helps you reclaim ownership of your special morning time before the hustle and bustle of the day begins.

Engage in habit stacking

Habit stacking — which refers to the act of adding a new habit to an established one — is a great technique when trying to implement new behaviors, says associate therapist Chris Tompkins. "By adding a new habit to one that's already in place, it's much easier to get new habits to stick. For example, if you want to build movement into your day, you might want to do some stretches while you wait for your coffee to brew. You brain will make the association between the two activities, and you can build on this once the habit has become ingrained."

Be proactive with planning — but be reasonable

Dalton recommends mapping out your day so that you're aware of your goals and priorities from the jump. "Whether you do this the night before or even first thing in the morning, it's important to know your objectives," she says. "This activity can give you a sense of control over where your day is going and what you'll be doing both personally and professionally." If you're the type to get overwhelmed easily, Galperin says to do a quick scan of your calendar of appointments and prioritize your top three tasks from the to-do list. This will create clarity and focus and will predetermine how to make the day as productive as possible.

All this is to say, it's important not to get stressed or anxious about meeting your goals — instead, approach your day with self-compassion. "Many people really struggle with productivity and find themselves in a spiral of shame, blame and self-criticism," says Tompkins. "Adopting a self-compassionate approach in order to combat this increases resilience, confidence and self-esteem, making it much simpler to build a consistent, manageable routine." When you're planning your day, focus on creating moderate, reasonable and realistic goals rather than extreme ones that aren't sustainable.

Plan breakfast in advance

Breakfast is said to be the most important meal of the day — it's also the most skipped meal due to people's urge to just get started with their day. The problem? Skipping breakfast can lead you to make poorer food choices later in the day. Project manager Kerry Hoffman's solution is to engage in a little preplanning. For instance, if you're the type to enjoy a yogurt parfait a few times a week, you can skip the mundane task of getting out the yogurt container, jar of peanut butter, tub of honey and bag of chia seeds. Instead, use small mason jars to portion out your yogurt, peanut butter, honey and chia seeds in advance. "When you're ready for breakfast in the morning, all you have to grab is your mason jar from the fridge and add some fresh berries on top," she says. Not a parfait eater? The same idea applies. Once a week dedicate a time to make some protein-packed egg bites, which you can precook, freeze and pop into the air fryer to crisp up while you're getting ready for the day.