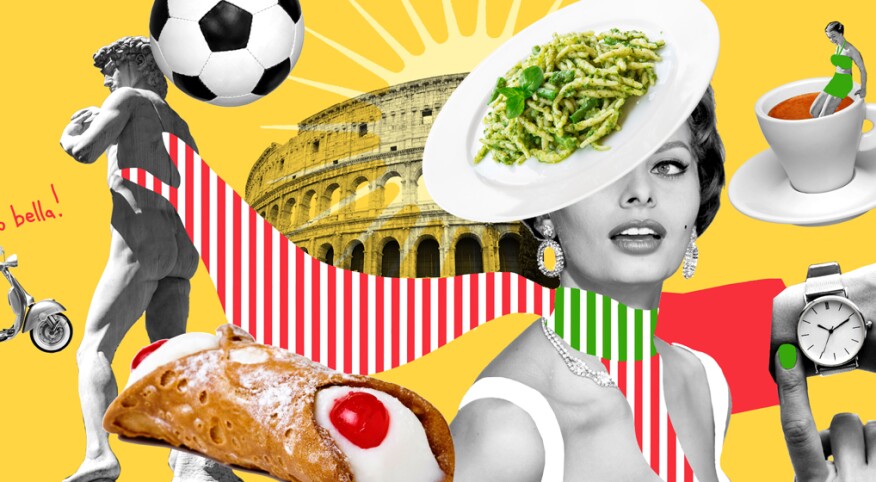 One of the best compliments I ever received came from a stranger: "Are you Italian?"

I'm not, and I later wondered what prompted the question. Was it my outfit? Hair? Poise? Many would agree that there's something powerful and alluring about Italian women — like Bond girl Monica Bellucci and the stunning Sophia Loren, or the beauties of all ages in Dolce & Gabbana ads. But exactly what these shared qualities are is hard to pin down. I know it when I see it, but just what is "it"?

In her popular book How to be Italian: Eat, drink, dress, travel and love la dolce vita, best-selling author Maria Pasquale unpacks what it takes for us all to breathe life into our inner Italian, something Pasquale knows a lot about. Born and raised in Australia by Italian parents, Pasquale moved to Rome in adulthood. There, she was forced to quickly learn the ABCs of living-moving-breathing day-to-day as an Italian woman. Following her best-selling first book, I Heart Rome, in this second book Pasquale reveals ways to "be" Italian — no matter who you are or where you live.

Here are some tips she offered The Girlfriend to help us step out the door and embrace "la dolce vita" — like an Italian diva.

Practice the art of being in the present

Perhaps the hardest Italian characteristic to adopt for American women is "dolce far niente" (sweetness of doing nothing). Pasquale says the Italians have truly mastered this concept. "It's their form of idleness — being as opposed to doing. Italians take time to absorb and appreciate moments," she explains. To do like the Italians do, linger over coffee with a friend, while away the afternoon at lunch or take slow evening strolls with friends through town ("la passeggiata") — because "moments are made for living," Pasquale points out. And if you're stressing out, you're not doing it right. With arms wide open, Italians embrace a full-throated expression of dolce far niente — with zero guilt.

Cultivate the 'la bella figura' philosophy

Literally translated, this is the beautiful figure. "Always putting the best version of yourself out there is a fundamental pillar of the Italian psyche," Pasquale says when I broached the topic of dress. Italian women present themselves according to this principle — which speaks to all areas touching on wardrobe, hair, makeup and accessories. For dress, the bottom line is to think about the season rather than weather, she says. If it's unseasonably warm in spring, you'd still carry a jacket and would refrain from wearing lighter clothing or exposing legs or shoulders because Italians strictly adhere to "cambio di stagione" (change of season for your wardrobe). Pasquale, whose blog HeartRome enjoys readers from 100-plus countries, says, "Linen is life in Italy!" explaining that in warm months Italian women reach for linen (usually, Italian-made), often white. Shorts, on the other hand, are not seen in the city but are saved for holidays, especially when escaping to the beach. For summer evenings and for sure in winter months, she says women will have a scarf to cover their neck or shoulders. In winter, channel your inner Italian by selecting colors that are understated — including browns, grays, camel, black and navy. Insider tip, courtesy of Pasquale: Italian women love their puffer jackets. Putting your best foot forward when stepping into the public space in Italy means coloring your gray hair and booking frequent salon appointments for a blow-dry/style ("una messa in piega.") Carrying a comb or brush for fixing hair to be sure you're perfectly groomed is common practice, she says.

Celebrate food and drink

The sheer pleasure of eating and drinking is paramount, says Pasquale, who was called one of Rome's most influential people in travel by Italy's La Repubblica. Savoring and enjoying food is embedded in Italian culture: "It's celebrating each meal, centering your life on food, excitedly talking about it and planning for the next meal while eating your current one. And it's ensuring that, under no circumstance, is it rushed."

Wherever you live, you can adopt one Italy's fondest traditions called "aperitivo." 

"Undeniably, the aperitivo is a quintessential part of daily culture," Pasquale says. Aperitivo is a meet-up at a café with friends before dinner for drinks and snacks. The cherished custom is less about what you're eating or drinking than its ability to bring people together and promote rich social exchanges. "It's where you live in the now and not much else matters. Put simply, it is a beautiful part of Italian culture." The coffee bar is similarly embedded in Italian culture. Pasquale says it's a daily ritual that is integral to the country's national identity. "For Italians, the bar is about as indispensable as a family member!" She described the bustling bar scene — the clinking porcelain, coffee machines whirring and above all, the sound of constant conversation — and its value as a bonding ritual, drawing people together. It's a distinctly Italian scene, she says, a bedrock of society. There's never a wrong time of day to indulge in this experience in Italy — as is evidenced by the steady hum of business.

Embrace a cultural and historic way of thinking

We talk about mindfulness a lot, but in Italy this discipline is reflected more widely to include an abiding respect for Italy's history, art and culture. Pasquale challenges us to embrace some of the Italian thought process: Absorb the arts and let them enrich your life, acknowledge key historical moments and movements vis-à-vis life today, and appreciate your heritage. Most importantly, Italians model a healthy thirst for curiosity, conversation and community — certainly, qualities to strive for.

Rethink how you travel

Harmonious with the Italian way of life, it'll come as no surprise to learn that Italian-laced travel is always slow, indulgent and meaningful, with discovery woven throughout. Pasquale says Italian travel is about enlightenment, living in the moment and completely checking out. A guarded tradition irrespective of socio-economic status, getting away for even just a few days in summer is not negotiable, a natural part of the Italian calendar that means cities are quiet and seaside towns will boom with sun worshippers seeking rejuvenation.