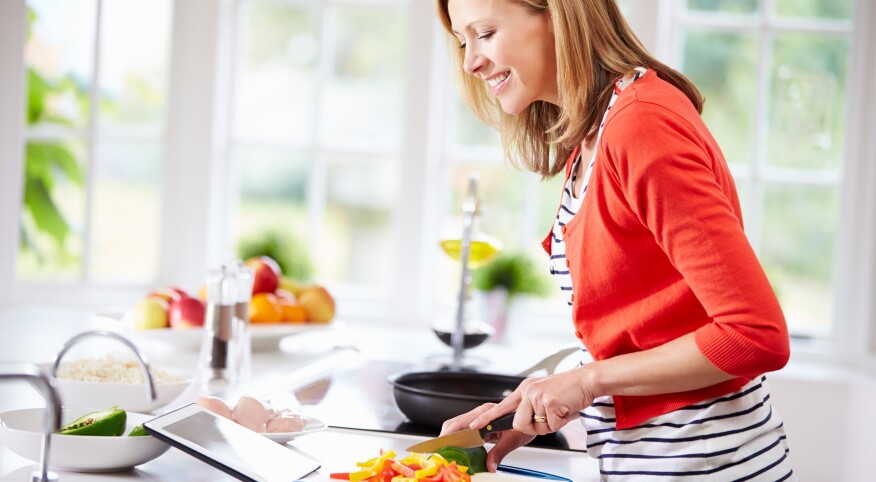 "What's for dinner?"

It is a question that echoes through my house, sometimes as early as noon. Especially during the past year as we have been spending more time at home, dinner has become the day's focal point. I've run through my standard repertoire of meals several dozen times. I've looked for new ideas – asking friends for their family's favorite recipes, combing through cooking websites, and even browsing through cookbooks that before 2020 had collected dust on our kitchen shelves.

I never thought to check TikTok for cooking inspiration. That was until the app was credited with starting several viral food trends, including feta cheese pasta, baked oats and cloud bread.

Why has TikTok become such a popular resource for home chefs?

"It's the combination of people having more time to cook and a shorter attention span," says My Nguyen, content creator @myhealthydish. "They want to learn quickly, and they don't want cooking to be complicated. In a TikTok video, you learn how to make something new in less than a minute."

While some TikTok cooking personalities have professional culinary training, many are self-taught, with no formal training. Nguyen, who describes herself as a "food entertainer," taught herself how to cook. She says, "Several of my family members own restaurants, so I grew up in the food industry. My background is in nutrition, so I like teaching people how to prepare simple, healthy foods. Like many TikTok chefs, I'm not focused on creating new recipes as much as putting my own spin on a dish and presenting it in a catchy, entertaining way. I'm telling a story, and food is the subject."

Vivian Aronson (@cookingbomb) — a contestant on MasterChef, Season 10 — learned how to cook from her grandmother. "Growing up in China, no one went out to restaurants," she says. "We ate home-cooked meals every day."

In 2005, Aronson moved to the United States with her husband and found herself with a lot of free time. She started experimenting in the kitchen and posting dishes on social media. Aronson joined TikTok in 2019, but it wasn't until the pandemic in 2020 that she saw her audience grow exponentially. She says, "People were staying home more and getting tired of frozen food. They craved take-out Chinese food, and I showed them how easy and how much healthier it was to make it themselves."

Successful chefs on TikTok are charismatic and creative. The videos are less than a minute (up to four 15-second clips strung together) and tend to utilize widely available ingredients, especially since the pandemic.

Aronson says, "My first viral recipe was for stir-fry cabbage with bacon. Many people wanted to add vegetables to their diet, but they didn't like cabbage or didn't know how to prepare it in a way that would taste good. I think they were surprised how delicious and easy it was to make. Traditionally, I would make this dish with pork belly, but I used bacon since the flavor profile is similar and everyone has bacon."

There is new content posted all the time. Once you start using TikTok regularly, the app will curate videos based on your prior interactions with posts on a "For You" page. You can also follow your favorite content creators.

Some of the most popular handles include Nguyen's, Aronson's, @cookingwithShereen, @flakysalt, @Iamtabithabrown and @the_pastaqueen.

TikTok recipes tend not to rely on precision. Ingredients are always shown, but they don't always give exact measurements (on the screen or in the audio). Only some chefs give a full recipe link in their bio. The focus is more on entertaining the viewer (upbeat music, catchphrases, editing tricks, etc.) while also giving some good tips. Chefs may even post videos where they mess up a recipe, but that adds to the charm. The idea is that cooking should be easy and approachable, not stressful or intimidating.

So, the next time you want to make something new to eat but need some inspiration, take a scroll through TikTok. It's like having your most amusing friend come over and help you figure out what to make for dinner. Now, if only there were an app that clears the table and loads the dishwasher!