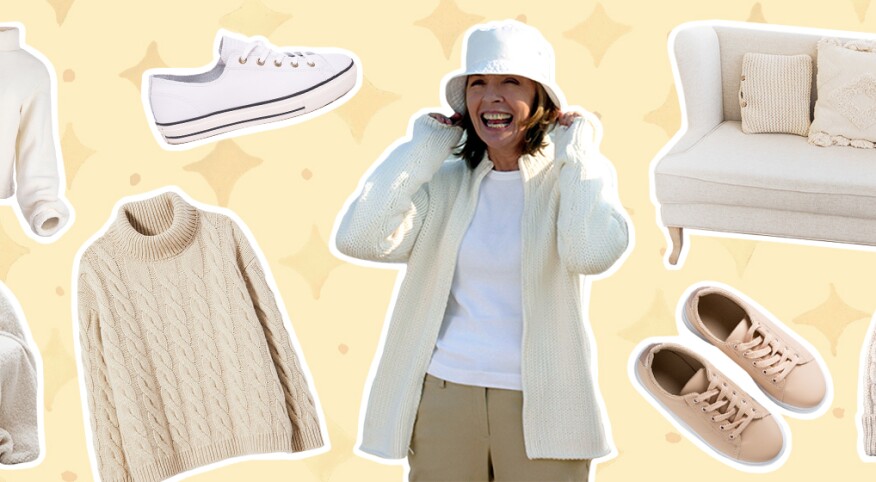 Over the summer, our family rented a home for a week near the beach. One of our favorite activities was having coffee together on the rooftop deck. The views were great and the weather in the early morning was almost like fall.

Every day I'd put on my long beige sweater over my pajamas as I headed up the stairs with my mug of hot coffee.

One morning my 24-year-old daughter mentioned that she liked my sweater and wanted to buy a similar one. It turns out that without realizing it, I was very on-trend in my "coastal grandma"-style sweater.

What is coastal grandmother style?

Ironically, the term coastal grandmother was coined by a young woman who is not an actual grandmother. Lex Nicoleta went viral using the term in a TikTok video in March 2022. Nicoleta described an older woman's style in a Nancy Meyers movie: Think flowy linen pants, big straw hats and sensible-but-chic sandals.

New York-based fashion stylist Liz Teich believes that the pandemic contributed to people wanting to embrace the coastal grandmother aesthetic. Teich says, "Everyone is longing to have more ease and freedom in their lives and their wardrobe. We are ready to get back to getting dressed but not quite to the same level as before. Dress codes have relaxed quite a bit."

The pandemic blurred the lines between formal/work clothes and casual attire.

"People are getting more conscious about their purchases now," explains Teich. "They want to invest in classic pieces that can be styled many ways rather than clothing that only works for one aspect, or even season, of their lives."

Getting ready for cooler weather

While coastal grandma was a summer trend, the look itself is not trendy; instead, the aesthetic focuses on traditional, timeless pieces.

Nicoleta describes coastal grandmother dressing as all about the three Cs: classic, chic, comfortable. And don't confuse comfortable with baggy or ill-fitting.

Teich says, "There is a difference between clothing that was designed to be worn loose and wearing something that obviously is too big or looks like you want to conceal your body." Clothing that is too big, tight or of poor quality can age you and make you look dated. "The style is relaxed and effortless, yet it is also polished and effortless," explains Teich. Coastal grandmothers draw their inspiration from the classic wardrobes of women in coastal areas such as The Hamptons in New York, New England and Santa Barbara, California.

These same looks, popular in the warmer weather, can be continued through fall and winter simply by changing the fabrications.

For bottoms, switch linen pants for twill or viscose wide-leg pants. On top, keep the button-down, but add a heavier, soft classic cream sweater in cotton or cashmere, worn either over the shirt or draped over the shoulder.

A yummy fisherman's sweater or navy striped half-zip sweater would also work well. Keep in mind that white clothing is no longer taboo after Labor Day. "Winter white or cream pants look great mixed with a camel or brown sweater," says Teich. "And while the coastal grandma look is a more neutral palette, you can still incorporate some more autumnal shades, such as darker neutrals like cognac and olive."

As for footwear, it's time to ditch the sandals in favor of classic white sneakers, ballet flats or loafers in neutral or brown tones as the weather cools.

Teich suggests several options for outerwear, including a camel or cream chunky knit cardigan, a sweater jacket, a quilted jacket, or a wool/cashmere-blend robe coat.

Coastal grandma at home

You don't need a big beach home to incorporate the coastal grandma vibe into your decor or entertaining style. Again, those three Cs — classic, chic and comfortable — come into play here.

Home furnishings should be relaxed and not overdone. The coastal grandma doesn't use too many patterns and enjoys fabrications that are traditional but not stuffy or formal. Avoid heavy draperies in favor of simple blinds. Embrace natural light whether your home is on the coast or in the city.

Keep the color scheme neutral but add in a few textured or fluffy pillows on the couch, along with a big faux-fur or knitted blanket for the chilly months. A big stack of books to enjoy is also a must.

When entertaining, the coastal grandma is less about fancy dinner parties and more focused on fun gatherings. She doesn't want to impress her guests; she wants to make them feel welcome. Just like her clothes and decor, the emphasis is again on comfort — including serving comfort foods like homemade pumpkin bread, apple cakes, hearty soups and unfussy, hearty charcuterie boards.

Whether you are a grandmother or not, we can all be coastal grandmas. As Nicoleta explained in an article for Refinery29, "(Being a coastal grandmother is about) slowing down and taking the time to do things that make you happy."

Had you ever heard of the 'coastal grandmother' trend before now? Let us know in the comments below.