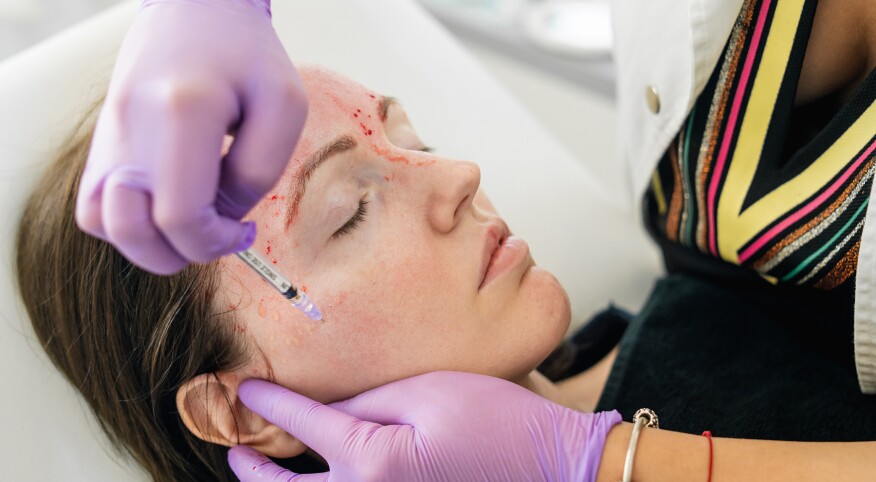 Editor's note: Obviously this is one woman's experience, and you should speak with your doctor or dermatologist before going ahead with a similar procedure.

I got Botox for the first time days after I turned 44. I'd sold my wedding band and engagement rings, which made me sad. But seeing the lines dissipate around my eyeballs made me happy.

More than anything when I looked in the mirror, I felt like myself again. I'll do this forever, I thought.

Clearly it was the best invention since sliced bread, and I wondered why I had waited so long to give my face the glow up I'd wanted. The unknown is always a big reason to shake your head and say something isn't for you.

Then I heard about the vampire facial (aka blood facial) and discovered it was even better. And I'm here to tell you why — so if you want to do something to give yourself a lift, you have an endorsement from a real person who has tried it and will be partaking for the rest of her days.

When you Google it you'll see some scary pictures of women posing with pouty lips and blood-smeared faces. But I've come to learn, when it comes to skin care women don't get scared. They want results, and this is microneedling combined with injecting your own plasma to boost collagen and elastin and hydrate your skin like crazy.

Also, there's really no reason to be scared. The worst part is getting your blood drawn after a numbing cream is applied to the area you have done.

For me, it was my face and neck. I wanted it all — tightening, lifting, smoothing — and I got it.

Next, your blood is whipped in a centrifuge to get that rich plasma (also known as PRP) that will help your skin tighten and smooth.

Before the microneedling, it's smeared on your face so the PRP penetrates your skin. I love that it's your own ingredient that you make — so there's nothing toxic going into your face, and your body knows what to do with it. In my opinion, you literally don't have to worry about having a reaction because you are injecting yourself into you.

When that's complete, the leftover PRP is slathered all over your face before you leave the office. The registered nurse who completed my procedure told me to leave it on as long as possible, so I did. My procedure was done on a Monday and I didn't touch my face (not even a rinse) until Wednesday night.

While there's more downtime than Botox — a day or two — with no makeup and a sunburned look, it doesn't take long to see your skin glow.

I had minor peeling on day 4, but it went away quickly.

The overall result from this vampire facial is enough to make me want to pull a Will Ferrell and go streaking through the quad and tell everyone about it.

The results were better than Botox and microneedling alone, and it was worth the cost to me —which will vary depending on where you live. I did only one session (and I think it's all I needed), although you can have another (after four weeks) to get even better results.

My RN recommends I come back for a vampire facial once a year for maintenance, and I'll definitely be taking her advice.

So if you've been thinking of undergoing this bloody procedure but weren't sold 100 percent, consider this a sign. All my friends who have seen me postfacial have booked theirs. For me, it was that good.