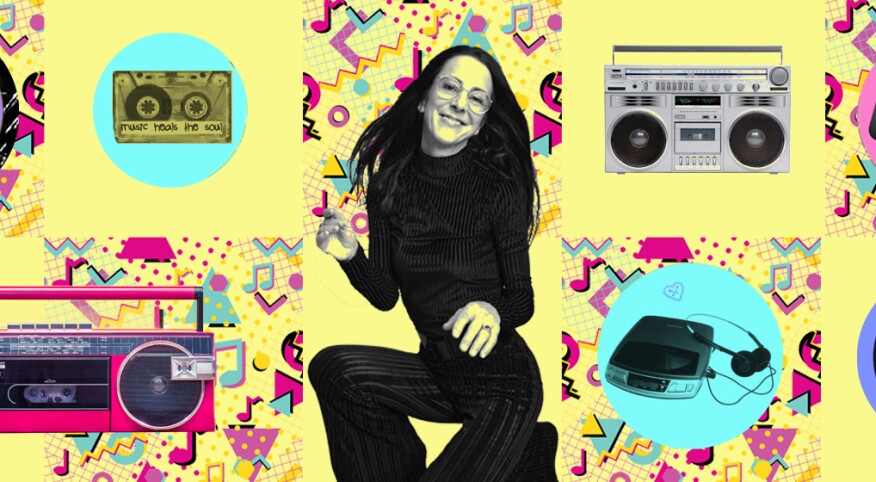 Yes, you can travel back in time. Marty McFly traveled back in time by using a tricked-out DeLorean. John Cusack and friends could travel back to their youth by soaking in a hot tub time machine.

Me? I travel back to my youth by merely turning on the radio and tuning in to my favorite '80s channel. My 23-year-old daughter jokes that I am probably the only person who still tunes in to a radio station. She can't understand why I wouldn't just put together a playlist of my favorite songs through Apple or Spotify. I can't make her understand that the total randomness of listening to the music of my youth is part of the allure.

I like that someone else is choosing the tunes. And even better, it's some of my old friends — like Martha Quinn, one of the original VJs of MTV. Quinn, currently a disc jockey at iHeartRadio's iHeart80s, says, "I feel grateful that I still have an outlet to play '80s music. I am passionate about that era and the way the songs uplift people."

There is something magical for me about being surprised by what song will play next. Quinn talked about the beginning of MTV when we all sat in front of our TV set for hours, waiting for whatever video we were clamoring to see. She explains, "There was no instant gratification, no automatic download of a song. The anticipation, the hoping — that was part of what made it special."

The pandemic has made my daily routine monotonous. Listening to an '80s radio station brings a welcome element of surprise to my day. Whether it's "Super Freak" by Rick James or "Tainted Love" by Soft Cell, my immediate reaction is, "Good song!"

The music transports me back to a time in my life that, without the musical nudge, I would have long forgotten. Quinn says, "The artists, the songs … they link people back to that time in their lives. Listeners find comfort in the fact that I am connecting them to the music just like I did in their youth."

Although Quinn strictly plays the music on the radio, when she is alone it's a different story. "I'll be driving with the windows down and crank up the music so I can sing along," she says. "Sometimes I'll see young people staring at me. I like to think they are saying, 'Wow, she is so cool,' but they are probably saying, 'Look at that old mom!' But it doesn't matter because, in those moments, I am bad to the bone!"

I can totally relate to Quinn's experience. When I listen to music from the 1980s, I feel like a different person. People looking at me may see a 54-year-old woman leaving the Target parking lot on her way home to cook dinner, but in my mind I'll be back in the 12th grade in my childhood bedroom, doing my homework and wondering if my on-again-off-again boyfriend will ask me to prom.

Without intent, I find myself singing along. Whatever I was worried about before the song came on fades away, and I find myself smiling. Even crazier, I remember ALL the words. I forget where I put my reading glasses an hour ago or if I defrosted the chicken that morning. Yet, these lyrics from 40 years ago I can belt out flawlessly without any concentrated brain effort.

The music of the '80s just puts me in a good mood — even the sad songs. Quinn says, "There is science that proves connecting to the past makes you optimistic about the future. And it doesn't have to be your past — even kids born in the '90s and 2000s tell me that the music of the '80s lifts them up."

A recent study by Turkey-based cosmetic surgery center Vera Clinic showed that music from the 1980s is a natural stress reliever. The study had participants listen to a range of musical genres — including '90s, classical and jazz. Music from the '80s was found to be the most calming, with 96 percent finding that it decreased their blood pressure and 36 percent feeling their heart rate drop.

It's not just the music of the '80s that makes me smile; it's the TV shows, too. Since the beginning of the pandemic, James Wesley and Seth Rudetsky have been hosting reunions of television casts on their website Stars in the House to raise money for the Actor's Fund. Some of the most popular episodes have been those reuniting casts from the 1980s, such as Taxi and L.A. Law. Rudetsky says, "It's been a stressful and lonely year. We need comfort, and television shows from the '80s are comforting. Seeing the casts of these shows interacting, watching clips together and reminiscing has brought joy to people in their homes." Wesley says, "I rewatched episodes of Family Ties before the cast reunion. The pace of the storylines was slower than shows today. As I watched I felt myself slowing down, too, tuning out my anxiety."

"These shows from the '80s are a part of our formative years," adds Rudetsky. "Our biggest problem back then was a pop quiz in bio, not a pandemic. It is calming to watch these shows and to reconnect with our old friends from that time when our lives were simpler."

In the words of Huey Lewis: "So take me away, I don't mind. But you better promise me, I'll be back in time." Whether it's catching up with Alex P. Keaton and his family or singing Madonna's "Lucky Star" in the shower, I'm grateful for these quick trips back to the 1980s — a welcome reprieve to me from the stress of the 2020s.