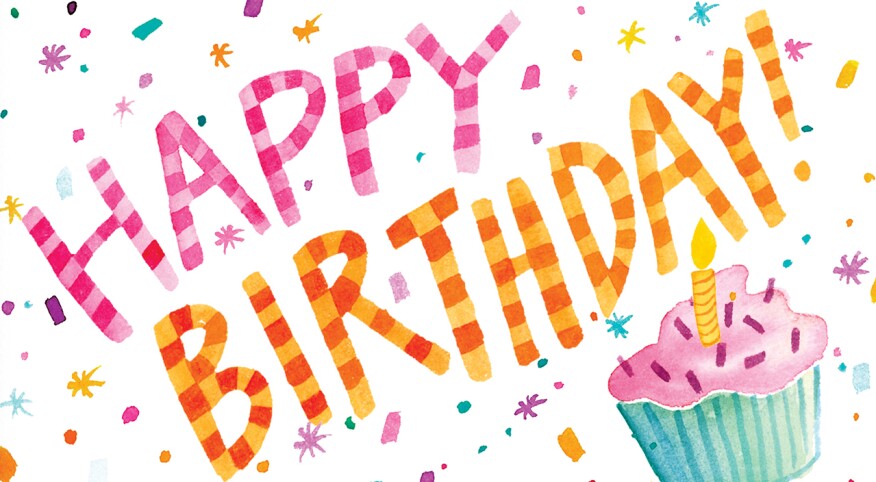 Happy birthday, Girlfriend! Waking up on your special day to well wishes from family, friends and Facebook is amazing. But what if you could get a few freebies as well? It's been a wonky time in history, to put it mildly, so here are 50 fun freebies to nab on your special day. Most freebies come at a small price — your email address to sign up for rewards programs and promotional blasts. We've tried to include at least SOME freebies that don't ask you to sign up for anything. But hey, it's your birthday. If you do have to sign up for something, treat yo'self now and unsubscribe later. (Note: Most links below take you to promotional small print so you know what you're signing up for.)

ABUELO'S
Sign up for Mi Abuelo's Rewards and you'll receive "special offers for your birthday."


APPLEBEE'S
Sign up for the birthday club and you'll get a free dessert on your birthday when you spend $15.


AU BON PAIN
Join the Eclub and enjoy a free coffee and pastry on your birthday.


AVEDA
If you bought anything online or in-store from Aveda in the past 12 months, you qualify for their Birthday Program. Opt into their free Pure Privilege rewards program and for your big day they'll send you a free 30 ml aromatic nourishing composition oil for bath, body and scalp (value: $23).

BAREMINERALS
Friends and Benefits program members can go online or to a store to receive a free birthday gift.

BARNES & NOBLE
You have to be a kid for this Kids' Club program from Barnes & Noble. They will receive various special offers as well as a free cupcake on their birthday.


BASKIN-ROBBINS
Join their birthday club and receive special offers and coupons.


BENEFIT
Here's a beaut: Walk into any Benefit Boutique and present a legal document with your DOB for a free Benefit brow wax during your birthday week. No purchase required! (Anyone under the age of 17 must bring a parent or guardian.)


BENIHANA
Register for The Chef's Table and receive a complimentary $30 birthday certificate during the month of your birthday.


BEN & JERRY'S
Join the Flavor Fanatics ice cream rewards program and get a free ice cream on your birthday.


BERTUCCI'S
Get a free, small handcrafted pizza on your b-day when you sign up for their newsletter.


THE BODY SHOP
Sign up for the free Love Your Body Club and you'll receive $10 to spend on anything in the store.


BUFFALO WILD WINGS
"Join the herd, get the rewards." That comes in the form of a free serving of wings during your birthday month.


CALIFORNIA PIZZA KITCHEN
Sign up for their CPK Rewards and you get a free birthday dessert and possibly even a free entree.


CAPITAL GRILLE
Finally, a birthday gift that doesn't require your email address! Show up at the Capital Grille on your birthday for a complimentary dessert to top off your meal. And free of spam emails. Be sure to call ahead to make sure your location participates.


CARVEL
Become a Fudgie Fanatic and a free cone on your birthday is all yours.


CHEESECAKE FACTORY
Tell your server it's your birthday (you gotta prove it, too), and you'll get a free treat (and a song!). You're welcome (and sorry).


CHICK-FIL-A
Join Chick-fil-A One to get a birthday reward.


CHILI'S
Get a free dessert on your special day when you join My Chili's Rewards Club.


CINNABON
Subscribe to Club Cinnabon to get a free iced coffee on your birthday and a free order of BonBites for signing up.


CVS
Join ExtraCare (and maybe you already have) and receive $3 ExtraBucks Rewards for your special day.


DENNY'S 
Sign up for Denny Rewards and receive a delicious birthday gift every year.


EDIBLE
Sign up for Edible Arrangements Birthday Club Rewards Program and get a free 12 count chocolate dipped fruit box during your birthday month. Not bad!


FAMOUS FOOTWEAR
Score a free $5 birthday reward cash from Famous Footwear for Famously You Rewards Members. It's free to sign up.


FIREHOUSE SUBS
Sign up for Firehouse Rewards before your birthday to receive a free medium sub reward, valid once on your birthday or within the following six days. No ID is required to redeem it.


GODIVA
The Godiva Rewards program treats you to free birthday chocolate.


IHOP
Sign up for IHOP Pancake Perks and enjoy free pancakes on your special day.


IGUANA MIA
You get a free fried ice cream if you eat there on your birthday.


IKEA
Sign up for the free IKEA Family Club and you'll receive a birthday surprise.


JERSEY MIKE'S
Get a free sub of your choice that you can redeem in-store or online.


KRISPY KREME
Their Rewards program rewards you with a free donut and coffee. (Different locations have different offerings, so check first.)


NARS
Well, this isn't exactly free but you get a free full-sized lip gloss with a $50 purchase.


THE OLD SPAGHETTI WAREHOUSE
Join OSF Rewards and you'll be spoiled with a surprise on your special day. Valid ID is required to redeem birthday rewards. Parents, sign your child up for The Old Spaghetti Factory Birthday Club and receive a free kid's meal on your child's birthday and a free treat on their half birthday.


OLIVE GARDEN
Get a free dessert on your birthday. No signup necessary. Go ahead, stick a candle in it!


ON THE BORDER
Sign up for Border Rewards and you'll receive a variety of benefits including a "special surprise" if you come in on your big day.


PANERA BREAD
As a MyPanera rewards member, you get a free special surprise on your birthday.


PEET'S
Join their Peetnik Program for a free baked good or beverage.


PIZZA HUT
Sign up for Hut Rewards and you'll get a free birthday reward.


RUBY TUESDAY
Enjoy a free burger or a free Garden Bar entrée on your birthday when you become a member.


SEPHORA
Sign up for their Beauty Insider program (it's free) and once a year you can pick from a selection of skin-care and makeup items. No need to visit the store, just add them to your cart when you check out online.


SMASHBOX
Sign up for their rewards program and you'll receive 15 percent off your first order as well as "exclusive birthday & anniversary gifts."


SPRINKLES
Join Sprinkle Perks for a free birthday cupcake.


STARBUCKS
Who says there's no such thing as free … coffee. There is! Starbucks Rewards members who sign up at least seven days before their birthday (and buy at least one star-earning item before then) get a free handcrafted beverage or food item of choice on the actual date.


TACO BELL
Sign up for their rewards program and you'll receive a free birthday Mountain Dew Baja Blast® Freeze.


TARTE COSMETICS
Heads-up, gorgeous! TeamTarte members get a free beauty item on their big day.


TGI FRIDAYS
Become a Fridays Rewards member and get a free dessert with entrée purchase on your birthday.


THE MELTING POT
Sure, you may smell like oil for days, but sign up for Club Fondue and get some great birthday vouchers.


ULTA
Join their free Ultamate Rewards program and the beauty bazaar will send you a free birthday gift.


URBAN DECAY
If you're a beauty junkie, then they have a goodie for you! UD Beauty Junkies members get a freebie — past products have included eye shadow.


WAFFLE HOUSE
Celebrate with a free classic waffle when you join their Regulars Club.